We all want to age gracefully: which is to say we all want the grace and wisdom that comes with age but would prefer to have skin that is youthful! We have zero appreciation for lines. Not at the bank, and definitely not on our faces. Enter: anti-aging skincare. A skincare routine that helps speed the skin's natural ability to replenish itself is critical to keeping the skin firm and smooth, which is to say, free of lines and wrinkles.
Antioxidants from The Ordinary
Antioxidants are one of our best defenses against aging. Vitamin C and Vitamin A in the form of retinol and retinoids are popular and effective in this regard. Retinoids are a form of Vitamin A and a popular anti-aging ingredient, famous for its ability to reduce fine lines and large wrinkles, and correct sun damage which is a factor in skin aging. Topical vitamin C is another anti-aging powerhouse and really should be used by everyone because of the myriad benefits it provides. Vitamin C increases collagen production, protects against damage from UVA and UVB rays, corrects pigmentation problems - the list goes on. The L-ascorbic acid form is believed to offer the most direct, powerful wrinkle relief, but all forms of Vitamin C available from The Ordinary will prove to be beneficial to your skin.
Exfoliation aging skin
Exfoliating aging skin is important because it promotes cell turnover so that younger, fresher skin is visible. Serums containing exfoliating alpha hydroxy acids are great for aging skin because aging skin is very delicate and physical scrubs can cause damage. Retinoids are also perfect for renewing aging skin and minimising wrinkles.
The Ordinary Matrixyl 10% +HA
It is true that we all age, but skin aging is not necessarily inevitable, especially with the advanced skincare products that are available to us today. The Ordinary is known for making the most effective skincare ingredients available at affordable prices without fanfare or hype.
Moisturisers from The Ordinary
It is also important to not underestimate the importance of moisturising your skin for keeping skin young. Hydrated skin just looks better and make lines and wrinkles less obvious. There are a variety of great products from The Ordinary, many of which contain hyaluronic acid which is revered for its moisturising capabilities. These products would make great additions to a wrinkle minimising skincare regimen. Below are products from The Ordinary that can help you on your quest to make lines and wrinkles less visible.
Get yours today!
Showing 15 products of 15.
---
Recent reviews on Targets Fine Lines products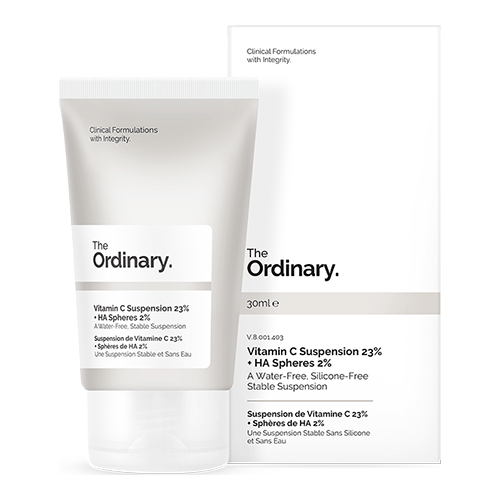 The Ordinary
The Ordinary Vitamin C Suspension 23% + HA Spheres 2% - 30ml
$9.80
A great starter Vic C for me
I wanted to try a Vit C product, this seemed a good option as I love my other TO products. I have noticed a small improvement in my dullness and mild facial marks after using tis for about 3 weeks, every second night. I will say, took me a while to get the hang on the consistency - I learned it won't pill with further product layers if I mix it in with my HA + B5.