Some of us have genuinely dry skin due to genetics and that is our lot in life. Dehydrated skin, however, is not. Dehydration is a skin condition and though it manifests and feels like dry skin, there's a market diffence between the two. Understanding this difference can help you get your dehydrated skin, hydrated in no time.

Dry skin typically refers to skin that is lacking moisture - specifically oil-based hydration, at the surface level. Dehydrated skin, on the other hand, refers to skin showing the side effects of an internal lack of moisture, usually due to a lack of water in the skin. Dehydrated skin will misbehave. If your skin type is normal, you may suddenly experience irritation or oiliness as the skin tries to correct its dryness. Your skin-care regimen may cease to provide its usual benefits and skin can become dull or exhibit signs of congestion. Remember that oil is not moisture and that all skin types, including oily skin, can become dehydrated.
The Ordinary products for dehydrated skin
Because dehydrated skin is an internal condition, treating it means that you have to start from the inside and that means drinking lots and lots of water. After that, treat it topically by giving it lots and lots of hydration. Fortunately, The Ordinary's suite of products includes hyaluronic serums and moisturisers that will help the skin attract and hold on to moisture.
Treating misbehaving dehydrated skin
Because dehydrated skin can behave in a manner that is atypical, outside of providing hydration and maybe some gentle exfoliation, you will need to address whatever additional issues arise. If you experience breakouts, there are salicylic acid products from The Ordinary for that. If your radiance diminishes, which is very likely to occur, there are products from The Ordinary for that too. Adore Beauty has you covered with products from The Ordinary to rehydrate and restore your dehydrated skin.


There's no time to wait. Order your products today!
Showing 12 products of 12.
---
Recent reviews on Targets Dehydration products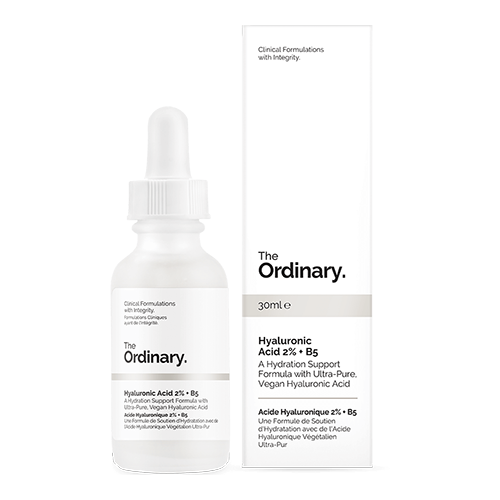 The Ordinary
The Ordinary Hyaluronic Acid 2% + B5
$12.90
Basic cheap HA
This was the first hyaluronic acid product I tried many years ago, and at the time I liked it, but over the years I've used many more that sit better on the skin. The Ordinary HA is pretty thick and gloopy, and doesn't plump my skin as well as others (notable Japanese lotion, or even other Deciem brands). Still a good cheap starting point.