Using a moisturiser is a no-brainer when it comes to hydrating your skin. However, the popularity of facial oils and serums has increased, as more people are choosing to hydrate with liquids rather than the traditional lotion or cream.

For skin that is extremely dry, an oil can provide an extra surge of hydration, improve texture, and provide anti-ageing properties. However, even those with oily skin can benefit from using face oils, as they help to rebalance sebum production.

The Ordinary has developed a large selection of oils, catering to all different skin types. You can enjoy the benefits of a facial oil with the high-quality guarantee from The Ordinary skincare.

Oils vs cream and lotion for moisturising
Facial oils are highly beneficial for those who have dry or extremely dry skin and feel like moisturising creams and lotions just are not enough. Applying an additional oil can help boost hydration for healthier skin.

Oils can also benefit those with normal or oily skin, as they help to rebalance the sebum level production so that the skin does not overcompensate and produce excess sebum. However, it is important to choose a lightweight oil if you have oily skin, as some oils can cause congestion.

What do facial oils do for your skin?
Facial oils deliver a hydration boost and help to lock in moisture. They also provide Essential Fatty Acids and Vitamins for a plumper, firmer, and younger-looking complexion.

How to use oils in your skincare routine
Oil-based products should be applied after water-based serums. The former can either be used on their own as a moisturiser, mixed into a moisturiser, or be used after moisturising to boost and lock in hydration.

The best oil for oily skin
Whilst oils can definitely help oilier complexions, it is important to choose a lightweight oil to avoid congestion, especially on acne-prone skin. The Ordinary 100% Organic Cold-Pressed Rose Hip Seed Oil is a suitable evening moisturiser for oily skin. This facial oil also has anti-ageing and cell-regeneration properties.

The best oil for dry skin
Dry skin can hugely benefit from facial oils, and The Ordinary has a high-quality selection available. The Ordinary 100% Organic Cold-Pressed Rose Hip Seed Oil not only delivers a boost of hydration and locks in moisture, but it also can help repair dry and damaged skin overnight.

The Ordinary 100% Cold-Pressed Virgin Marula Oil is also great for dry skin, as it uses a blend of Antioxidants and Essential Fatty Acids to hydrate skin and restore a radiant and dewy complexion.

The best oil for ageing skin
Ageing skin can often become drier and more dehydrated, so using a facial oil is a great way to restore hydration. The Ordinary 100% Organic Cold-Pressed Rose Hip Seed Oil also has anti-ageing properties, as it helps to repair UV-damaged skin overnight. The 100% Cold-Pressed Virgin Marula Oil enhances antioxidant protection and restores a youthful glow to the skin.
Showing 12 products of 12.
---
Recent reviews on Moisturiser & Oils products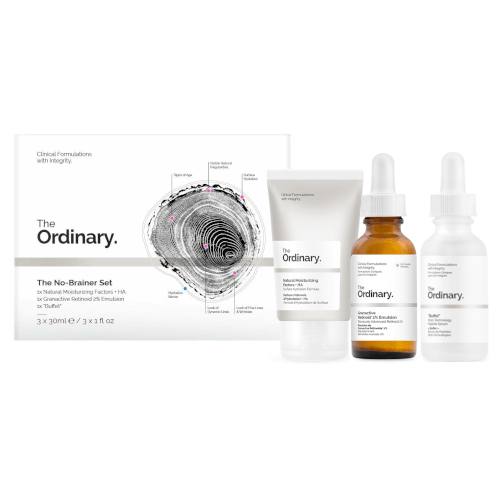 The Ordinary
The Ordinary The No-Brainer Set
$49.00
Not for me
I had high hopes for these products but I started breaking out badly. I reintroduced them again after a few weeks but broke out again so I stopped. Such as shame as I really wanted to like them but not meant to be.