If there were a magic elixir that could slow the rate of aging and protect your skin from continued damage, would you want to try it? I would! The good news is, antioxidants are already real, and for best results you should have been using them yesterday. Don't worry, next best thing is to start now. Antioxidants protect the skin by limiting the effect that free radicals can have on the skin, which can lead to visible damage. With consistent use, antioxidants also improve inflammation, sunspots and other visible signs of damage and aging.
What are antioxidants?
Simply put, antioxidants are the molecules responsible for fighting free radicals. Free radicals are highly reactive molecules that can cause damage when they're overabundant in the environment. We become exposed to free radicals through environmental factors such as cigarette smoke, radiation from the sun, and pollution. Luckily, by including antioxidants in our skincare regimen we can protect against future damage.
Benefits of antioxidants for your skin
Antioxidants are amazing for the skin, but you won't notice the results right away. Serious skincare aficionados swear by antioxidant serums for their ability to address multiple signs of ageing. They help reverse visible signs of aging such as fine lines and wrinkles. They also help to brighten the complexion, even the tone of the skin and fight acne. No skincare routine is complete without antioxidants and at Adore Beauty, we stock a wide selection including concentrated and affordable options from The Ordinary.
Antioxidants from The Ordinary
In addition to popular antioxidants such as Vitamin C, The Ordinary has made it easy for customers to achieve smooth, radiant and youthful skin with potent antioxidants like Alpha-lipoic Acid, Resveratrol 3% + Ferulic Acid 3%, Pycnogenol® and EUK-134™. These antioxidants will renew the appearance of the skin, visibly improving the skin's texture and tone and work from the inside out to strengthen the skin's defenses against damage. Order yours today!
Showing 12 products of 12.
---
Recent reviews on Antioxidants products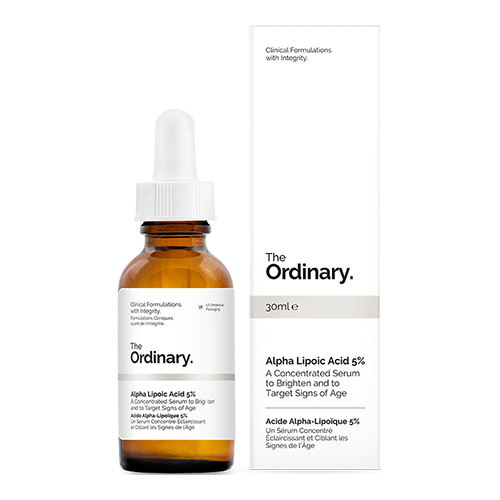 The Ordinary
The Ordinary Alpha Lipoic Acid 5%
$12.90
Slightly dewy skin
This made my skin slightly dewy and smooth the next day. Unfortunately, it started to get cloudy before the use within opening date and I had to chuck it out as it didn't look safe to use on the skin.
What people are looking for the most