The Ordinary are far from ordinary with their skincare ethos, founded to keep honesty and integrity at the heart of their products, instead of marketing schemes and buzzwords. If you're after high-quality but affordable skincare products, packed full of potent ingredients, then look no further than The Ordinary.
The Ordinary was formed by umbrella brand DECIEM, which operates more than ten beauty brands including The Chemistry Brand and NIOD. DECIEM specialise in functional beauty; products which actually work and are backed by science. The Ordinary benefit from the research and developments already made by DECIEM which is part of the reason they're able to keep prices so low.
Adore Beauty is proud to be an official Australian stockist for The Ordinary Australia - carrying every The Ordinary product that can be sold in Australia!
Our Favourite Ordinary Products:
Creating a routine with The Ordinary can seem daunting at first, but with research you can soon start feeling the benefits of the highly concentrated ingredients. Explore the range by following our skincare guide to The Ordinary, or take a look at our top picks for The Ordinary below.
The Ordinary Hyaluronic Acid 2% + B5: this hydrating serum is one of The Ordinary's best sellers. This Hyaluronic acid is weightless on the skin but multiple molecular weights allow for multi-depth hydration, while Vitamin B5 provides surface hydration. Using this product is a good first step of your The Ordinary regimen, as it can be paired and layers well with other products.
The Ordinary Niacinamide 10% + Zinc 1%: if you are wondering: "what should I buy from The Ordinary?" This Ordinary serum is another fan favourite. Perfect for reducing the appearance of blemishes, enlarged pores and decongesting the skin, Niacinamide is a key step in any good The Ordinary skincare regime. Does The Ordinary Niacinamide cause purging? No, actually is one of the most gentle and safe products you can use on acne prone skin to avoid this problem.
The Ordinary Granactive Retinoid 2% in Squalane:a water free solution that contains a 2% concentration of an advanced retinoid complex that shows better results against the signs of aging, with less irritation. If you're wondering how to use The Ordinary retinol in your The Ordinary skincare routine, we recommend applying it at night 2-3 times a week after slowly introducing the product to your skin, unless it is sensitive.
The Ordinary Serum Foundation:we love this light weight, medium coverage The Ordinary foundation more than a lot of our high quality full coverage foundations. Not only does it come in an amazing shade range, it is super affordable and glowy too!
The Ordinary 100% Organic Cold-Pressed Rose Hip Seed Oil: a bestselling treatment for those with compromised, damaged, and ageing skin, 100% Organic Cold-Pressed Rose Hip Seed Oil is cold pressed to ensure purity, potency and avoid degradation for maximum skincare benefits.
The Ordinary Glycolic Acid 7% Toning Solution is an exfoliating toner which offers mild exfoliation for improved skin radiance and visible clarity. The formula also improves the appearance of skin texture with continued use.
Is The Ordinary Vegan?
The Ordinary are completely cruelty free, and are mostly Vegan, you can check out the legend for each product on their site to find out this information.
The Ordinary are constantly innovating, so expect more products to launch as they continue to grow and gain popularity. Whatever it is they launch next, you can be guaranteed exceptional products with minimal fuss. If you've ever wondered How Do I Layer The Ordinary Skincare Products? Or How Does The Ordinary Stay So Affordable? Then follow our friendly and informative guides!
Showing 20 products of 54.
---
The Ordinary, articles & community
Recent reviews on The Ordinary products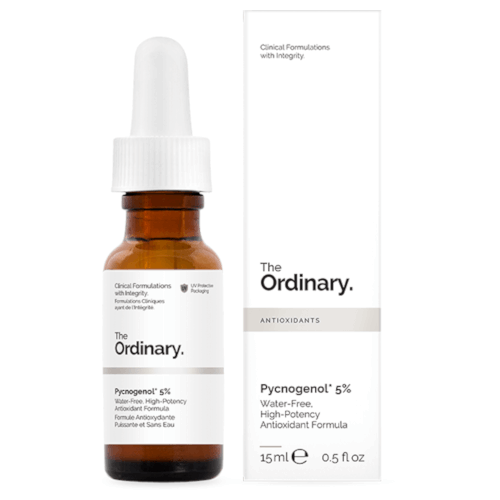 The Ordinary
The Ordinary Pycnogenol 5% 15ml
$16.90
Brightens complexion
I bought this to help with rosacea, while it hasn't specifically helped with any redness, my overall complexion is definitely brighter and more hydrated the next day after using. I add a couple of drops into my moisturiser at night, it does stain clothes though!
What people are looking for the most