The Beauty Chef Collagen Inner Beauty Boost 500ml
4 instalments of $10.50
Or 4 instalments of $10.50 with
LEARN MORE
4 instalments of $10.50
Or 4 instalments of $10.50 with
LEARN MORE
Official Stockist
Is this for you?
To give you a daily shot of extra nutritional support, The Beauty Chef COLLAGEN Inner Beauty Boost is a delicious new organic, bio-fermented probiotic concentrate designed to increase the skin's production of collagen and promote a radiant, naturally plumped complexion from the inside out.
Cruelty Free
Australian Made
Artificial Fragrance Free
Certified Organic
Sulphate Free
Skin Concern:
Acne, breakouts and blackheads

Dull, dry or dehydrated skin

First signs of ageing

Oiliness and shine

Sensitivity and redness

Wrinkles and loss of firmness
Skin Type:
Dry

Normal to dry

Normal to oily

Oily
Frequently bought with
Please wait while we find a match
Questions & Answers
(5 Questions)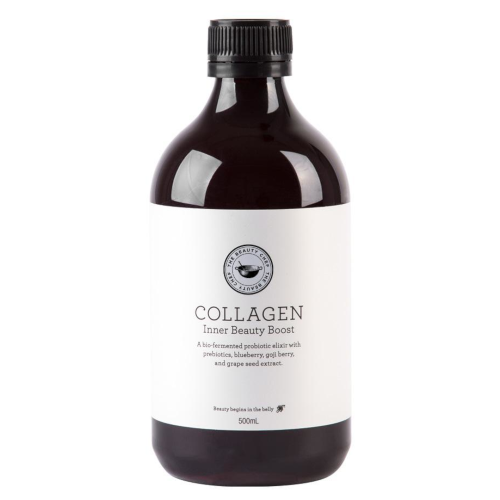 The Beauty Chef Collagen Inner Beauty Boost
Get an expert to answer your question about this product!
The Beauty Chef Collagen Inner Beauty Boost Reviews
92% recommend this product
Most Helpful Positive
Amazing
This makes my skin look better and makes smoothies taste really good
Most Helpful Criticism
The Beauty Chef Collagen Inner Beauty Boost
I have been taking Glow Inner Beauty Powder for a couple of years now and I love it! I recently added Collagen Inner Beauty Boost and have seen a noticeable difference in my skin! Both are a delicious daily ritual that I definitely benefit from.
Amazing

This makes my skin look better and makes smoothies taste really good

Love the taste and what it does!

I have been using this product along with the inner beauty powder and I would say it keeps my skin clear and more plump. Taste great as well so it is definitely a plus !

Easy way to get collagen

Love this product. Makes smoothies taste great and an easy way to get collagen into your diet. Haven't noticed any noticeable changes yet but it has only been a week. I would buy it again!

Tastes yummy

I used this for a couple of months (in addition to glow) and didnt notice a huge difference. I do like the taste and mixing this into glow definitely makes glow easier to drink. I feel good for taking this, it is like self care each AM, but don't know it does much for me so won't continue to buy.

Didn't notice a difference

Used everyday and unfortunately didn't notice any difference. It does taste nice tho!

fruity easy to drink

I like that this is very easy to drink, the taste is really fruity and I like to mix it with water and that's the first thing that I try to drink in the morning before eating any meals. I find that this really helps with my gut, and I'm not sure if it's a Placebo affect but I do feel better drinking this and I know for a fact that they are great ingredients in this products that really helps with ...

Read More

Noticing Results with the Trial Size

I received 2 sample bottles from Adore Beauty and am on day 4.
I have been drinking 1 tablespoon in water morning and again at night; it is a nice flavour. I can honestly say that I can see results already, particularly around my eye area (fine lines - I'm in my early 30's). My skin appears more smooth and plump, and my foundation isn't creasing as much. I'm keen to try this product for ano...

Read More

Love this!

I had been using Health Chef's collagen for some time and could see the effects on my skin. However, COVID aside I always found postage took too long from them and I was forever running out and then having to go a week without. I love Adore Beauty for their fast postage so decided to give Beauty Chef a go after reading fantastic reviews. I can't see if its better or worse than the Healthy Chef pro...

Read More

Nature good stuff

I tried this product a year ago and use it since then. Its not only taste good but benefit to your skin is great.


Great product

Absolutely love this product. Tastes great and genuinely see results. Within a couple of weeks of using these products I was receiving compliments about my skin.

Nails and hair have been stronger

I liked taking this product in smoothies as it gives a nicer flavour rather than just powders or other supplements. Since I'm on my second bottle I've definitely noticed the difference in my nails and hair growth, would definitely recommend

Excellent

This was my first ever beauty chef purchase and I loooove it. I'm on my second bottle and have noticed clearer skin and stronger nails and hair. It tastes nice too!

Amazing for thirsty skin

I didn't see results at first but so many rave reviews I decided to persevere with Beauty Chef and it must have been that my skin was super dehydrated as after my second bottle I started to get a lot of compliments that my skin was looking great. I also use Hydration and Glow and have a glass of each every morning. The berry flavour is very easy to drink and being a liquid mixes well with water he...

Read More

Must-have item in every beauty routine

I've been taking this supplement everyday for quite some time and I've definitely noticed that my skin has become more smooth, supple and better than it's ever been in my whole life!

Best

Amazing supplement. Helped me grow my nails and hair super healthy. Excited to try the entire line by the brand. 4 star cause it is expensive!

Genuinely Love It

Collagen Inner Beauty Boost is a gorgeous product and better than expected. It doesn't taste like the usual collagen powder, it's such a nice flavour to add to water (and more water = hydration!)

Good tasting collagen

I really liked the taste of this and found it really easy to drink. I didn't see a huge difference in my skin, however I would still take it over other collagens.

My favourite collagen product

This is my favourite collagen product to use! I really like the taste which means it is easy to add to either water or a smoothie, I have found other products to have very strong tastes and have been difficult to consume. I also like that the product is plant based also hard to find when looking for collagen

Tastes amazing

I enjoy this product so much! It tastes amazing compared to other collagen supplements. I didn't notice any particular benefits overnight regarding my skin etc but these sorts of things do happen over time. Highly recommend.

This is liquid gold!

I keep this product in the fridge and have it every morning. I have really noticed a difference especially with the radiance and brightness of my skin.

Yum!

This is delicious mixed with water. I've been using it with Glow and love the results. My acne has reduced significantly though it's probably more from Glow.

Delicious

This is actually delicious. I either add mine in with some sparkling water, or mix it up with The Beauty Chef GLOW with some ice and water.
I definitely notice when I stop using this that my skin looses a bit of its glow.

Excellent.

I take this with water each morning and have noticed much stronger nails and thicker hair. The berry taste is great too.

Amazing

I am always quite skeptical about beauty pills, but this really does work, i felt that my skin and hair looked more vibrant after just 3 weeks of taking these!

Part of my daily routine

I love The Beauty Chef! I take both the Glow powder and Collagen drink (not together) every day. The Collagen drink has a great berry flavour to it. Both products have helped with my skin, gut health, and nails. I've never had strong nails before The Beauty Chef.

Huge change

I have noticed the biggest difference in my skin using this product. I would recommend to anyone!

Love this every morning

Yummy taste and boost of collagen for the day. A refreshing morning tonic with water to boost my daily wellbeing

Like this

I like this product it has a great taste and is a nice part of my morning routine. My nails have been stronger since I've started using this but I wouldn't say it is as necessary as the GLOW powder.


I feel better for taking this

After 3 months of taking this sweet stuff, I really feel it has helped with my overall inflammation and my nails and hair are very quick growing.

Stronger nails!

This tastes lovely and is something I look forward to having in the morning. With supplements it can be hard to tell if they're working, but my usually paper thin nails seem to be much stronger since drinking this.

Nice

I mix this with the beauty chef glow powder In a glass of water every morning. Have had it for a week, haven't noticed anything different to be honest but will keep taking it. Tastes nice :)

Works well with constant use

This is a great product but you do have to continue using it. My skin is more plump and smooth, I've been using it twice per day :)

Great addition to my regime

I started using this at the same time as some other new products, so can't say for sure what made a difference, but my complexion has definitely become brighter and my skin softer. It also tastes delicious and is a really easy addition to a skincare regime. Overall it's made a positive contribution to my wellbeing.

The one other thing I would say is the advice that it lasts 2-3 month...

Read More

Fresh in the morning

I purchased the full product after trying out the smaller bottle. I'm not too sure if it's making a massive difference on my skin but I still enjoy drinking it with warm water first thing in the morning. It makes me refreshed just before I leave for work.

Lovely Routine

I have been using the Beauty Chef Collagen on and off for around a year, combined with the Glow Powder. I was surprised by the enjoyable taste and loved the ritual of adding this to my morning routine. Along with the Glow Powder, I definitely did notice a difference in the brightness of my skin with friends even commenting that my skin was 'glowing'.

Delicious!

This product has a really nice taste when mixed in with water. I would have a glass in the afternoon to help fight sugar cravings. As far as results go I think it is hard to tell if this is working or not.

EVERY PART OF ME LOVES THIS

I was worried about the flavour, but it was great. It didn't take long to notice the differences and with all the extra hand washing, my nails are surviving.

Great product

Love the taste of this and love that it encourages me to drink more water!

Taste good

I love this Collagen Beauty Boost. It tastes so good. I am on my 3rd bottle now. When i tried the first bottle, i could see my skin got smoother and brighter after 2 weeks. However, one downside I noticed is that you need to keep drinking it to maintain the benefits. I stopped after the 1st bottle for a while and i think my skin just went back to normal. Also noticed the result is better if you co...

Read More

Beautiful

This tastes amazing and is a super easy way to get your collagen in!

Beauty Water

Great taste - just add this into your water bottle and sip throughout the day to achieve plumped skin!

I use it every day

I add this to my bottle of water and love the taste

Lovely

This was recommended by a friend and I am really enjoying it. I can definitely see improvements.

Tasty!

It is a nice addition to my diet and boosts my water intake. I also love the berry taste... just don't add too much as it will give you a overly sickly sweet taste that will burn your throat. In regards to my skin, I have not seen a difference.

Delicious and hopefully working?

I am not 100% convinced that it has made a huge difference to my skin (amongst all the other products I use), but I'm on my third bottle. Tastes great - I mix it with water and the glow powder product. I'm early 30's and feel like I'm holding off the wrinkles quite well - I think this must be helping. It's not hurting and I enjoy drinking it so I'll keep buying it.

no noticeable impact on skin but tastes good

This is my third bottle. I take it with Glow. I can't say I've noticed a difference to my skin but it makes my smoothies taste better and I take it for the high level Vit C and Zinc. it does make a difference to digestive health

Love it!

The collagen inner beauty boost is delicious and works wonders. I had gut issues and found a great improvement when I added this into my routine. It also has helped with my skin, when I take it regularly I have no break outs.

So good!

Tastes soooooo good and has given me amazing skin!

Love this so much

Noticeable benefits in quality of skin not only on the face, but rest of my body too! I have been taking this along with glow for about a year now, it's the first thing I do when I wake. After testing many collagen products, the Beauty Chef is one I stand by.


Great Results!

I use this together with the glow powder and have seen great results from clearer, brighter skin to less bloating. Very happy and tastes great!

lovely product

this is such a lovely product with the added advantage of a pleasant berry taste. I have been taking this for about 2 months so it is possibly too early for me to tell if the claims of improving the skin quality are true - however as with most supplements, other aspects of your lifestyle should also be altered/improved to maximise the benefits of the collagen boost. I definitely feel at least that...

Read More

Works!

I absolutely love this and am religious in taking it every night, I freak out if I miss a night. You can actually tell a difference. After a week or so I would notice that when I woke in the morning my skin and lips were looking much plump. Taste really good too.

Favourite

I tend to rotate through the three boost flavours and this is my favourite tasting one - I do love the benefits of all of them though and really enjoy starting my day with these.

The Beauty Chef Collagen Inner Beauty Boost

I have been taking Glow Inner Beauty Powder for a couple of years now and I love it! I recently added Collagen Inner Beauty Boost and have seen a noticeable difference in my skin! Both are a delicious daily ritual that I definitely benefit from.

I use it every day

Nice taste. I add it to my water bottle every morning and sip away. Tastes like berries.

Helps stop ageing

I have this every day with my glow drink, it really has improved my skin.

Sweet sensation

I take one tablespoon of this daily with a glass of water. It sweetens, hydrates and leaves my skin tingling with nourishment every day. I never miss it in my schedule. A necessary staple.

Beauty officially boosted

I bought this along with the Inner Glow powder in a pack around Christmas. I noticed an improvement in digestion and complexion. I definitely prefer the liquid to the powder. I added a slice and cucumber and lime with water once the new year's resolutions kicked in and enjoy it as a drink while cooking dinner. Will definitely repurchase.

Delicious

Heading towards another birthday and decided to try the Beauty Chef Collagen.
This has replaced my glass of evening wine.
The raspberry flavour makes this easy to digest and I feel like it settles my stomach in the morning.
I'Ve noticed the glow returning to my skin and look healthier as a result.
It's still early days yet but I will write another review in a few weeks whe...

Read More

Beautiful

Tastes amazing! Haven't used long enough to see a difference though

Add this to your routine for a superior anti-aging regime

This tastes lovely, you mix with water, and helps my skin to look like I am fighting the ageing process, truly. I primarily use body but add collagen and hydration where I can

Yuuummmm

This seriously taste amazing! I love taking my shot every morning, my skin looks amazing and glowy and my hair is more shiny. Very happy

Just another form of collagen

I've tried few different types of collagen from different brand, and the only difference with this one is that it tastes nice. I tend to swell quite a bit from collagen, so I usually give up, probably a bit too early to see the results. I went through the entire bottle of this (together with Antioxidant product) but didn't see a big difference. Perhaps, if taken for a longer period of time the eff...

Read More

Nice and natural

Super easy and convenient to take with results to overall skin health [and glow!] over time. Will definitely repurchase.

Easy to drink

I received this 100ml bottle as a free gift with purchase of GLOW powder. I was surprised how easy it is to drink plus it helps me to drink extra water. I am very impressed with not products and I am going to buy them again.

Love Love Love

Highly recommended. We all need a collagen boost. I find it a nice tasty drink and may have improved my skin somewhat. Will continue with this one.

Tastes good

It does taste good, and with constant use would probably see better effects.

Overpriced

I noticed no real change and do prefer other beauty elixir over beauty chef

Delicious Goodness

Noticeable benefits in quality of skin not only on the face, but rest of my body too! I have been taking this religiously for over 2 years now and mix it with my glow powder daily (or at least 5 days a week) first thing when I wake. After testing many collagen products, the Beauty Chef is one I stand by.

Great Flavour and Results

This collagen is one of the few I enjoy the flavour of. I find that it is easy to drink mixed in with water, soda water or in with my smoothies and have noticed my skin is looking better.

I recently purchased my second bottle and will continue to purchase this product over and over again

Great

I have noticed quite s differance after a couple of weeks. With the weather being do hot and windy and working outside I was quite surprised this morning the differance in my skin, it looked more plumper and moistened.

Can't live without this!

I love using this along with the glow powder! I add this and the powder to my morning smoothies everyday. I have been using this for a few months now and will continue to use. Love love it. I will say you need to use this consistently for at least a month, before you will notice the benefits to your skin.

Haven't noticed a difference in my skin

I have finished my first bottle and don't really see a difference in my skin. It does taste nice though

Nice berry flavour

I use a lot of products from the Beauty Chef range, so it is hard to tell which one is responsible for the magic or if it is a combination of them all. But, since taking these products my gut health has improved significantly, I hardly ever feel bloated now and the benefits are definitely showing in my skin.

I alternate this booster with the antioxidant one. I add it to soda water a...

Read More

love this convenient liquid formulation!

I'n very into skincare from the inside out and love this convenient liquid formulation that I can add to smoothies or juices. For the first couple of weeks, I used it twice daily for faster results. So far, I noticed that my hair isn't falling out as much [suffer from post-partum hair loss] and my skin has brightened.

Tastes amazing!

I am now onto my second bottle of this. I have been drinking this every morning mixed with the Glow Inner Beauty Powder for the last 3 weeks. I have tried their Antioxidant and Hydration Boosts, and the Collagen one is my favourite! My skin has become clearer. I am a big fan and am keen to keep trying more products from The Beauty Chef.

Smooth Skin

I received this as a GWP ang immediately purchased this large size. Firstly the taste is super delicious and I have seen great results in wrinkle depth and less bloating/ a happier gut. So easy to incorporate into your wellness routine! Highly recommend!

A boost of delicious tasting beauty confidence.

I've been taking this, along with the glow powder and body powder, for a good year or two now, and it's made a huge and real difference in terms of treating the majority of the symptoms I get from Endometriosis, such as pain, lack of energy and acne and sensitive skin.

It's a genius product, treating your gut from the inside, so you're more beautiful on the outside, as well as treatin...

Read More

Tastes great but not sure of the benefits

This product tastes amazing added to a glass of water! I have purchased this a couple of times now and always look forward to drinking it in the morning. However, as delicious as it is, and as much as I enjoy it, I don't think I have seen any obvious benefit from drinking it. 4 stars because of the taste alone!

Yummy supplement for skin

It has a yummy berry flavour that combines well with the Gut Primer or Glow powders. I notice a difference in my skin clarity and hair/nail growth with continued use. I have purchased countless bottles of this supplement!

Noticing results

After about a month, I've noticed good results, especially in the cheek area which is where I wanted more of a collagen boost. So, I'm very pleased!!!

Tastes great

This has a fresh berry flavour, that gives it a great taste. I haven't been using it for longer enough to notice a difference to my skin yet. But I'm happy to continue using it due to the taste and the promise of added collagen.

Good

My skin looks so much better ever since I have used this. This is a great addition to my diet

loving this

This product tastes so good! My hair has been growing a little faster than usual and my nails are stronger and my skin is much clearer after use

Tasty!

Received a decent sized sample for this and have enjoyed using so far! Can't necessarily comment on the long-term results but feeling positive so far and it's easy to get down!

Boost

Tastes great, not sure of the benefits yet, but a great boost to the mindset.

Flavoursome collagen liquid

This liquid is easy to take in water. Has a really nice flavour.
I have definitely noticed a difference in the growth of my hair/nails. I have so much new hair growth and my nails are growing a lot quicker then they use too.

Lovely taste

I've been taking this collagen and glow from The Beauty Chef for a couple month now and have notice my skin is smoother and my eyelashes looks healthy and fuller. It tastes delicious :)

tastes amazing

I love love taking this product every morning as it tastes so good. I've been through 3 bottles of this stuff, has helped to keep my skin radiant and also helped to strengthen my nails!? overall really great product, will continue to buy

Tastes Delicious

Tastes delicious, I haven't seen any major improvements yet but will continue to drink.

Radiant skin

A friend, who has glowing skin I might add, recommended this to me, and I've so far loved the results. I find that my skin has been more radiant since implementing this in my daily routine about 3 weeks ago. Taste is great as well!

Make me look young!

I've been trying collagen, glow and sleep by the Beauty Chef and really love collagen. Even my partner is hooked onto it and adds it to our breakfast smoothies in the morning. My skin is looking healthier and more radiant. It also tastes great, too. I highly recommend.

Its okay

Not sure it really works for me. I take Metamucil for my insides instead, and as a result of that, my skin becomes better too. But i only tried the sample version that i got from AB so cant say i tried this over a long period of time.

Yummy

Been taking this for a while now, it taste so good I actually look forward to having this sweet drink. My nails are much harder now and my hair is a lot healthier. I don't have wrinkles but I have noticed my skin looks more glowy

Berry-licious

Tastes great - an easy way to take a supplement, however, I can't say I've noticed much change yet....

Nice tasting, aids hydration

This tonic is a very nice way to boost your collagen - it has an almost silken texture and tastes delicious. A great way to stay hydrated at the very least, but hopefully along with other skincare measures (SPF, moisturiser, vitamin c etc) it's helping to keep my skin in good condition.

Tastes amazing

I love the taste of this! It's a bit like a berry cordial. I don't really like taking tablet supplements, so I really like that I can just have this in my water bottle and drink it at work.

This works

I've been using this product for a few months now, - it has cleared up my skin and helped my hair grow quicker. It taste greats and I like to mix it with the Beauty Chef cleanse.

Together better

I was using the Morlife collagen powder. But now I am mixing up. And works great

Taste amazing!

This beauty collagen taste absolutely beautiful. I love drinking my glass every morning. My nails are stronger my hairs looks healthy and my skin has more of a glow. I am very happy with the results