SkinCeuticals Hydrating B5 Gel - 30ml 30ml
4 instalments of $34.25
Or 4 instalments of $34.25 with
LEARN MORE
4 instalments of $34.25
Or 4 instalments of $34.25 with
LEARN MORE
Official Stockist
Is this for you?
Moisture-enhancing gel with vitamin B5, known to help with tissue repair, and hyaluronic acid. Assists penetration of vitamin C serums; ideal for dehydrated skin.
Skin Concern:
Dull, dry or dehydrated skin

First signs of ageing

Oiliness and shine

Sensitivity and redness

Wrinkles and loss of firmness
Skin Type:
Dry

Normal to dry

Normal to oily

Oily
Frequently bought with
Please wait while we find a match
Questions & Answers
(2 Questions)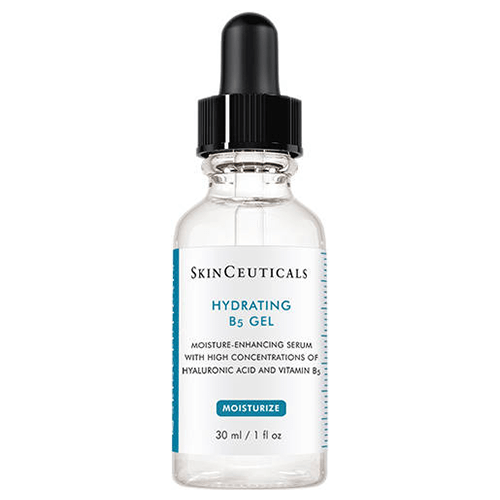 SkinCeuticals Hydrating B5 Gel - 30ml
Get an expert to answer your question about this product!
SkinCeuticals Hydrating B5 Gel - 30ml Reviews
87% recommend this product
Most Helpful Positive
wow
just the best, in love !!!! so hydrating exactly what it says!
Most Helpful Criticism
Overpriced
I received a 15ml gift. Lucky I didn't pay for this. It leaves a very tacky feeling on the skin. Also very overpriced for its basic ingredients and effects.
wow

just the best, in love !!!! so hydrating exactly what it says!

Great moisturiser

I love this serum and I can feel it start moisturising straight away. It has been helping my skin a lot especially over the colder months. However it is quite expensive so I'm not sure I will repurchase unless it is on sale.

hydration only

it works very well as a hydration serum, but with this price, i think there are too many other products can replace it.

Obsessed

I can't speak more highly enough of this B5 gel. I love the consistency and how fresh and juicy my skin is left feeling. A must if you want to ensure your skin is hrydated.

Love it

It's super pricey but I think it's worth it. I'm seeing beautiful results and will continue to purchase it!

Good

The moisturizing effect of this product is very good, but the price is very expensive

Very nice product

I used a lot other b5 serum and this allow my skin absorb super fast!! will repurchase it

Best b5 gel

Love this b5 gel and I used it in my skincare routine every day.

Great Product

I receive a 15ml deluxe sample of this item. This is a great Vitamin B5 serum. It's not heavy for oily skin type. I use it every morning and night before I apply moisturizer and sunscreen

Best

This product is very moisturizing and does not feel burdensome. Is that the price will be more expensive in similar B5

What a wonderful serum!

Very moisturizing, the face is smooth and tender after use, and will be repurchased when used with color repair to remove red blood.

Thick and moisturing

I got this as a sample, it felt very thick but layered well. I sometimes get dry patches from tret and I think this would be helpful. No strong smell.

Dehydrated but oily?

Go no further than this B5 gel! It has a beautiful silky texture, sinks in quickly, and has dramatically reduced my oil flow! Truly rehydrating and calming! I will never not have this in rotation! LOVE!

good

this is pretty good, makes my skin feel fresh and soft

Great product

This is a great Vitamin B serum. It's very light weight and locks in moisture. I use it every morning on a damp face before I apply moisturizer and sunscreen

Hydrating your skin

Very good product for daily hydration, not greasy . Although it's more suitable for younger skin with less problem. Will buy it again.

Hydrating your skin

Very good product for daily hydration, not greasy . Although it's more suitable for younger skin with less problem. Will buy it again.

Hydrate the skin with just three drops on the face

Hydrate the skin with just three drops on the face

Recommended

The effect of this essence is immediately visible, before going to bed three drops on the face evenly, the next day up to feel the skin will not be so rough, not very oily.

so hydrating

so lovely and hydrating on the skin however is a little pricy

Nice hydrating gentle serum

I like this serum but i still prefer the Medik8 b5 intense (purple bottle). Not bad but more expensive than my favourite so won't repurchase this. It is still very good though.

Overpriced

I received a 15ml gift. Lucky I didn't pay for this. It leaves a very tacky feeling on the skin. Also very overpriced for its basic ingredients and effects.

Magic in a bottle

Light on the skin, but i cant believe how i no longer feel the pulling sensation of my face after washing!!

The only HA my skin can tolerate.

Normally, for some reason, Hyaluronic acid break me out, but not this one. This makes my skin feel plump after using. Works ver well with my CE Ferulic.

Hydrating

Very hydrating and absorbs well. Also great under makeup. No more dry patches after using this! Great product although a bit expensive

Finally! a non-sticky Hyaluronic serum!

Okay okay okay, I finally found the best serum. I stopped using anything with Hyaluronic because I found it too sticky on my face, and when I put makeup on it separates and pill on my face but not this one. Oh my gosh, I think all Skinceuticals products are worth it!

SO hydrating

This is a gorgeous hydrating B5 serum. It is refreshing on the skin, literally like a drink of water for your skin.

Not bad

Leaves my skin a bit sticky (not as bad as some HA's though) but still layers well. It's not bad but would try out other products before I buy this one again.

Expensive hydration

Honestly it's good and it delivers what it says, but it's not worth the price. There are so many other HA products that do the same thing, but are cheaper (cereve, la Roche Posay, hada labo). If you use HA serum like this one, you need a moisturiser in order for the product to work. Skinceuticals vitamin c on the other hand is amazing & is worth it as no other company can produce the same formulat...

Read More

Worth the money??

I received this as a sample and while it did it's job I wasn't left feeling like I needed to buy it myself. Hydrates well enough but certainly not a miracle cure.

Not the best from skinceuticals

Received this as a GWP. I used and likes a lots of skinceuticals products but this one isn't one of them.
It's way too tacky and so hard to layer up with other things. Lucky I didn't pay for it.

Pricy but very hydrating

I use this daily, it keep my skin feel hydrated. I use it with CE FERULIC in the morning, it is quickly absorbed by my skin and doesn't pill. It is expensive and I did try other alternative products, however I always go back to this Skinceuticals B5 gel as is more effective than others....guess you get what you pay for.

I am obsessed with skin ceuticals product

I use it every night after the BE serum and before the cream. It does what it promises to keep the skin hydrated. But I cannot use it in the morning as sometimes it doesn't go along with my primer or foundation

It's work for me

Great product with a very good moisturizing effect, suitable for oily skin.

fan of it

I love this brand so much. I use this one with Acid products and they work excellent together. It can be absorbed quickly and wont feel oily at all.

Good!

Very hydrating, with Phyto Corrective, it can play a role in maintaining stability and repairing skin.

Hydrating but pricey

It really hydrates my skin and leave my skin really smooth. It is not greasy at all and got absorbed really quickly. I like it is not strongly scented. However, it is quite expensive and I think there are other products would do the same job with a cheaper prices.

hydrant and not oily

It really helped my dehydrated skin. Since I easily get pimples, I afraid of using moisturiser so this one definitely is the one I;m looking for - not oily but can hydrate my skin well! Plus. It wont cause any pimples!!! I love it so much!

Silky

Received a sample of this product, have really enjoyed it. Nice silky texture and there is a very nice glow with it in comparison to other HA products i have used. Is pricey though.

Gimme glow

Oh yeah, this is great, just what my skin needs. The ingredients are minimal and it shows, there's no 'sugarcoating' with this serum, no nasties. My skin feels plump, soft and glowing after use and it doesn't matter if you use it in the morning or evening. Also great over your lips and eyes.

Does the job but a bit pricey

It really does the job but a bit pricey for the only hydrating function.

Very hydrating serum

I use this daily, it keep my skin feel hydrated. I use it with CE FERULIC in the morning, it is quickly absorbed by my skin and doesn't pill. It is expensive and I did try other alternative products, however I always go back to this Skinceuticals B5 gel as is more effective than others....guess you get what you pay for.

My all time favorite

This serum seriously keep my skin hydrated and complexion clear. I use it in combination of HA+B5 and it is particularly effective on my skin in terms of keeping my skin feels soft & comfortable, less breakout and blackheads. Highly recommended!

awesome, but expensive

This liquid is quickly absorbed and doesn't pill from the skin :) .
it is expensive but last 6 months at least. Worth It

Not sticky!

My serums always go sticky except skinceuticals! Love this product. Even use it on my lips!

Best Hydration Product!!

This is definitely the first product you should try from Skin Ceutical! The texture of this serum is smooth and definitely keeps you hydrated all day. Only need 3 drops a time and therefore you can use it for a quite long period. Hope to have a 50ml next time on this website!!!

Moisture in a bottle!

Loving this gel - I used it after my morning Vitamin C serum and in the evening after my retinol. Since starting to use this I have noticed a patch of dermatitis on my neck has also really improved - super happy and have just purchased a second bottle!

It's works

For me, it's perfect combo with CE FERULIC. Hydrating B5 is a liquid little bit aqueous that is quickly absorbed and doesn't pill.
it is expensive but you have it for 6 months (I don't use it the evening) 3 drops are enough and it's effective. But I still keep looking for a less expensive equivalent

Supercharged hydrating serum!

I absolutely love this serum, it's hardcore hydration from the hyaluronic acid and with B5 makes it's supercharged for tissue repair. It fits in so well with my routine and helps maximise the benefits of what I layer it with.

Regret buying it.

That time of the year where Persephone has to go to Hades and winter is back again then my skin followed her and becomes dry. Received this as a sample and tried using it for 3-4 days and it was really good to my skin, felt hydrated at first and decided to buy a bottle (closed my eyes while typing that card number, cause it was hefty expensive lol, kidding). The serum is fast absorbing and it tig...

Read More

So Good

This is my favourite HA serum. It instantly sinks into the skin and hydrates. It feels cool on the skin, has a lovely texture and is not sticky. This serum is literally a drink of water for your skin. It is great for oily skin, that needs water hydration. Sadly I go through this so quick and it is expensive, however I will keep buying because it is so worth it.

ONE OF THE BEST B5 SERUMS

I said it is one of the best because I can give you many other options such as Medik8, Paula Choice ( B3 / B5 ), Skinmedica,... and a lot more. But for now, I would say it's better than any of your hydrating serum, guaranteed 100%. Forget about your The Ordinary from Chemist & Priceline, it's time for your skin to glow. It does as it says, and 1 more thing: I love the simply ingredients of the pr...

Read More

Great product

Leaves my skin feeling smooth and hydrated. No strong scent and no oily residue

Better products for cheaper

Very hydrating, received as sample, & immediately put on moisturiser afterwards to lock in the moisture, but honestly, there are other just as effective hyaluronic "gels" for capturing moisture without this price point.

Super hydrating!

First time using this product, I purchased it because my face was looking dull with congestion. I'm 2 weeks into using this now and it's really hydrated my skin making it glow and keeping it very smooth! I use it after a few drops of Medik8 Vitamin C As it's recommended to use after vitamin C. I'll defiantly be repurchasing this again!

Quality product

I've used a few Hyaluronic Acids from various brands and at different price points, and I really like this one because it absorbs into the skin really well. With other brands, because it doesn't absorb as well, when I layer my serums on top, it doesn't mix well and I can see and feel the Hyaluronic Acid coming off. The only reason I'm taking 0.5 stars off is because it is one of the more expensive...

Read More

The best I've used!!

I bought the SkinCeuticals gift set during the at the end of 2019 and this HA B5 gel is included. The combination of HA+B5 is frequently seen in skincare but this one is particularly effective on my skin in terms of hydration and accelerating healing blemish scar. It is expensive so I will happily repurchase if it comes in a set :)

Amazing hydrating product

I started using this after a lapse in judgment led to a waxed upper lip while using retinol, whoops! My skin was extremely tight and red, but after using this with Skinceuticals' Hydra Balm on top, my skin has pretty much completely healed in five short days! It's extremely hydrating and like other reviewers have said, a little goes a long way (and I've been reapplying a few times a day to help wi...

Read More

like it but pricey

I can't believe I hadn't bought this before! This stuff is so good. It's lasted me ages - a little goes a long way.

Smoothing

I received this product as a sample in my last order. I wasn't so sure with using the product but my face felt super hydrated after using. It is a bit pricey for a full body but loved trialling the sample

Love!

I received a sample of this, and have been using this for a few weeks, and I am going to purchase the full size - it is very hydrating, and I have been using this day and night before my moisturiser.

Nice product but

This is a lovely product and there is noting wrong without. Light weight, absorbs really fast and not overly scented but I find Medik 8 B5 to do just as good as a job for a cheaper price point without sacrificing quality.

Brilliant but expensive

I received a sample of this and found it amazing for giving my skin hydration and glow, if you are able to spend I would say this is the best vitamin B gel out there but could find cheaper alternatives

Lovely but dear

This is nice product but the price is far too insane to justify purchasing. I've used similar products which have had the same effect, if not better.

help moisturize but not sure if it's worth the price

I got this as a sample and the 15ml bottle last me for a few months. I only need 1-2 drops for the whole face because it's very thick. It does the job to moisturize your skin with a very little amount but I'm not sure about any other the results it brings to my skin. I couldn't notice any changes to my skin by adding this Serum to my Am and Pm routine. I used SkinCeuticals CE Serum in the morning ...

Read More

Wish I found it sooner

I'm fairly new to the world of Vitamin B serums, but this one has wowed me. I normally have an extremely oily t-zone and somehow, this magical serum has reduced that dramatically. Absorbs quickly and feels nice and light.

Good hydration product

Love this product. Apply after toner and it is absorbed so fast. Now in Au is autumn and feel pretty dry, so I feel my skin improved after using this.

Dry skins bff

I've always had dry skin that turns oily during the warmer months. This product has really been a game changer for me and my skin. I felt that after using this for a month my skin has shown to be more hydrated and less itchy from dryness.

Great serum

This is why I love adore beauty, I get to try great products like this before I purchase. Totally amazing serum.
My skin looks and feels great.
Would like to see the effect with prolonged use
Great stuff.

Excellent Vit B5/Hyaluronic Serum

Excellent serum if you are looking for something to hydrate you. Hasn't caused any irritation and has probably helped overall with some acne I had which was exacerbated by the smoke from the bushfires over the past few months. Feels higher quality than cheaper brands that I have tried and I now only use this one. Absorbs in seconds, hydrates, lovely finish for layering.

lightweight, absorb fast

This B5 serum is worth the extra cost. I've tried versions by Cosmetic Skin Solutions and OZ Naturals and both disappointed. The SkinCeuticals product has a better texture, better absorption, and instantly plumps up the skin. I use once a day in the morning, and each bottle lasts for six months.

Surprised ,it works

Very good for my oily skin. Make skin less oily .

A good gel moisturizer

It leaves my skin feeling soft and hydrated without a greasiness. I have combination skin but it should be good for all skin type. I use it with CE serum and A.G.E. Interrupter every morning.

light hydrating and plumps up skin

An excellent source of hydration and moisture that really seems to last. Light and not at all greasy. And sinks immediately into my skin (you seriously only need 2-3 drops to cover your entire face).It has absolutely no scent, obsessed with this product! Highly recommend.

Amazing consistency

I love how lightweight and effective this product is! It glides onto the skin and absorbs super easily, leaving you with fresh skin that looks like you just washed you face

Lightweight

I love that the Hydrating Gel is so lightweight and easily absorbs into the skin, leaving no residue. It feels hydrating, leaving my skim smooth

Great!

This stuff is fantastic for dry skin and dark circles under the eyes. I used to look very tired and pale but this hydrating gel has perked my skin up. I'd recommend it for sensitive skin as well because it's very light and airy, doesn't feel sticky or heavy or oily on the face.

So hydrating

Got this as a sample in my last purchase and oh my lord I wish that somehow it was cheaper or I could afford to use this on the daily. It is SO HYDRATING and I really noticed the difference in my skin after a few days.

Great Hydration

I purchased this as part of a Christmas pack and use it with both my CE Ferulic Serum and Phloretin CF, it works well with both and keeps your skin looking hydrated but not greasy.

I would recommend this product, especially if you can get it in a gift pack at any point.

Nice serum

The price of this product surprises me. It felt like a basic serum and as much as it felt hydrating and plumping, I have other much cheaper serums that do the same thing. Not worth the money for me.

Brilliant

I am new to the skinceuticals zand i am more than impressed. I use this product every morning after my skinceuticals vitamin c for just over 4 weeks and ny skin has never looked better. My skin now has a healthy glow and i am just about at the stage where i don't have to wear makeup. My pores have shrunk , and overall my skin is looking healthy and YOUNGER! These products are definitely a match ...

Read More

A must have!

I used this product with the Blemish and Age, and the phyto correct gel, the trio works perfectly for me! After using blemish and age from Skinceuticals, the skin gets a bit dry so I needed something to hydrate, the B5 was perfect! It did not feel suffocating on my skin even though my skin is usually a little oily. Love it!

Hydrating!

I have combination skin and this really helps to keep my skin hydrated but without the greasiness. I like the light texture and how it absorbs quickly into the skin.

Like no other Hyaluronic Acid I've tried

I've tried so many brand of Hyaluronic Acid from cheap to expensive, so I took my chances with this one. It absorbs very quick and plumps my skin for the rest of the day. Will definitely repurchase this!

Best product for dehydrated skin

This is the best product ever!! It absorbs straight into your skin and you wont feel greasy at all , I use it together with CEFerulic in the morning and my skin gets so much better ever since. I have introduced this to my sister and she feels the same way. I will be buying the second bottle for sure.

Really nice product

I really like this serum... and who wouldn't like some HA with their B5? Well done SkinCeuticals, you've really helped my dull, lifeless skin.

Good product

Received as a sample. This product is light weight and hydrating. There's no denying the quality of the product but I find it no different then the Medic 8 serum for a cheaper price point with comparable quality.

Light weight and suit my combination skin

I have a combination skin and struggling with acne breakout. This serum is lightweight and absorb so fast in my skin and never cause any breakout. It keeps my skin healthy and hydration for the whole day.
I also use the medik8 B5 serum, it's still good but a bit sticky and not absorb as quick as this one! I think that's why the price difference.

I use it everyday

Now I've started using this I can't stop. It makes my skin feel so soft and fresh!

Free sample

Got this as a free sample. It's hydrating but at this price point you can probably get something that works the same at fraction of the price.

Like a drink of water for your skin!

I've been using the Medik8 B5 serum for a few years and was happy but I received this as a sample and said I'd try it. I really liked it. Like the other B5 serum I use, a little goes a long way with this one and I find my skin responds really well to this extra hydration boost. I have dry skin so this before my usual mosituriser and sun screen just gives that extra bit of glow for the day.
...

Read More

Beautiful texture, much hydration!

I received this as a sample and went on to buy the full size - it's brilliant! Super lightweight texture that sinks in beautifully and gives ultra hydration and glow to the skin. I love this layered over the HA Intensifier and Retexturing Activator! Divine!

Love

my skin has been a bit dry lately and i've added this into my routine and it looks so much better. use this serum before moisturiser every night and is amazing. Would recommend this. Worth the price


Good product

I really like the texture of the product. It's lightweight and can be fast absorbed by skin. Not sticky at all. I use it as a base serum before my other serums and creams in my daily routine. Not a magic product...especially at the price! I like it but I will try something similar next time.

Works well, a bit out of my price range

I took a travel size version of this when I went overseas and found it really helped keep my skin hydrated and plumped on the flight, especially when mixed in with a heavy moisturiser and a sleep mask. There are other cheaper products that do the same thing for my skin and won't repurchase unless it's on sale.

Love

I finally purchased this after months of debating if it was worth it and I couldn't be happier. I love how light, hydrating and fast absorbing it is. I definitely see a positive difference in my skin hydration and texture even thought I have only been using it for a week.

Really liking it!

Received this as a sample and am really liking it! Use it in combination with my other skinceuticals and Estée Lauder products and this is now on my wish list! Easy to smooth on, absorbs well and my skin feels hydrated!

Nice, but wouldn't spend my own money on it

I received a deluxe sample of this and while I did enjoy it, in no way can I justify the price. It's a lightweight serum that absorbs beautifully, making it a great in between for serums and creams. But definitely not the magic bullet in my skincare routine. And at the price... wow! I just can't justify the spend on something that simply provides a small layer of hydration, which was all it di...

Read More

Good addition

I can't say this is worth the money.

I love all their products and this gives an added hydration boost.

I'd use this one or the HA intensifier, but not both.

HA definitely feels more plumping, but this is so gentle and hydrating.



Received Free Sample

Very smoothing and hydrating however I probably wouldn't spend the money to buy a full size.