SkinCeuticals Blemish + Age Defense Serum 30ml
Is this for you?
A treatment serum to care for adults who are concerned about ageing as well as acne.
Cosmeceuticals
Artificial Fragrance Free
Sulphate Free
Skin Concern:
Acne, breakouts and blackheads

First signs of ageing
Skin Type:
Normal to dry

Normal to oily

Oily
Frequently bought with
Please wait while we find a match
Questions & Answers
(4 Questions)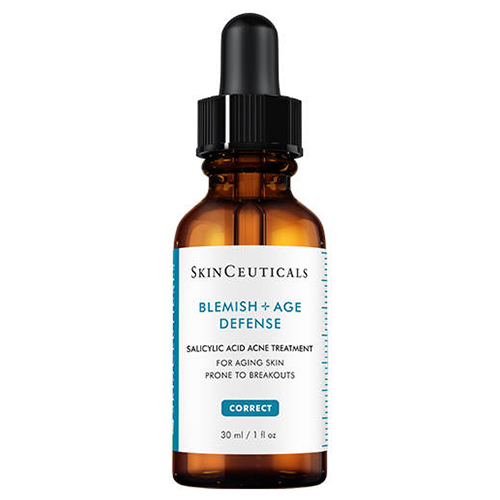 SkinCeuticals Blemish + Age Defense Serum
Get an expert to answer your question about this product!
92% recommend this product
Most Helpful Positive
very good for use
My pores became smaller when I used it
Most Helpful Criticism
Only skinceuticals product worth the money
This is probably the only skinceuticals product that I would recommend to someone and MAYBE use again. But at the same time I feel like my prescription tretinoin does a better job at addressing acne AND aging at a cheaper price point with clinically backed studies.
Good

This over time has helped my oily and acne prone skin. Just a bit expensive

Only skinceuticals product worth the money

This is probably the only skinceuticals product that I would recommend to someone and MAYBE use again. But at the same time I feel like my prescription tretinoin does a better job at addressing acne AND aging at a cheaper price point with clinically backed studies.

Pretty good!

I purchased this serum to use as a spot treatment on blemishes on my cheeks. Works a treat, it's pretty strong and will REALLY dry everything out so definitely don't over do it. I'm not sure I'd be confident to put this all over my face, I feel like I'd shed a whole layer. So happy to just use it as a spot treatment.

very good for use

My pores became smaller when I used it

Love this product

i am on to my second bottle of this product and absolutely love it! it has worked miracles on clearing up my skin and is now a vital part of my skincare routine!
it is obviously a little pricey but a bottle will last about 8 weeks and it is in my opinion worth it!
it has dried out my skin at all and spreads beautifully on the skin!
I love all the skinceuticals products but this o...

Read More

Effective breakout controller

Very effective at reducing hormonal breakouts. I used it 3 times in one day and my chin peeled off so learn from my mistakes and don't overdo it lol! It's quite strong on my sensitive skin so I just use it as a spot treatment on areas that are affected by acne and its very effective at clearing up my breakouts.

Love it

I have used a couple of similar product based on salicylic acid but this one does magic on my skin. I have been using it over a month and I can already see that I'm getting much fewer pimples than usual. My skin is brighter and it just looks healthy. It is a bit expensive but I can handle the price for these results.

Amazing

This is absolutely amazing and helps with my blemishes and pimples. It is good at controlling oil too

Impressive!

I wasn't expecting much from the purchase, but it totally changed my mind when I started using it. I have acne-prone skin, usually have some acne scars and small pimples on my face. Since I've started using this product, my skin become almost clear within a week and a bit. I used it with the phytocorrect serum also from Skinceuticals, the two work well together. Love it! The delivery is also quite...

Read More

Clears clogged pores

I am living a busy lifestyle, only sleep 5-6 hours a day. From last year, I got lots of whiteheads around my chin and neck ares, which turns into acne's. A friend recommended this serum to me. After one month, my skin is clear. Only some dark marks left. I still repurchase this serum and use every other nights to avoid acne.

Also give it as gifts to my friends who have skin problems....

Read More

Prevents acne

I have been using this for a couple of months and have noticed i am not getting as many breakouts as i used to. I feel like it sort of clears my skin. It can make the skin a bit dry so i use it every alternate night or when i feel like a breakout is coming. Took away one star as it is expensive!

Pretty good

Yes it does work but it takes time and continuous use.
It kind of dries out the area it is treating.
Not sure if I would purchase again

Game changer! Obsessed

This is my new cannot live without product. I have tried many serums and treatments for my hormonal angry skin but this has been the most effective. It does not dry the skin but drys very fast so it layers really well with other products. I was at first unsure of this product due to the price point. but a little does go a long way. Wish I found this one years ago.

Hormonal breakouts worst enemy!

I found this so effective at treating and preventing hormonal breakouts! At 32 I don't want to burn my pimples off like I did as a teen and this addresses all my issues in the one serum without irritating my skin. Also layers well with hydrating serums. Will repurchase!

Magic!!!

I am in love with this product. Since I bought the first one, I stopped looking for other products. It not only helps reduce the active breakouts, but also corrects redness and makes my skin softer. I use it every night after the toner and the SkinCeuticals B5 serum. Absolutely my favourite serum! Highly recommend it if your skin is blemish-prone.


Good product

A serum contains salicylic acid, good to control oil.

In love

I'm so impressed with this little serum. I'm able to combat age and breakouts in one hit. It's very light and non greasy and a little goes a long way. Can dry out your skin if used everyday so moisturise well or use every 1-2 days. Pricey but worth it.

LOVEEEE

I LOVE this. As soon as I have a break out or uneven skin, I pop a little bit of this on and my skin is clearer the next day. Works wonders. My face has been soooo much better since I started using this. I will keep buying this for my acne.

Very Good

I was really struggling with breakouts, This product really helped reduce the active breakouts. Adhere to the use, the skin is more smooth.

Blemish's Banished

This product is a lifesaver for hormonal breakouts and spot treating. Being someone with super dry skin but occasional hormonal acne, I find it hard to find treatments or serums that control breakouts without drying out my skin. But this product did the complete opposite, I used it as a spot treatment on a few breakouts that I had on my chin and like magic they were completely gone the next day. I...

Read More

Effective on my acne while be gentel with my skin

I have been reluctant to use acidy product as they might destroy the natural protection function of my skin. I have been using this one from time to time (whenever I had a new pimple) for almost 6 months now. It works well for me.

Miracle Work!

I was really struggling with a burst of hormonal breakouts when I was recommended this serum. The size of my pimples reduced DRAMATICALLY after the first use! Even my pores are smaller! My skin felt slightly stiff the morning after, but it was fine as soon as I cleansed. I would recommend this serum to anyone suffering from breakouts!

Helped my hormonal breakouts

I was really struggling with hormonal breakouts, so big cystic pimples and red marks from old breakouts. This product really helped clear the active breakouts and in conjunction with a mild retinol, has also helped with the post inflammatory pigmentation. Will be repurchasing!

Magnificent

This product helped my skin a lot. Acnes decreased and oiliness also. The texture of the skin was wonderful. I used combined with other brand products. But it is very complete and can be used night and day

Quite good for sensitive skin

It has the ability to treat very strong acne but is quite benign and less irritating to the skin including sensitive skin. My skin felt smooth and reduce acnes. Will buy it again.

Apply on the affected areas

The effect is amazing. It really reduces my spots on the face. Love it and keep using.

Use on acne prone areas

I use on acne prone areas or areas where acne has formed. It has drastically improved my acne and acne scars!

THE PRODUCT you need if you have breakouts

This product changed my life! I have normal skin, a bit sensitive with acne prone type. I tried everything to try to stop having spots and that's the only products that work for me. I use it morning and night while making sure my skin is well hydrated and since then, no more breakouts ! It's important to keep the skin well hydrated as it can be a bit irritating for the skin if not. Amazing product...

Read More

Worth the Money

I had heard a lot of good things about this product from a lot of people. But as I have learnt in the past, just because it works for someone else doesn't mean it would work for me. I honestly saw results within a week and I was blown away, I have oily to combination skin and it worked a treat. I went from having a new pimple everyday to hardly any new pimples popping up. Definitely would recommen...

Read More

Goodbye Blemishes

Took a chance on this product and it paid off! I had a cluster of blemishes that wouldn't go away - After a month of using this product, daily, I am starting to see positive results in the form of clearer skin. Only downfall was the area got a little worse and aggravated before it started to get better but I'm glad I stuck it out, persistence was key.

it is worth a try

My skin is combination to oily with acne for many years. i have used it for two weeks. Obviously, you can see redness fading and you face becomes smooth. I will keep using. Love this brand.

Not bad

Not bad bad it doesn't magically make your acne disappear. Although it does seem to help a bit them getting bigger.

Great product

I have oily prone skin and I've been using this product for the last month. I had a few pimples and acne when I started using this serum and it helped to get rid of them efficiently. It stings a little at those spots during the first few uses, but the pain goes away as my skin becomes more tolerant with the serum. It has been doing a great job for keeping my skin smooth and acne free since and als...

Read More

Good

I've used this product for 6-8 months. Initial few months when I bought this, I was struggling with a mixture of cystic acne + blackheads + white head acne that randomly appears and takes ages to clear regardless of hormonal cycle influences/lifestyle/diet. After 3 months of eating well and using this serum with CEFerulic serum (I alternated every night) religiously at night (I also kept mine in t...

Read More

This is It!

Have been searching for some products that can calm this breakouts and make my blemishes lighter.Finally im satisfied , although this product make me feel a bit dry its fine cos i have combination normal to oily skin and the skinceuticals moisturiser helps too. I have bits of bumps on the first few days but it subside and my blemish is fading. There is still breakouts but is not that active as it ...

Read More

Best bang for your buck

I agree this product is expensive but it's totally worth the price. I've tried some other drug store and brand name AHA/BHA products but none of them works as effectively as this SkinCeuticals serum. I literally can see the difference on my acne overnight - the bumps became flattened and redness was visibly reduced. Daily use helps control my breakout. A bottle would last me at least 3 months with...

Read More

What a difference

Unfortunately, I belong to the demographic of gals who still have the occasional pimples but also starting to have wrinkles!

There are not many products out there to combat both, so it was a no-brainer for me to order this.

I have been using it for 3 months now and can definitely see a difference in my complexion. I have barely any break outs and my skin just looks finer...

Read More

Spots

This is really good st making spots appear less obvious.

Life Saver

I'm 25, Ive got combo skin and I had been struggling with acne for as long as I can remember. Its wasnt crazy cystic acne (since cutting out gluten) but my nose, chin and forhead was basically covered with large pores and small little black heads as well as the outer portion of my cheeks. I also struggled with some textural issues on my cheeks, many tiny little bumps I would always pick and prod a...

Read More

Excellent product that I use as a spot treatment!

This product lasts for ages, as I only use a tiny bit when a pimple pops up. I'm 34, but first started using this product when I was about 30 and experienced some adult acne issues and congestion. On occasion I will use the serum over my entire face, but usually if I feel any spots or congestion occurring (usually along my jawline), I will put a small amount of this serum on overnight and it makes...

Read More

It works

Its the best product to keep your blackheads and pimples at bay. Very good product for oily skin. Skinceuticals are the best

Super Effective

I absolutely loved this serum - the first morning after using it I was so surprised with the results. I used this serum as a means for treating my blemished skin, however I ended up developing too much sensitivity to it - if you have sensitive skin, I definitely recommend using it minimally and/or only applying directly to a blemish. I have been dealing with hormonal acne, so obviously a topical p...

Read More

Love it

I love how this product makes my skin feel like it's had a mini lift. My skin is tighter and it's slowly helping with my hormonal acne. It does have a tingling sensation so I wouldn't use it if you have sensitive skin! I absolutely love it.

great results so far

I've been using this product for a couple of weeks and have noticed a huge difference! i struggle with cystic acne and hyperpigmentation scars. My pores are smaller and my skin texture looks more uniform, i still get the occasional pimple but nowhere near as severely. I feel as if i keep using this product consistently, those will stop too. It is quite drying product and can emphasise flaky skin s...

Read More

Amazing product

Amazing product, been using this for a week now and has helped my acne. It does sting a little when you first apply however it does the job!!

No No No

The product sounded very promising but sadly it did exactly the opposite of what it was suppose to do.
My skin got extremely oily and I had bad breakouts.

Great spot treatment

This product is essential when having breakouts as it accelerates the cycle however I found it quite drying so have a good moisturiser handy or keep as a spot treatment

Fast product for face

A smooth, uniform texture, without pimples and I'm luminous! This product is amazing!

Does what is claims to do

I have suffered from acne for a long time since my early teens and recently at 24.
I decided to give this a go and so far so good!

It has dried out my acne (without over drying) and I have been using it for just a week.
Will definitely continue using and hopefully continue to see results!

Very good

This is my first Skinceuticals product. I have heard a lot about the brand and thought I should get something just to try. I decided on the Blemish and Age Defense as I am 28 years old, high time to start using more potent anti-aging products. And since I have got a combination complexion anti-blemishes sounded good too. I have been using it every night for 3 weeks now and I can already see the re...

Read More