Glycolic acid is an exfoliant and one of the most popular alpha-hydroxy acids (AHAs) used in skincare products today. It works by helping to remove dead skin cells, so that the skin becomes more radiant. Glycolic acid is the smallest of all AHAs. Its small molecular size is the reason that glycolic acid does not only work on the surface of the skin but is also able to get below the surface of the skin and into the pores for deeper impact on the skin.


What does glycolic acid do for your skin?
Glycolic acid exfoliates and is able to stimulate the skin into increasing collagen production. But wait, there's more!. Not only will your fine lines and wrinkles fade, but dullness and hyperpigmentation are also no match for the power of this powerful, cosmeceutical AHA. And, if you are looking for another incentive, glycolic acid is also able to effectively treat breakouts and minimise their frequency.


Is cosmeceutical glycolic acid for me?
Glycolic acid works best for skin that is normal, oily or combination. If you have sensitive or dry skin types it is likely that you could experience irritation, depending on the concentration of glycolic acid in the product.
How should I use glycolic acid in my routine?


Know your skin. If you have sensitive skin that is prone to irritation, then a cleanser that contains glycolic acid is probably the best and gentlest way to introduce glycolic acid in your skincare routine. Once your skin has adjusted or if your skin is not prone to irritation, then a leave-on product such as serum or toner should work out just fine.


Adore Beauty has a wide selection of cosmeceutical products with this effective AHA. Browse our collection and get started today.
Glycolic Acid, articles & community
Recent reviews on Glycolic Acid products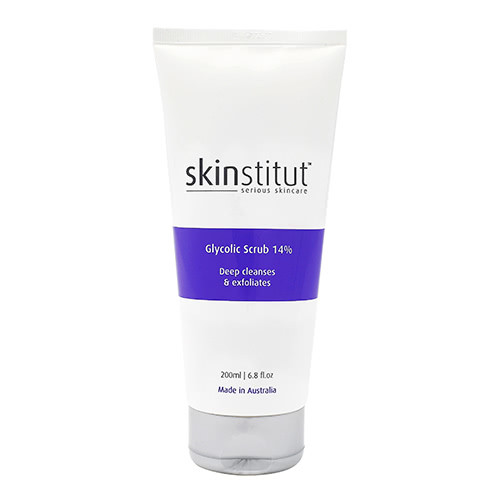 Skinstitut
Skinstitut Glycolic Scrub 14%
$49.00
$34.30
Definitely not for sensitive skins!
I'm not sure why this is marketed as a gentle exfoliant as it definitely isn't! Tried this and my skin was red for a few days afterwards and I am used to active skincare. The texture is just too granular and rough plus the smell is just not for me AT ALL. Ended up using this on the body to use it up and it did a good job there.