Shu Uemura Cleansing Oil Shampoo - Anti Dandruff Soothing Cleanser 400ml
Frequently bought with
Please wait while we find a match
Questions & Answers
(No Questions Yet)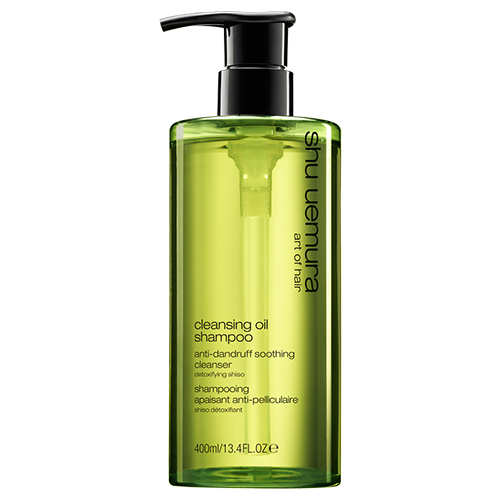 Shu Uemura Cleansing Oil Shampoo - Anti Dandruff Soothing Cleanser
Get an expert to answer your question about this product!
Ask a Question
100% recommend this product
Most Helpful Positive
Yes!
This is a fav for me and my family! So good for my hair
Yes!

This is a fav for me and my family! So good for my hair

Totally tames the itch from hard water

I live in an area where the calcium and mineral levels in the water are very high, and as a result my skin is can be quite dry and my hair ends up frizzy and unmanageable if I don't use the right products to deal with the conditions.

I have always shampoo'd my hair twice when washing, and I was so happy when I found this. It's been my go to for the first wash for a number of years. It cleans my hair without stripping the natural oils, and the pump pack lasts for ages. Love love love it!




Great

I have always had dandruff and used dandruff shampoos but this is a completely different concept. It is much more gentle on my scalp and not only stops my dandruff but also makes my hair feel healthy and doesnt strip my hair like many other dandruff shampoos.

Awesome product

I have greasy hair prone to dry itchy scaly scalp. This shampoo its the best and since I found it few years ago I never used anything else! Given the price tag it lasts for a long time.

Gentle, mild smelling, non-drying

I have been using this shampoo for about several years now. It was a long road trying multiple shampoo brands & types during my adolescent years before I finally found this one. I have fine hair that I try to maintain below shoulder length and have ends which are prone to drying along with oily roots and dandruff. I am a "wash and wear" kind of girl - I let my hair air dry, hardly ever blow-drying or heat-styling my hair. This is mostly because using heat accelerates the rate at which I develop split ends leading to more frequent hair cuts leading to less hair length being achieved!

All the regular anti-dandruff shampoos in medicated brands, supermarket brands and salon only brands gave me frizzy ends and varying levels of dry scalp. Not using an anti dandruff shampoo was not an option as the dandruff would recur within 7 days even if I performed minimal brushing/combing/touching of my scalp.

A couple of years ago I read a good review online for the SU oil based anti-dandruff shampoo and decided to splurge and give it ago. Whilst not perfect, this has been the best shampoo I've found so far. It's a gentle, luxurious shampoo which leaves me with hair that is not frizzy so that I am comfortable shampooing my hair of a morning or evening and then going out/to an event without having to worry that it will air dry frizzy and look horrible. The only drawback is since it's an oil based shampoo, my scalp becomes oily by day 2 and I can't stretch out my shampoos any further than day 3 (even with dry shampoo to tide me over).

I previously would sometimes use other shampoos on holidays (e.g. at hotels) and even using decent stuff like Aesop or Appelles, I found that the dandruff recurred if I replaced one or two shampoos with non-SU shampoo. I now always pack a small bottle of this whenever I am on holidays - whether a domestic weekend away or international fortnight trip (and I travel with carry-on only so toiletries real estate is tight!)

Whilst it's definitely pricey, one bottle will last close to a year and the benefit of having a shampoo which lets me spend less of my life styling my hair on a day when it's been washed is absolutely worth it to me. I would highly recommend it to others who have encountered similar issues and have a similar hair type.

Effectiveness vs Luxury - No Need to Compromise

After an unfortunate series of events where another brand discontinued my favourite shampoo not once, but twice, fate brought me to the Anti Dandruff Soothing Cleanser by Shu Uemura.

I have eczema, and am prone to an itchy, irritated scalp - so I'm used to medicinal smelling treatment shampoos, that alleviate my scalp but don't offer anything in the way of luxury, which has always been a big disappointment to me.

This shampoo gives me what I've always wanted - a luxurious, beautifully smelling shampoo, that won't strip out or dry my hair (it's dry enough!) while still being really effective on my irritated scalp. It gave me a thorough cleanse, felt soothing and cooling upon application, and smelled divine.

Now I know I don't have to compromise on a beautiful shampoo to get something effective, I don't know how I'll go back!