Shhh Silk Oversized Silk Scrunchie
4 instalments of $7.50
Or 4 instalments of $7.50 with
LEARN MORE
4 instalments of $7.50
Or 4 instalments of $7.50 with
LEARN MORE
Official Stockist
Is this for you?
Spend more time sleeping in and less time taming your mane with a Shhh Silk Scrunchie. Made with 100% mulberry silk, these oversized scrunchies will help keep your hair tangle-free overnight without leaving kinks.
Frequently bought with
Please wait while we find a match
Questions & Answers
(1 Question)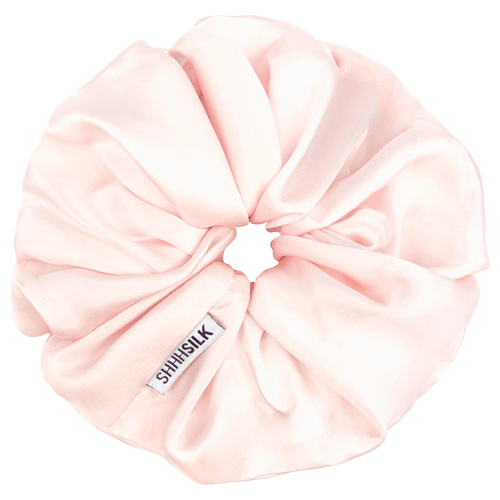 Shhh Silk Oversized Silk Scrunchie
Get an expert to answer your question about this product!
Shhh Silk Oversized Silk Scrunchie Reviews
87% recommend this product
Most Helpful Positive
super cute
This is the cutest scrunchie and it's great quality. I love it!
Most Helpful Criticism
Silk Scrunchie
A lovely silk scrunchie but it was way to big for me. My hair is long and fine but I have to wrap this at least 3 times around my hair. Is also quite bulky to sleep in. Only wear it at home as it is too big to wear in my hair out. Also does leave a slight kink in my hair which I was hoping to eliminate. Probably better if you have thick hair. Would be great in a smaller size which they do make but isn't stocked on Adore Beauty site.
love it for sleep

very happy with it, so soft and cute. wouldn't wear it out as it is very oversized but does not pull out any of my hair and my hair is left soft in the morning after wearing it :)

super cute

This is the cutest scrunchie and it's great quality. I love it!

Want it in all colours!

I purchased the black scrunchie after eying it for a while and I the look/feel in my hair - it is a big scrunchie so quite noticeable. I usually loop it twice for a loose fit bun. Now eying the beige/pink colours!

Great for long thick hair!

Love this super cute oversized silk scrunchie for hold up my long thick hair. Its especially great for securing my high pony tails & top knot buns without any painful tugging.


Great

This scrunchies is HUGE, I got the lilac colour which I really like. I find that it prolongs my hair between washes and the silk is nice on my hair. I definitely recommend for mid-long hair, I don't know if it would work for short or fine hair though as it's so big and it might slip out

Loveeee it

Love this scrunchie so much, I thought I lost it at one stay which almost broke my heart. It's sooooo big but it's great for chilling at home and sleeping.

LOVE THESE SCRUNCHIES

I bought two of these scrunches, one in pink and one in nude. My first reaction was that the nude one seemed to be bigger than the pink one, but it looks similar in size once its all scrunched up. These hair ties are very big and soft. I find there great for sleeping in and days you just want to stay in your pj's, however there not much of a going out hair tie even if they look really cute. I love...

Read More

SOO WORTH IT BUY IT NOW!

My life has been forever changed after trying this, no more tangly and damaged hair at night- this is worth every penny and keeps your hair protected!

Worth every cent

I thought at first this was ex'y but my golly gosh is it worth it. Having long hair that tangled during sleep is a mess. This scrunchie has tremendously helped keeping my hair smooth and tangle-free, ready for the next morning.


A very big chance in my hair health

After using this my hair has became so much more healthy. I can tie it up for bed and when I take it out absolotely no kinks and when I brush it out it's all smooth. This works wonders and for the price you would expect it to. It's so worth it.

Not essential but a lovely treat

I use this almost every night and I really enjoy it although it is a bit pricey and I wouldn't consider it an essential item. My partner did a spit-take when I told him how much I spent on one scrunchie! It definitely does what it's intended to do and I definitely feel it has benefitted my hair. It arrived a bit flattened and does get a bit crumpled though and I am still working out ow to keep it ...

Read More

Love it!!

I love this scrunchie! I've been wearing it all day and all night since it arrived, the lilac is such a beautiful tone. Want to buy them all! The elastic seems really strong and the stitching is very neat.

Silk Scrunchie

A lovely silk scrunchie but it was way to big for me. My hair is long and fine but I have to wrap this at least 3 times around my hair. Is also quite bulky to sleep in. Only wear it at home as it is too big to wear in my hair out. Also does leave a slight kink in my hair which I was hoping to eliminate. Probably better if you have thick hair. Would be great in a smaller size which they do make but...

Read More

Less tangled

Having long hair that tangled during sleep is a mess. This scrunchie has tremendously helped keeping my hair smooth and tangle-free, ready for the next morning.

Omg the best!

Absolutely love this scrunchie! Holds hair up perfectly with no damage to hair. Want one in every colour!

Worth Having

Bit expensive but with the amount I use it it's definitely worth it. Started wearing it to avoid tangles while sleeping (sold it to my husband as a gift for him- keeps my hair out of his face!) but use it for everyday use now.
I usually can't secure a bun with a scrunchie as they won't wrap twice around my thick hair but this size is perfect for it!

Best scrunchie EVER!

I am so in love with my new silk scrunchie. I love how big it is and it holds up my hair all day. I wear it up for work and it doesn't damage my hair like a hair tie can. I have had lots of scrunchies in my time (hello 80s!) but this one is THE best!

good for sleeping

i've two of these scrunchies in black and beige color, and i'm glad i bought them. i'm extremely careful with my hair, and avoid damaging it (wash it only once a week, apply home made mask weekly, do not use styling tools). these scrunchies are both comfortable and stylish. i wear them to work and simply everywhere else and receive many compliments. highly recommend.

Favourite scrunchie

I love this scrunchie, i use it to tie up my hair before I go to sleep and doesn't kink or break my hair.

a must!

This scrunchie is a must! It has really helped prevent breakage in my hair!

Kink free hair

These scrunchies are huge and super soft. I use mine to tie my long hair in a bun at night so it's off my face and doesn't get all knotty. It doesn't snag and leaves my hair with no kinks and a lovely wave by the morning.

Helps

This silk scrunchie helps to protect my hair. My hair texture has improved a lot.

Super soft

Love it. Use this when I am washing my face or if I am at home. It doesn't pull out your hair and doesn't give you the tight feeling which I love. Can't wear it outside the house because it's literally so big, but it's a great addition to have at home.

Love this scrunchie

I bought this scrunchie as I have oily hair and find sleeping with my hair up helps with managing this. I love it, it's comfortable and so soft. I don't have any issues with it and it's your cute. I think it's worth the money if you're looking to prolong hair freshness between washes.

I like the colour

I love the silk scrunchies but this is such a lovely colour as well! I use it all the time!

Great for hair extensions

This scrunchie is the best, I have my hair extensions back in and it's great to tie your hair back with or sleep with and not leave any kinks in your hair afterwards. A must have.

Nice and soft

If you have middle length to long hair, this scrunchie will be your best friend. It does not pull or damaged your hair like standard hair elastics. It glides off easily and a lovely pale pink is so cute on.

I have TWO

I have two and for good reason, they are bloody beautiful. I wear them to work, I wear them to sleep and I wear them to coffee. I also get a lot of compliments and often need to supply wear I purchased them from, Worth every dollar.

Love this so much

It's amazing, it feels so luxurious, and in conjunction with a silk pillowcase, my hair texture really is different now! I have really thick, long hair so it doesn't look weird, but I can see how it may translate that way on someone else. It looks really funny when sitting on your wrist

Unwearable and expensive

This thing is HUGE. It looks plain silly, whether in a bun or pony tail - and I have a lot of very long hair! Very expensive for something you can't even wear out of the house. Even at home I don't tend to reach for it as I prefer the support of my other hair ties better. A bit disappointed.

Nice

This silk scrunchie really takes good care of my hair when I'm asleep. Definitely love it.

Very large scrunchie

I have long fine thin hair, this scrunchie is massive. Have to wrap it around my hair at least 3 times. I can only wear this around the house or in bed at night as it is too big to wear in my hair otherwise. Still does leave a slight kink in the hair as well. Find over time this stretches too. Probably ok if you have long thick hair and want to wear it in a bun. A smaller size would be better.

Average

I have purchased this and also one of the pillowcases and I personally think it's very overrated and not worth the money, I also find the silk looses its quality after being washed even following the instructions. This scrunchie is good for lounging around home but I don't feel it's any better than other products unfortunately.

Made an improvement to my hair

I've had this for about six months now. I've been using it mostly at night or on days spent around the house. The silk definitely minimizes frizz and dents/kinks and my hair seems to have less frizz and breakage.
I purchased it in lilac, it's a beautiful shade but has faded to a very pale version of what it once was.
I've only ever twisted it around my hair twice but lately I've found...

Read More

Great scrunchies

Really lovely soft scrunchies that work great for me. Perfect for doing buns or pony tails. Would recommend

Waste of money

This is such an over rated scrunchie it literally looks stupid so over priced and over hyped I bought a similar much cheaper one from supre and it was so nice I thought I would give this one again, I'm not impressed still leaves bumps from tying it up I read the reviews and thought it sounded amazing but I think maybe those comments are left by people who work for shh silk! Waste of money

Best ever

These are so great for your hair at nighttime makes a hell of a difference in the morning, best silk ever!

A must have!

This cute silk scrunchie takes a great care of my fragile hair during the night.
Absolutely in love with it!
I want to get it in all the other colors!

The best hair scunchie to sleep with

I always need to tie my hair back before bed - this scrunchie is nice and big and definitely will not leave any kinks. Its gentle on the hair and will not tug or pull.

My fave hair ties ever

I own three of these now and will get the other colours I absolutely love them! They stay in my hair day or night, are the perfect size for a little something more special than a normal sized hair tie. Most importantly the silk keeps my curly hair smooth and damage free

Great for long hair

This is fantastic for my long hair, doesn't leave any kinks in it. It is very oversized so not sure it would be great for shorter hair

I do believe this makes a difference, but gosh I wish it weren't so pricey

I confess I bought this only because I had a voucher expiring, as I couldn't justify paying full price for a pure silk scrunchie to tie my hair up while i sleep (what I bought it for). However, after using if for a week, I know with absolute confidence that if anything happened to it I would immediately replace it, such is my love of the results. Less bumpy frizzy hair (even in super dry winter). ...

Read More

cute

nice quality, pretty colour options

loose

I found this scrunchie to be a bit loose and I have to tie it 2 or three times round, it's also quite delicate so won't last very long, not with continual stretching

great for buns

I love using this scrunchie at home, especially when I've got my hair in a bun. It's soft and so silky

Best Hair tie for people with alot of hair

I have thick hair and alot of it & i can still get this around my pony tail 3 times!! Worth the money

Nice silk

Nice feeling scrunchie, a bit big

YASSSSS!

I'm totally obsessed with silk lately, I put my hair up with this everynight. This scrunchy is amazing and beautiful! Pretty steep in price but I guess it's 100% silk, it's ok!

Too big

As a scrunchie lover I was so excited to receive my nude and pink shhhsilk scrunchies in the mail! I am so disappointed in them, they are way too big not just oversized. I don't know if I'll be able to figure out a way to wear these outside of the house but here's to hoping I can as the colours and silk are beautiful! I have very thick hair and these just look ridiculous like a hair nappy. Also I...

Read More

Awesome scrunchie no more headaches

I love this scrunchie, it is comfy with no pulling and no headaches. It is quite big but I have fine hair and find it adds bulk for work pony tails and it doesn't get lost as easily as a skinny hair tie. Definitely worth the price, it is perfect.

It's huge!

Suitable for thick hair or extensions, I definitely wouldn't recommend it for finer hair. It's HUGE - even with long thick hair I have to wrap it 3 times. I probably wouldn't wear it out because of the size, but it's great for putting hair up for sleeping or a quick and comfy messy bun when lounging around at home. I bought a second one immediately so I've got another to use when one is in the ...

Read More

Good, But Elastic Wearing Out Already

Definitely bigger than what I thought, not that it's a bad thing. I've been using this since Feb '19, and find that it really doesn't pull and tug at my hair which was exactly what I was hoping for! I have the lilac, which is a beautiful colour and it's really soft! BUT, when I first got it, my hair was really long and thick, and I still had to wrap it 3 times for my hair to stay up. Even now, hav...

Read More

It's definitely oversized

I bought this after loving the pillowcase. I have another brand of smaller silk scrunchies and have been happy with them but wanted something for night time. It's definitely huge, but I find its comfortable to sleep in. Don't think though I would wear it out. I'd love to see one about half the size.

Gentle on hair

It feels super soft and doesn't pull on my hair too tightly and therefore is just gentle on my hair and doesn't cause breakage. It's great quality, and although I feel like I can justify the price, it's still almost $30 for a srunchie.

Worth the price tag

I purchased the pale pink scrunchie and was definitely surprised at how big it is! It's also really soft and great quality. I like to wear mine around a high messy bun and you can tuck in the edges of the scrunchie so it's not so big. It's so comfortable to wear, no snagging or pulling and I don't get headaches wearing it. I washed it in a delicates wash bag in the washing machine and it came out ...

Read More

Too big for my thin hair

I wanted to love this silk scrunchie but unfortunately my hair is thin and fine, and it's just too big and heavy for me! I think it would be great if you had thick full-bodied hair.

So nice

A bit overpriced for what it is but pretty much it's all I use these days

Luxurious treat for hair

This is a VERY large scrunchie, My hair is long straight and fine, I have to wrap this 3 tims around my hair in a ponytail I wear it at night and when I have my hair up around the house. Probably looks too big to wear out. Would probably be better suited to someone with thicker hair than mine. Holds hair up well and doesn't pull or tug. Keeps my hair off my face at night when I'm sleeping.

Love this scrunchie for my curly & frizzy hair

I purchased this product to protect my hair from any further breakage due to harsh hair bands on my thick & curly hair and I have loved it ever since. I no longer have any hair breakage & this scrunchie is so luxe and comfortable... I love it!
I know its a bit dear but I would recommend for the purpose of protecting hair breakage.

Protects hair

I use this every night great for sleeping in a pineapple style doesn't crush your hair.

Obsessed!!!

I love a good scrunchie and was so excited to try a silk one to see how much of a difference it would make and i am truly obsessed! It is quite large but i love that so i can wrap it around my hair quite a few times. Definitely worth the price!

Nice scrunchie

Feels good in my hair and looks nice

Lovely and Soft

Best scrunchie really good material and doesn't leave kinks in my hair. Is very big for thin hair.

Keeps hair soft

Love this! Wear it all day long at home, it lives on my bedside table and doesn't get stuck of pull at my hair ever. Its quite big but I like that I can wrap my hair around it and only have my hair touching silk. A lot less breakage and I love that it's so big so I don't misplace it l like other hair bands

Great scrunchies!

Lovely scrunchies! I love the silk and I use mine everyday. I love using it to tie my hair back while I sleep. A little bit expensive but apart from that I would recommend

Good for home

This is good to put your hair up if you don't want it to leave any kinks. My hair is quite short so it makes it look very bulky when tied low. I wouldn't wear it out because it doesn't look cute on me. But for the purpose of putting back your hair while sleeping or lounging at home, it's great.

Loving the scrunchie

Recently I purchased the silk scrunchie and I love it I use it all the time and I have people comment and say my hair looked nicer and it got a more silky look to it so now i love it.

No kinks

I love the fact I can have this scrunchie in my hair at night and not have my hair in my face. It allows me to sleep with minimal to no kinks... depending how I wear it.

Love it

I love this scrunchie and how big it is! I can make the perfect bun with this one!

Time saver

This has saved me so much time in the mornings because I always had to get out kinks with a straightener but this scrunchy gives me no bobble lines!

High quality and great packaging

This scrunchie feels high quality and arrived in a beautiful packet. It is very large so please go look at the companies photos and decide whether you want a scrunchie that big. I have collarbone length fine hair and this scrunchie wraps around my ponytail 3 times.

Silk Heaven

Being a silk addict & using a silk pillowcase for years how can you go wrong with a silk scrunchie!The large size is lovely!I bought one for my daughter that has more hair on her head then 3 people!And one for myself I have almost waist length hair & when I put my hair up with this it felt almost weightless!I have since bought 6 more for the girls in my family!They are addictive.Id recommend gentl...

Read More

Not as versatile as I thought

This silk scrunchie was purchased to tie my long hair back during night time cleansing and to sleep in. I prefer to use a soft fabric hair band for night time make up removal that holds my fringe back and I think my silk pillow is more effective to keep my hair smooth and soft.
I have given it to my daughter who uses it day and night. She is a satisfied customer. Just not for me Im afraid

Overall good!

Very large- but good! As long as it lasts and keeps its shape (has so far) then I think it's worth it.

Perfect scrunchie

Loveee this scrunchie! Had my eye on it for a while and finally decided to buy it. Looks so cute when up in a high pony tail and feels soft and gentle on my hair. Will be buying other colours!!

No more hair tie lines

Great to tie up hair before bed, so no lines in the morning, but it is HUGE. Found that if I twisted it, it didn't look so volumous but then you ruin the smoothness and overall usefulness of this. I should have ordered the smaller version. Would not wear out as very 1980's look, but hey if that's what you are after......

Luxe Scrunchie

I love this scrunchie it does what it claims.. No kinks and helps to protect my hair from breakage when I want to have it up and because I have fine hair this is important.. It is large and I have just below shoulder hair and works well on my length or longer hair..I purchased black and will be repurchasing in pink...

Super cute!

Adorable luxurious scrunchie! Beautiful purple colour! Keeps hair up and snag free!

Beware - very oversized

Beautiful scrunchie. Very soft and doesn't leave any marks on my hair. BUT... It's massive. I have very fine, short hair. Probably would be better for those with thick, long or curly hair. However, I will still get good use out of it.

Love my new favourite scrunchie!

This is fantastic! I love using it to tie up my hair into a messy bun when I'm at home or getting washed up.
I got it in black so I can wear it out also.
It's large enough that you can comfortably tie your hair up without it pulling or being uncomfortable.
The silk stops it from snagging and causing harsh kinks.
Absolutely worth the money and I can't wait to buy some more i...

Read More

Love the silk, would prefer a smaller scruchie

Silly me didn't realise this was an oversized scrunchie so was a bit shocked at how big it was...completely my own fault :). Still comfortable to wear in my hair so happy about that. Just wish it came in a smaller size.

LOVE IT

I have all four colours and I love every single one

Love it!

Absolutely love this scrunchie! Since receiving it I have worn it every day I have thin fine hair and am always left with a 'hair tie mark' so thought I'd give this a go, no matter how tight I have the scrunchie I am left with no marks! It's definitely worth the price tag

Cute and Comfy!

Admittedly, I now own 3 ;) I have rather thick, wavy curl mixed hair that's pretty heat damaged, so it tends to kink very easily with hair ties. These scrunchies are perfect for wearing out and sleeping in! Only thing i'm a little disappointed about is it 'scrunches' up and wrinkled after a couple days, losing its flat oversized look out of the box. Just have to lay it out flat for a couple days ...

Read More

It's HUGE

Okay, I know it says 'oversized' in the description, but I wasn't expecting it to be this big! I'm surprised none of the other reviewers have mentioned it. I have A LOT of long thick hair and this looks big in it - I definitely wouldn't recommend this for shorter/fine hair. That said, it is well made and feels comfortable.

So Cute And Soft

Perfect, keeps my very dry, curly hair soft and I don't wake up with mega frizz.
And the pink one is so cute, I would happily wear it in the daytime too.

Gorgeous soft scrunchie

I LOVE this scrunchie.. and it is worth every dollar I paid for it! I bought it in Black and I've been wearing it everyday since I received it.

It features a beautiful soft and cool silk. It has enough elastic strength to keep my hair up in a ponytail or bun but it's comfortable enough to avoid the dreaded tension I get with regular hair ties.

The big plus is the beauti...

Read More

Prevents hair damage and keeps hair under control

I love this product! I have mid length hair that is easily damaged with heat tools. I try to avoid styling with these as much as possible. Wearing the scrunchie overnight helps to prolong my hair style, and saves my hair from further damage and gives me extra time in the morning. A worthwhile investment.

Good for hair

Feels amazing, doesn't catch or snag. No creases, great colours.

love!

I wear this all the time at home but the best part is wearing it t bed as there's no dent or breakage in the morning!!! My only gripe is that it doesn't come in black so I can wear it during the day as well.

So good!

I use this scunchie constantly at home, if I have my hair done I can just lightly put it up and it doesn't change the shape of my hair at all. Definitely worth the price tag, I've been looking for so long for something that can keep my hair out of my face without damaging it.

luscious

yes this is expensive for just 1 scrunchie i do agree, BUT it is such nice quality, doesn't rip your hair out, i use when im washing my face morning and night to pull my hair back and just when im going out and cant be bothered doing my hair, very cute

Love!

Its an expensive scrunchie but the quality is worth it! Doesn't pull or tug on your hair but stays put. I use this morning/night when i wash my face and do my skincare routine and even just around the house when i want my hair out of the way. Highly recommend!

So luxurious

I love using this when I'm doing my morning and night routine and when I just want to quickly put my hair up. It's so comfortable and does not pull at all. Very expensive but will last you a long time!