Real Techniques Miracle Complexion Sponge with Case
Questions & Answers
(No Questions Yet)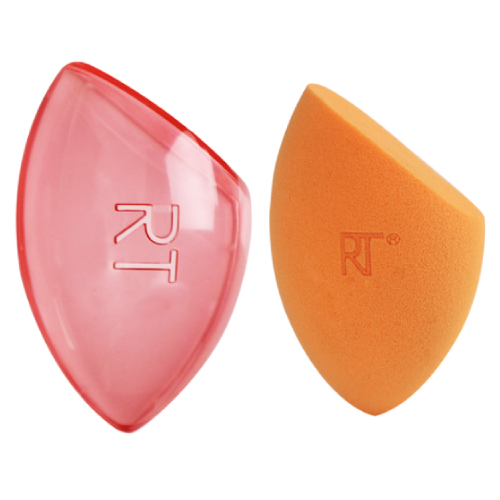 Real Techniques Miracle Complexion Sponge with Case
Get an expert to answer your question about this product!
Ask a Question
96% recommend this product
Most Helpful Positive
Great beauty blender + case is so useful
Love this case it is perfect for travel
Most Helpful Criticism
OK, but not the best
Does the job, is soft, but does not last long
Great beauty blender + case is so useful

Love this case it is perfect for travel

Reliable

I've tried cheaper makeup sponges but keep go back to this one because it works so much better. The case is a nice idea but I'm surprised it doesn't have more holes for aeration

Favourite

These are my favourite beauty blenders you can wash them in baby shampoo a few times and they come out good as new. Not sure if the case is really necessary and I would rather let mine air but could be good for travelling

Love, love, love!

LOVE this make up sponge. I have tried multiple, including the O.G. beauty blender but this one wins. It doesn't absorb the products and the flat side to it makes foundation application smooth and takes less time. The case is also fantastic to keep it in when it's not being used due to hygiene reasons.

OK, but not the best

Does the job, is soft, but does not last long

Hygienic

At first I picked this up only for the sponge thinking its the same price buying it separately so why not get the one with the case. It seemed quite funny and gimmicky at first but I soon found it very practical and useful. After washing the sponge I would place it back inside the case and I realise that doing this is a lot more hygienic than letting them air dry in the bathroom.

Travelling Gem

This case is a game changer! I used to travel with my sponge in a zip-lock bag, which I would forget to take the sponge out of to dry, leading to a sponge smelling of damp. This case has ventilation holes so the sponge can dry! Great product.

Love it!

Fantastic sponge for the price. I really love the case, awesome for traveling.

Free case

Great that this one comes with a free case for the same price which is more hygienic. This sponge is great!

Fantastic!!

Love this set!! The case is great for both storage and travel and the sponge works well. Very soft, great value for money!!

Great

Blends really well and comes with free case

Love

I love my beauty blender best way to apply foundation

Love it

I've got really dry skin and this is perfect for me! I use it to apply foundation, tinted moisturiser, liquid blush and highlight and it makes my skin look so fresh and dewy! The sponge is super soft and easy to use and I love that it comes with a case for no extra cost. It's great for storage and keeping it clean. Would definitely recommend especially for dry skin

Good sponge

Overall, this is a pretty good makeup sponge. I like how soft this is compared to other blending sponges I've used.

The only thing is that it needs to squeezed thoroughly after wetting it, because it retains a lot more water than other sponges. I learned this the hard way after my foundation became thin and shifted a lot during blending.

Good makeup sponge

It's a good makeup sponge that blends makeup well. I like how soft it is compared to other blending sponges I've used.

The only thing is that it needs more pressure because it's so soft. Also, it needs to be squeezed quite a bit to get rid of excess water. I learned that the hard way when my foundation pretty much rubbed off because the sponge was too damp.

Must Have!

This is one of the best sponges I have used and is even softer than the original beauty blender!! It blends foundation flawlessly and is the perfect size and has made applying my makeup so much easier. Be careful when washing as it is very soft and therefore very easy to rip!



Problems solved!

I love my miracle complexion sponge and had been thinking it would be great to have a case so that my makeup bag was saved from residue and mess. Perfect! The plastic doesn't last forever (some bits have chipped off) but it's the same price to buy a sponge as it is to buy the sponge and case so I'll keep buying this!

Really nice!

For someone that is looking closer to the affordable side this is a great choice! Blends foundation flawlessly and the case gets really handy to keep the sponge away from all the other makeup products

Great!

Prefer the texture/density of the Beauty blender but this is a great alternative and i actually prefer the shape of the real techniques. Love that this comes in a case, great for travelling!

I always wet my sponges before use to prevent it from absorbing all my liquid foundation.

Cute Case

the sponge is perfect for my foundation, and the case is so cute hahahaha.

The best beauty sponge I have found

I absolutely love the sponge and the fact that it comes with the case is just a bonus. Being able to store the sponge in the case is really great so it doesn't touch all the rest of your make up and you can intim keep it clean.
In regards to those sponge itself I find that it disperses the product perfectly and seemlessly blends out foundation. I love how soft it is and find it works the best when used dampnfor both liquid foundations as well as dry setting powders.
I wouldn't use any other sponge I absolutely love it

GREATEST INVENTION EVER!

I am so grateful thet RT created a case for the sponge because i travel with my sponges and i like to keep them clean and seperate from my makeup and other brushes. The case is big enough to store the both the damp and not damp sizes of the sponge and i love it! easy to open and close. HIGHLY RECOMMEND

Just as good

It is just as good as the beauty blender without the hefty price tag.

Better than beauty blender

I love this, it saves so much time because it's quite a decent size and it works well with any foundation

New favourite!

I have oily/dehydrated skin and I find that this sponge is much softer and applies foundation much more evenly than others I have tried. It is the only sponge I've used that doesn't make foundation cling to dry spots and I love it!
The case is especially handy for keeping the sponge hygienic and when travelling it's a total blessing!


Real techniques sponge with case

Excellent product, great to keep your sponge clean
Would highly recommend
RT on the case is a hole and lets your sponge breath

Great sponge

There are so many of these beauty sponges around however this is by far my favourite. I love the shape and find it super useful. Easy enough to clean and the case is also super handy

Love it

I use the flat end for foundation, it's perfect for that, I did find the modelco beauty sponge was a little softer so I use that one for my under eye area but I do love this one too and the case is awesome.

Love the case!

I already love this sponge and the fact that it comes with a safety case makes it so much better! The letters RT are actually small holes to allow air flow so t he sponge wont get yucky!