Real Techniques Mini Sculpting Brush
Frequently bought with
Please wait while we find a match
Questions & Answers
(No Questions Yet)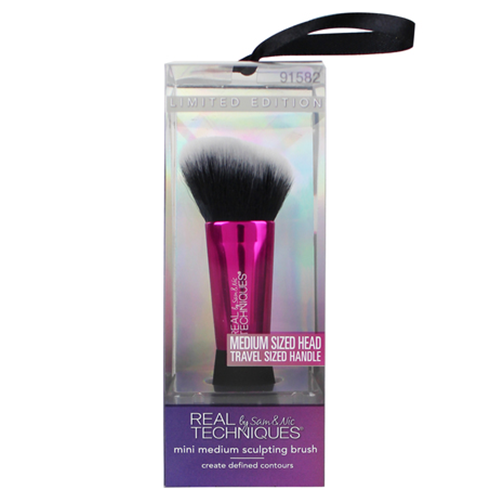 Real Techniques Mini Sculpting Brush
Get an expert to answer your question about this product!
Ask a Question
100% recommend this product
Most Helpful Positive
Perfect for contouring
love this mini brush to contour or blend out blush and great to travel with!
Great for travel

This is a dense brush so perfect for contouring or a stronger application of colour. I like the small handle as the brush size still works well.

perfect for cream contour

the perfect brush for cream contour, exactly the same as the bigger version just a smaller handle, so travel and purse friendly

Perfect for contouring

love this mini brush to contour or blend out blush and great to travel with!

great

great compact travel size brush good for on the go touch ups! real techniques brushes never let me down

Great value and size

I have been using this brush to apply contour when I am on the go and it does the job perfectly well. I still prefer my Sigma contour brush as it is softer but this one is easier to carry around and I am very happy with the results. Not to mention how affordable it is :)

Perfect

Great mini version of the contour brush which is perfect for cream products

Perfect

This is perfect for contouring with bronzer

Great for On-The-Go

The perfect brush for contouring and applying blush for a flawless application. I love how the brush head is the size of the original sized brush, with just a shorter handle, making it the perfect size for my handbag for 'on the go' touch-ups!

Cute and convenient

Great for contouring and easy travel size

Perfect for travel or gym bag!

I love the original of this brush and this is a perfect travel companion as it has the same large brush with a smaller handle! Great quality like the original too.

Super cute

Love this brush because it's not only cute and easy to carry around but it is SO soft and fluffy. It feels great on my skin and is easy to use to blend out contour.

So cute so small

I love these mini-brushes as they are so cute and easy to bring with. Also, they are in great quality.


Perfect!

Such a great brush for travel and to fit in a purse for on the go! I use it to touch up blush and bronzer at work. Definitely recommend

Awesome

I absolutely love these mini-brushes from Real Techniques. For starters, while the handle is shortened (and thus easier and lighter to cart around), the brush head is a full size. This is not one of those dinky little blush brushes that you get in sets - it is the real deal. Awesome.

Great quality & size

i really love the mini real techniques brushes, i love that they are a full sized brush head with a travel sized handle, this brush is great quality and is such a multi use brush, works great with cream and powder products and cleans really well too!

affordable and great quality!

I love real techniques brushes, i cannot fault them for their price. This mini sculpting brush is easy to take around for travel. Although I like it because of the small handle and the fact it takes up less space in my drawer I can fit many of them. I use this brush to apply my cream products and powder. They are extremely versatile, affordable yet give an amazing application and result on the skin. Real techniques brushes also last me years and years.