Real Techniques Flawless Base Set
Questions & Answers
(No Questions Yet)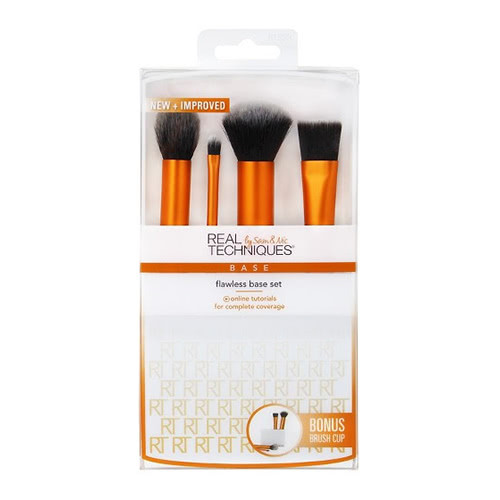 Real Techniques Flawless Base Set
Get an expert to answer your question about this product!
Ask a Question
100% recommend this product
Most Helpful Positive
good set
everything you need in a base set! must have for people starting out there brush kit
good set

everything you need in a base set! must have for people starting out there brush kit

All the basics

Great starter kit of basics brushes that are all really good quality and last for ages if you take care of them.

Perfect skin

Great set of brushes for getting the perfect base

Great set for beginners

I love these brushes, particularly the buffing brush which works for a multitude of purposes and is great for a natural foundation finish. Washes easily and is easy to use.

Perfect Brushes.

I have owned this pack for ages now, recently I bought it for my sister as she is starting out with makeup so I got her a bunch of brush sets by Real Techniques because their brushes are just the best! They are so soft, affordable, great quality, super pretty and they last a long time!

Great starters

The quality of real techiques brushes is always high, but I enjoy the brushes they have provided in this kit. The buffing brush in this is better than the RT expert face brush, as it's got more surface area and is rounder, and there is just something about the contour brush that is the perfect egg-shaped brush for everything! Contour, highlight, you can use it many ways.

Amazing and affordable brushes

This brush set is the only one you need for your base makeup. My Real Techniques brush set is in the exact same condition as when I bought it two years ago.They are easy to clean and incredibly affordable for the quality!

So soft!

I swear by most real techniques brushes and this pack is no exception. Super soft and amazing quality. They come up like brand new after every wash

Nice set!

This is a great value set. Works really well for me, I would highly recommend.

Perfect

Great brushes at an affordable price!

Amazing

Such a great set to perfecting a base, highly recommend!

Fantastic

I own almost all RT brushes because they're so easily accessible for purchase and good quality! My favourtite brush on this set is the Buffer Brush and the contour brush. The buffer brush is so amazing at smoothly and flawlessly applying my foundation and the contour it perfect for powder contour and even for blending concealer. Highly recommend this set for beginners because the brushes can be used for so many purposes.

Very soft

This is my first "real" brush set and I'm new to makeup but I have found that these are soft but still firm, unlike other brushes that I've used.

awesome starter

i was given this brush set as a gift, and i have consistently used to every time i do my makeup since.
the best brushes are the powder and bronzer brushes, which i always use. the smallest brush i use the least, but i have found it surprisingly useful in applying lipstick. the foundation brush is also pretty good, but i typically only use it for concealer and small scale application. overall a great, high quality brush set that is easy to wash, and is very longlasting.

Game Changer

I absolutely adore this set, a game changer for perfecting base. Amazing for concealing, carving and creating flawless looks that are endless. Very travel-friendly and well priced.


Great beginner's set

This set by real techniques were some of the first brushes I bought for my collection. 5 years on and they have held up extremely well! I used to use the buffing brush for foundation all the time and loved it. I find mine is shedding a little now and leaves my foundation a bit streaky (could be because I've used it so much over the years). I still use the detailer brush for concealing and particularly love it for carving out my brows. The contour brush is also nice but I make sure to use a light hand and usually only use it for precise contour as it tends to add product quite heavily. I'm not a big fan of the flat foundation brushes in general but still use this one to apply face masks and it's great for that purpose! Overall, I would recommend this set especially for someone that is starting out with makeup/ brushes as it's a great beginner's set.

Real Techniques Flawless Base

I've been on the hunt for a new brush set and have read and heard great reviews about this brand. For the price the quality is fantastic. The brushes really hold the products well and so soft on the skin without pricking your skin like other brand brushes. I have also purchased the contour brush set. Love that it comes with brush holders as well.

Like everything except the foundation brush

I love every single brush in this set except the foundation brush. The pointed brush works great for applying concealer. The buffing brush works well for foundation, and the contour brush is great for applying contour and blush. They are so easy to use, I would definitely recommend this to any makeup beginners.

Amazing

This is a brush kit I've used so many times since purchasing. So many amazing brushes in this pack.

I dont use the "foundation" brush for its purpose but use it as a concelar.

Travel necessity!

These are the only brushes i ever use/need-i swear by them! They give the most amazing finish, no streaks and are a really affordable price. I always carry this set in my makeup bag as it is my secret to having flawless foundation. They are also really easy to clean and i hardly ever notice these brushes shedding. I really do love these brushes and recommend to everyone.

Lovely

I absolutely love the Real Techniques range of brushes and sponges. Vegan and cruelty free, they also work better than just about any other tool I've tried. This is a really great set to get you started down the path of decent make-up tools, and works out at a pretty good price rather than buying things separately.

An essential

I love this brush set so much - it has everything you need to create a flawless base/canvas. From foundation to concealer, powder, bronzer and blush... everything! The brushes are well made and high quality, and have never shed on me despite washing them dozens of times. I secretly wish they were purple though as I prefer that over the orange colour, but nonetheless i still highly recommend them.

Great pack!

Love the brush holder, fits all my real techniques nicely and doesnt tip over, i also really love the flat square foundation brush for contouring my nose and under my jawline!