RCMA Translucent Powder 90g
4 instalments of $6.00
Or 4 instalments of $6.00 with
LEARN MORE
4 instalments of $6.00
Or 4 instalments of $6.00 with
LEARN MORE
Official Stockist
Is this for you?
Beloved by makeup artists and beauty editors alike, RCMA Translucent Powder is a cult-classic staple for everyone's makeup kit. Suitable for all skin types, skintones and occasions.
Frequently bought with
Please wait while we find a match
Questions & Answers
(1 Question)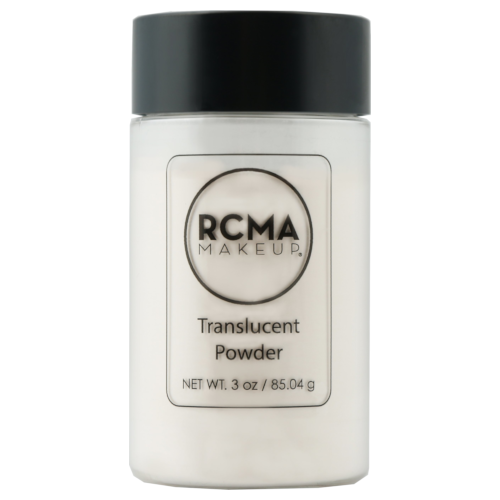 RCMA Translucent Powder
Get an expert to answer your question about this product!
RCMA Translucent Powder Reviews
92% recommend this product
Most Helpful Positive
Fantastic cult classic
This lasts so long as theres so much product and it looks amazing on my skin
Most Helpful Criticism
patchy
I've used the No colour powder and it works great, so decided to try the Translucent one, because the other one was out of stock at the time when repurchasing.
It does not work well on some parts of my skin. It becomes very patchy, dry (almost flakey) around under eye area. I'm not sure what causes this, I tried using it with a different foundation and concealer, but I get the same result. It could be just my skin reacting to the powder wrong, I have oily skin.
Fantastic cult classic

This lasts so long as theres so much product and it looks amazing on my skin

Absolutely amazing

Amazing for the price. I prefer it over the Laura Mercier translucent powder. For the price, it is amazing.

Wasn't sure what to expect....

I'm a pressed powder kind of girl.... but after a lot of research, I decided to give RCMA Translucent Powder a go!
I love it! It's so easy to use, with good coverage that you can't see.
Definitely converted!

Great affordable powder

Great cost effective powder that lasts forever! No colour and doesn't wash you out either. Only downside is the lid to get the powder out isn't very useful and creates a bit of waste.

love

I really like how it sets up my makeup so well, love the matte coverage it gave. Very good.

Amazing powder

This helps my oily skin look matte for a lot longer but would have preferred a different design of the container

Great Product and price

I love this product it really helps to reduce oiliness and shin throughout the day with a very smooth finish.

Light finishing powder

I have used this a couple of times although I much prefer the no colour powder to this. This one seems to sling onto my dry patches.

Sets wonderfully

I bought this as I hadn't used a translucent setting powder before and wanted to start setting my makeup for longer wear. This works really well! Sets my makeup so it lasts so much longer. Only complaint I have is it's annoying to dispense in order to use it. I've had to get a small bowl I tip a little out at a time to use. Other than that it's great and the price is equally as great!

Good

This product lasts me a long time and it sets really well

Amazing

Amazing fine powder that sets makeup really well. It is a little messy as the product gets everywhere and it has a little colour to it.

Can't beat price to product ratio!

Works very well to mattify and set your face with or without foundation , helps to blend contouring out to look more natural.

Super pigmented

I got this translucent powder because the no colour powder was sold out. I'd previously been using the elf translucent setting powder and wasn't totally happy with how much I needed to put on. This one is fantastic it goes on the skin really easily and a lot thicker so that I don't need layers of it. It set my concealer beautifully. The powder is really soft and fluffy feeling. It does have a colo...

Read More

Reduces shin but can get cakey

I love this powder as it really sets my make up and reduces my shine significantly, if not applied with care though it can look cakey at times

Great!

This is a great translucent powder but it definitley does leave a bit of a whitecast in photos so avoid the flash!

Great

This powder is great for baking and it lasts ages

Nice

This powder is awesome, it helps to achieve the matte finish look. Definitely worth the value.

Long lasting

Good value for money and long-lasting. I have been using this for months and it works great. It's starting of summer, and now I feel my skin needs a new powder as it gets really dry.

Best value and lasts forever!

I was using the Nars translucent setting powder and MAC translucent setting powder but found myself running out so quickly, and these products are so expensive. The RCMA powder does exactly the same thing, at a fraction of the price, and lasts for ages! 12 months later of heaping this on every day and I still have heaps left!

iconic!!

absolutely amazing! So perfect for baking and doesn't leave a white film afterwards. I wish this was in better packaging that made it easier to use!

Only Setting Powder I Use

This is the nicest powder I've found for the price.
And you get so much in the container! It lasts for ages.
I use only a small amount over foundation to give a satiny finish and a larger amount for a beautiful matte finish.
It's really breathable and doesn't feel heavy at all.
It's also perfect for setting under eyes.
This is the only powder I buy anymore unless...

Read More

Love this

Makes my skin so smooth and natural sets makeup very well!

great!

this is honestly one of the best loose powders ive tried and is such great value for money! the container is huge and has lasted me for months and it looks like I've barely used it. love this stuff

Great for oily skin

Great for oily skin without causing breakouts. I also love using this product under me eyes

Light

Not the best for medium-deep skin, but works well enough on lighter skin. Sets makeup in place imperceptibly.

Good

This powder gives my oily skin a smooth finish and it gives my skin a natural finish. Love this and it is so affordable

Fantastic

Fantastic setting powder.. although I prefer the no colour version this one is still fantastic and creates a smooth and crease free finish

patchy

I've used the No colour powder and it works great, so decided to try the Translucent one, because the other one was out of stock at the time when repurchasing.
It does not work well on some parts of my skin. It becomes very patchy, dry (almost flakey) around under eye area. I'm not sure what causes this, I tried using it with a different foundation and concealer, but I get the same result. ...

Read More

beware if your medium + skintone

the powder may leave a white finish where you bake if you have medium + skintone so beware of that. other than that the formula is great and makes your skin look flawless

Does what you want it to

Works for the purpose of setting the skin, but it's not my favorite on my dry skin, and I also find it leaves a bit of a white cast on me - haven't heard this from anyone else though so might just be my skin.

This is nothing like the No Colour powder

This setting powder is fine, but it leaves a slight pink cast and has flashback unlike the No Colour powder. It sets foundation well although it is quite drying and emphasizes texture and flakiness.

Staple for baking!

Heard so many good reviews about this and I can definitely say it lived up to my expectations! This is my staple product I use for baking underneath my eyes and setting my foundation; it doesn't cake my makeup and leaves it looking flawless the whole day

Value for money.

This powder is amazing value for money. I've used it daily to set my foundation for upwards of 7 months and the jar is about half full still. I think applying it sparingly is important as it can give a bit of a powdery cast to the face. However applied in the right amounts it looks nice and does a good job of protecting me from shine.

Won't use anything else

I actually bought this and Laura Mercier translucent powder at the same time, and this trumps the LMpowder! I can't go past it it just works so well and for the price it's just a no brainer!

Unbeatable

This is amazing to bake with, and set the under eyes. I think it's beautiful when it's set down on the face. 100% recommend it :)

You will never get wrong about this powder

This powder is magical!! You never get wrong or worry about your face being cakey. Very light to wear and you get that no make up make up look just be sure you know how to use the right foundation with it. I've got a lot of compliments and definitely recommended and will buy more in the future.

Fairly good!

Fairly good product however I find it creases under my eyes. Great for rest of the face!

Doesn't accentuate dry patches

I have really dry skin in the winter, but I refuse to go without setting my face with a powder. This powder is so finely milled and sets my face so well my makeup lasts the whole day! Doesn't cling to any dry patches... almost "melts" into the skin. Perfect if you're going for a natural matte look. The only downside is the packaging... tends to get a bit messy.

Can't live without

I had no idea about setting powder until I was recommend this by a friend. I have oily skin and was worried about choosing the perfect powder for me. Now, this is part of my makeup routine as it sets everything so well and leaves everything in place, looking bright and smooth.

Excellent setting powder with great results

I wasn't sure about buying this setting powder , as I had been using another brand. After reading the reviews , which were all positive, I thought I would try it. So glad I did, it's a lovely powder, I put some of the powder in the lid of a product I had and then used my big brush, after loading the powder on the brush, I just shook the excess off and was left with the perfect amount of powder. It...

Read More

Amazing product; poor packaging

I bought this to replace my previous setting powder, Nyx Set It Don't Fret It mineral powder. This is MUCH better value for money and performs almost as well.

I use it to quickly bake my foundation/concealer, and even under my (36yo) eyes don't have any creasing; my makeup lasts all day. I also dust it all over my primer on no-foundation-days and it keeps the shine down.

Read More

Fantastic product!!!

Ive been a die hard fan of the laura mercier translucent powder and since theyve pulled out of AU , ive been looking around for an alternative which i can buy locally . Ive seen so many videos of where beauty youtubers have been raving about this product and I thought why not and decided to give this product a try and my i was surprised. This product is so good as a setting powder and i use loose ...

Read More

Decided to give this a gamble. Paid off.

LOVE this powder. I have combination skin and only need to apply in the morning.

Does its job well without drying the rest of my face out and sets makeup nicely.

Love how long it lasts too. I have not had it that long but fora loose-powder, it is going to last a while. Probably due to the packaging. Nice waste reduction there in that shaker bottle.

Only seeking powder I use!

I've already recommended this powder to a friend because it is that good! I generally am oily-combined skin and my makeup will last from 4am to 10pm most days (unless I'm touching my face that much!). Price is really good and it lasts for months at a time, which my other ones never did.

My holy grail translucent powder!!!

This is the best translucent powder I have tried, this beats the Laura Mercier translucent powder in my opinion and is a third of the price!!!

Perfect for dry/combo/normal/oily skin, only thing I'd say is that if you have dry skin don't 'bake' for too long as this will make you look flakey and powdery

Great setting powder

I recently purchased this and used it for the first time the other day with a real techniques sponge to roll on and set my under eye concealer. I did notice a bit of white powdery-ness but possibly this comes down to the way I was pressing it on. I found that it set my under eye quite nicely and matted the area out.

Good

Goes on really easily and does what its meant to. I do find sometimes depending on foundation and shade that it can leave a bit of a powdery look to it. I find it better with my lighter foundations (when I dont have a tan)

Amazing

Such an amazing product, lasted for months & protected my makeup from shine! Easy to use & love the professional packaging!

Great value

This is a lovely setting powder. Sets makeup perfectly! And it's a huge container for a very reasonable price. Applies well with either a beauty blender or a brush.

Aaaamazinnng

This is amazing for baking under your eyes without leaving that white cast or making your make up cakey! Can be used to set all your liquid foundation and you are left looking flawless. I can't recommend this enough!

awesome at setting

this is such an amazing light weight setting powder, has no flash back and sets my concealer without the cakiness, defs recommend

Great product

Love this powder. I bought this so long ago and I still have over half left and I use it every day. It's worth the money !

Great for setting!

This is great for setting! I do find though that if I have a tan or a darker foundation on it can leave the skin with a white powder look to it. But for lighter skin tones its great!

Works a dream

Love this powder, sets my foundation perfectly. Feels great and light on!

Silky soft!

So smooth on the skin. I love this powder!

Sets nicely

This powder is lovely and soft to touch. I am mostly using to set under the eye area. So far so good as long as you do not use too much as it can leave a little white residue. But in saying that if you dust it off nicely it gives a nice finish to your make up. I have tried using it all over my face but I prefer to use it mostly for the eye area.

Beautiful setting powder

Love the RCMA powders as they are such a good price, you get a large amount of product and they work really well to set makeup and increase longevity

A+

Love love love RCMA setting powers. The best I've tried - even out of high end! My ride or die.

Average

Nice product, however leaves a very white look under my eyes and is not suited for olive skin!!

I LOVE IT

This is amazing, the quantity and quality for the price is better than any others available! I have quite oily skin so powder is a staple step for my routine. So affordability is a must! You get so much product for this price, I have never seen another translucent powder for this cheap for that much product! It will last for ages, and is just a perfect translucent powder. I don't have to worry abo...

Read More

It's nice but

I had a good run with this while it lasted however it got to a stage where it would settle into every little line on my face and make me look way older so had to stop using unfortunately.

flashback mary - not

No flash back and easy to apply. Doesn't leave colour on the skin

beautiful finish

I love this just as much as the laura mercier powder and this is so much cheaper. I use this for baking under eyes and to set my foundation with the excess powder, I also use it under my contour. I have dry skin and this does not stick to dry patches or have any flashback. it feels so soft like silk however the only downside is the packaging is a little awkward



Good, easy to use powder

I found this to be a good translucent powder as I find it doesn't affect the colour of my make up. It is rather easy to use, although the packaging could be a little easier to use. I have combination/oily skin and have had no adverse affects using this powder.

Go to powder

I love this just as much as the no colour powder. I struggle to find a difference between the two. I use this for baking under eyes mainly and set my face with the excess. I have dry flakey skin and this does not stick to patches or have flashback. It's so finely milled that it feels like silk on my skin. And the size is great value, last many months

Excellent quality and good value

Good setting powder that doesn't leave a white cast- makeup easily lasts all day. And there's so much product for the price! Definitely would purchase again, that is if my massive bottle runs out anytime soon!

I dont like the powder texture

It may be too thick for my skin, it got my acne worse

So Amazing!

Amazing powder! I used to use Airspun loose powder but this one has taken its number 1 spot. I love how soft this powder is and it has no smell which I love! It helps my eyes have no creases (as I have lines under my eyes). There is so much powder in this purchase which will last forever! I will be recommending this and buying it again in the future. :)

Awesome

I sweep this over my skin before my liquid foundation and my look stays matte all day - I love it!

Perfect!

Great value for money, keeps me matte, doesn't flash back, I could keep singing it's praises all day! Would recommend using an old powder container to put it in, as the packaging sucks!

Love

This powder makes my skin look amazing and really helps to control my oils and help me from looking like a grease ball. Definitely recommend! Would say it's the same as the no colour powder

Great product

I purchased this when the Laura Mercier powder was sold out at Sephora. For me it was an identical product just in no frills packaing. I would definitely order it again!

Love it!

I love this product. I have oily skin, and heaps of fine lines around my eyes. But this solves those issues! I light dust it all over my face to set, and then press in some powder on my damp beauty blender under my eyes, and around my nose (where I find my makeup collects and cracks and settles). I then bake under my eyes and down my nose (nose is where I get SUPER oily). It's honestly so good. I ...

Read More

Perfecto!

Perfect price & perfect quality! You dont need to over use it & make yourself look like a crack queen but a little goes a long way. That's why I love it so much, it's cheap yet it lasts for ages!!! Definitely would and have recommended.

Great value for money

Great value for money, works as well as any other translucent powder I have purchased. Good $ saver and you get twice as much as your average translucent powder.

Not for me

Lovely, finely milled setting powder that makes my skin feel very soft. However my skin can get dry and this powder is just to drying for me. I would recommend this to anyone with oily skin, but caution those with skin prone to dryness.

AMAZING!!!

This is a must have in everyones make up bag

Love it!

I ordered this by accident once when looking for the no colour rcma powder and it is amazing!

There's not much of a noticeable difference between the 2 when using it

Love it!

This is the only powder I use. It works so well with keeping my oil at bay and makes my makeup last all day.

The best

Such a great versatile powder and so worth the value for money. It sets my makeup unlike anything else while only using a tiny amount of product and with the huge bottle of product you get, it lasts forever. Also great for baking if you're fairly pale as I am. Have repurchased a few times and will continue to do so!

Works well as a finishing powder..

Great powder for my oily t-zone. You need very little to finish your make up and is affordable.

Great!

A really soft, silky powder that creates a perfect finish. Love it. My new GF finishing powder. Only downfall is the container, hard to use without spilling powder.



Pros and cons

I do love using this a baking product for my face, however
it did dry at times in the lines under my eyes and it can get quite messy even when i pour it out of its bottle.
It is quite smooth and powder blends in nicely.

Superb

I love this powder! I have a hard time finding a powder to set under my eyes that doesnt make me look like a 90 year old grandmother of 7 but this one doesnt make me look to dry or wrinkley. It sets the rest of my makeup really nicely too HOWEVER i do find this slightly lightens my complexion slightly so maybe try a slightly darker foundation than youre usual because i found it made me look hella ...

Read More

Great product, a must have!

This translucent powder is amazing. Works very well! Def recommend :)
Filled with the usual things we know you'll love, and surprises you might not expect, it's real rewards, really simple.