Pureology Strength Cure Best Blonde Miracle Filler 145ml 145ml
4 instalments of $12.99
Or 4 instalments of $12.99 with
LEARN MORE
4 instalments of $12.99
Or 4 instalments of $12.99 with
LEARN MORE
Official Stockist
Is this for you?
A must have for those with blonde, highlighted or lightened hair that requires extra protection against heat damage. Repairing and strengthening, this easy to use hair mist contains strengthening Keravis, to help seal and restore damaged hair cuticles. Your hair is left feeling softer and stronger.
Hair Concern:
Brassy tones (blonde/grey hair)

Dull, lacking shine

Fine or limp hair
Hair Curl Type:
Curly

Straight

Very curly/African/Caribbean

Wavy
Frequently bought with
Please wait while we find a match
Questions & Answers
(1 Question)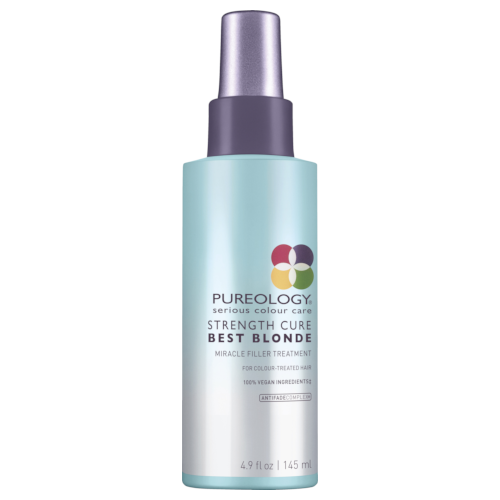 Pureology Strength Cure Best Blonde Miracle Filler 145ml
Get an expert to answer your question about this product!
Pureology Strength Cure Best Blonde Miracle Filler 145ml Reviews
97% recommend this product
Most Helpful Positive
good
This is fantastic stuff. I do prefer colour fanatic slightly more but it's amazing regardless
Soft hair devine scent

You don't need much of this product which is always a winner in my book. Leaves hair feeling super, super soft, manageable and smelling absolutely devine!

good

This is fantastic stuff. I do prefer colour fanatic slightly more but it's amazing regardless

Unsure!

Apart from smelling ridiculously good I don't think this spray did anything major to help my hair. It was nice to spray in after I washed my hair but I didn't notice any difference in my hairs health. I had chemically damaged brittle and dry hair and started using JShealth vitamins, olaplex and bondiboost products and now my hair has never been healthier!

It is all in the name

The name of the product is self-explanatory. I left the hairdressers with dry and brittle hair and this has saved it! It also smells so beautiful but if you are sensitive to smell, I would not recommend it. Use sparingly as I found it makes my hair a bit oily as I have quite straight, fine hair, but with thicke/curly hair would work well.

Love

Makes my hair so smooth and I have really dry bleached hair. Recommed!!!

Best blonde product out there!

This spray makes my hair so silky smooth, smells delicious and my hair feels so healthy and soft after use! It is so lightweight, I never feel the product in my hair which is great. If you have blonde hair, I highly recommend this leave in treatment.

W.O.W!!!

My hair does not even feel like my own hair when I use this product. After applying this product my hair is silky smooth and it has a delicious scent too!

Leaves my hair so soft

Even after one application my hair feels different. I've had bleach in my hair and usually after washing and drying it feels quite dry. I was surprised how soft my hair felt after using this. Bonus is it smells absolutely amazing

Undecided

This is one of those products for me personally that I really do love because it smells great and it does seem to do some conditioning for my hair but its not a dramatic repairer and I dont see amazing results from it at all. Im happy to spend the money on it as a hair perfume but for those looking for something to completely repair your hair I would suggest using this with a hair treatment like O...

Read More

Smells amazing and detangles

I've been using this product for about a fortnight now in an attempt to save my poor, dried out blonde hair. Too early to notice a difference in the strength of my hair, but it has definitely helped add in a bit of moisture! Few sprays to freshly washed hair and I'm left with beautifully scented, softer locks.

Lovely scent

I would re purchase this product just for the scent to spray in my hair each day. I have a lot of hair products and this is by far the best smelling one I have ever had. As for what it does I didn't notice any huge differences - I have since started using the 'Bondi Boost' brand treatments and then just using this in my hair as a pick me up (and for the scent!)

Beautiful fragrance and feels like it works

It's fragrance is very nice and it feels like it works. Doesn't feel greasy or like it weighs down my hair. Quite pricey though, but that's Pureology, always expensive!

Nice after washing hair

I cant say anything for the health of my hair because I cant physically see if its healthier but this has definitely been a nice little add to my usual routine and I spray it in after each wash. It has a beautiful floral scent which stays in the hair.

Excellent for dry , brittle and damaged hair.

I have fine blonde hair but a lot of it. Due to washing and blow drying my hair 6 days a week my hair has become frizzy and lifeless until I found this product. Yes it is expensive but it really does make my hair so much more manageable , soft and full of body. I will continue to repurchase this product for life.

In between treatments - Smells wonderful

I like to spray this in my hair once a week after I have washed and done a treatment in my hair. Definitely has improved the health of my hair and I think it smells wonderful. I personally have damaged hair from foils and lightening often so I dont just use this alone I also do frequent OLAPLEX treatments and deep conditions so this is just a nice little boost at the end of those and it leaves my ...

Read More

Vanilla and flower scent

The scent of this spray is enough to want to buy it. I usually apply this into wet hair before drying or it makes my hair feel a little crispy. I have noticed slight differences in my hair since using it. I just really love the scent and it makes my hair feel silky.

So nourishing

Great treatment that leaves my hair hydrated and strengthened. Easy to apply and really does the trick, keeping my locks fresh in between cuts

Keeps hair healthy

I originally received this as a sample and was so in love with it I purchased the full size. Usually wouldn't spend so much on a hair product but it actually has helped my hair a lot. It smells so lovely I would describe the scent as a flowery vanilla. I spray this into wet hair after ive washed it. If I put it into dry hair it makes it feel a little hard and crunchie.

Great product!

Amazing product for blonde hair, best used when wet before drying. Even my hairdresser noticed a significant difference in the look and feel of my hair after a few months of using this product! Smells amazing!

Beautiful scent

Smells really great applied to hair, not too sure if it does too much more.

Smells Great!

Originally received this as a sample and loved the smell so much I purchased the full size. Its a lovely vanilla floral subtle smell and makes my hair feel really silky and smooth after applying!

Lovely smell

Smells beautiful - vanilla floral smell. I love putting this in my hair just to make it smell good. As for the benefits of it I guess you cant really tell if a product is physically making your hair healthier but it does help with making it feel silky and brings out my blonde highlights. There has been an improvement in less split ends in my hair after using it for about 5 weeks now. I spray this ...

Read More

Soft full hair

I bought the full size product of this after trying the sample, it is better than some of the other highly marketed products that do the same thing - smells amazing and my hair hasn't looked healthier! Great for heat protection too

LOVE!

This hair treatment smells so amazing. Its kind of a mix of subtle vanilla and daisy. Not sure about the fixing/treating side of it but my hair feels heaps more silky and smooth and I have noticed less split ends.

Hair is left soft and silky

I purchased a bottle of this a few weeks ago and im so happy with it. I just spray it in my hair each morning and style and my hair feels so soft and silky after wards and the product itself smells AMAZING. Ive noticed already that I have healthier hair and less split ends. Has to be my favorite hair products now!

Expensive but good

The smell of this product alone is amazing. LOVE IT! Probably a bit expensive to be using this just as a hair perfume but thats what I do and people are always complimenting me on how good my hair smells!

Leaves hair feeling silky

I received this as a sample a couple of months ago, purchased a full size and have been using it for a few weeks now. It smells amazing - sometimes I only use it as a hair perfume because it has the most subtle vanilla flowery kind of smell to it. It leaves the hair feeling really silky and tangle free. In just a couple of weeks ive noticed less split ends and my hair genuinely feels healthier. It...

Read More

Works Great

I got this as a sample, I have very fine hair and this went on like a charm, it didn't leave my hair greasy and make it feel so soft, the smell is divine too. I did not have to use any other product in my hair but this, have now purchased full sized product.

Wonderful Product

I received this as a sample, first time using it and now I will purchase a full sized bottle

Lovely vanilla smell

Received a sample of this with a previous order. Sample size was amazing for starters it lasted ages. Product goes on well and dries quickly. The smell is so lovely its like a subtle vanilla and flower smell. I guess I cant say anything about repairing my hair because I cant see if the hair is repaired but my hair definitely felt healthier.

Received as a sample

I received this as a sample today. First thing I noticed was how gorgeous it smells. Its like a vanilla/daisy smell really light too. I would purchase this just for the smell. Sprays really easy through the hair and doesn't leave any oil or residue. My hair felt really soft and silky just after spraying it through and it dried almost instantly. My hair is now nice and shiny and smells lovely!

THE SMELL! AMAZING!

I was given a sample of this in a recent order and really loved it! Hair felt really silky after spraying it in and the smell is to die for!

Lovely

Has a lovely smell to it was the first thing I noticed. Not sure I would spend over $50 on it but it definitely made my hair feel nice.

Wow

Wow i got the sample of this and its made my dry hair very soft recommended