Pixi Glow Mist 80ml
4 instalments of $7.50
Or 4 instalments of $7.50 with
LEARN MORE
4 instalments of $7.50
Or 4 instalments of $7.50 with
LEARN MORE
Official Stockist
Is this for you?
Glow, instantly. Pixi Glow Mist is a refreshing glow-boosting mist that gives you a radiant, dewy look in a simple spritz.
Cruelty Free
Sulphate Free
Skin Concern:
Dull, dry or dehydrated skin
Skin Type:
Dry

Normal to dry

Normal to oily
Frequently bought with
Please wait while we find a match
Questions & Answers
(2 Questions)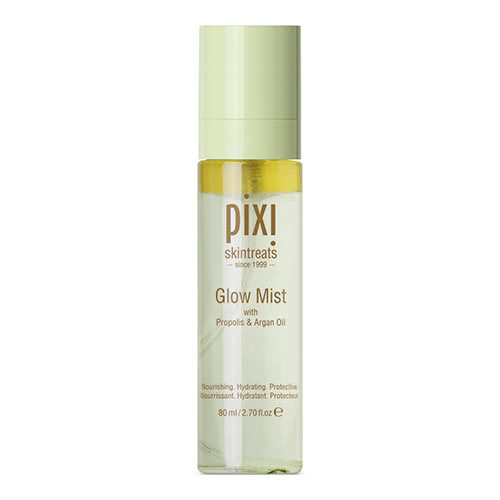 Pixi Glow Mist
Get an expert to answer your question about this product!
Pixi Glow Mist Reviews
86% recommend this product
Most Helpful Positive
Hydrating mist!
Most Helpful Criticism
Not for me
Not a bad product, but I prefer lighter mists - this one was quite oily, but it might work for you if you have super dry skin.
Great product

This spray is soothing on skin and leaves you with soft, dewy skin. It works well to refresh makeup, but not as a stand alone setting spray

Not for me

Not a bad product, but I prefer lighter mists - this one was quite oily, but it might work for you if you have super dry skin.

Glow all day!

This mist gives me the most fabulous glow. I use it in the afternoon to refresh my makeup - I have dry skin and it gives me some much need moisture! Make sure to shake it up before you spray!

Not for me

I really wanted to like this but it makes my pores more prominent when sprayed on top of the makeup. I like the smell and packaging but other than that it's just not for me.

Lovely Refresher

I have been using Pixi Glow Mist for years on and off, on my normal/oily skin. I find it provides a lovely moisture boost in winter, and makes for a good face/makeup refresher in summer. My makeup has a more Matt finish, so I like how the mist gives it just a slight glow. It can be a bit much for my sometimes oily skin, in summer, so I tend to just use it in the afternoon, when I need a little coo...

Read More

Hydrating, but..

This is such a hydrating mist and perfect for dry skin! However, the mist isn't fine at all, so it doesn't work well as a spray to refresh makeup as it leaves marks where it has been sprayed.

The original Pixi Mist

I like this mist a lot but it did get a bit separated after a while. It took a while to get through - I sprayed it at least once daily for probably 2 months. It's still quite expensive for what it is and sometimes I do feel a little shiny/oily

I have not tried to set my makeup with this as my skin gets so oily and I don't think it would work at all for me!

I started with ...

Read More

Lovely and Refreshing

I love spritzes, I love the feel of the mist on my face when I'm feeling a little tired, stressed or dry. This is nice on top of makeup and is relaxing. It gives a bit of a hydrated look but it's not high impact skincare. It is nice if you like a spritz. I prefer the Rose Glow mist

Hydrating mist!

Hydrating but not setting

Feels so nice and smells so good, hydrating and refreshing. Doesn't set makeup though.

Love, love, love!

I LOVE this spray. It's comes out so evenly and light, and the scent is subtle and fresh. I use it when I'm wearing no makeup for a youthful glow, when prepping my skin for makeup, and after makeup for an extra glow. Not sure if it makes my makeup last longer, but it looks and feels great.

Heaven !

This is so nice to use after I've applied my skincare routine. And also on top of my makeup for a setting spray. Keeps my makeup in place all day and my face feeling fresh!

O.M.G.!

I really really like this product. It took me a while to decide whether to buy it after reading loads of conflicting reviews (mainly positive however). I'm really glad I did - I love the scent and my face definitely feels hydrated and beautiful after using. I keep a bottle at my desk at work to refresh and wake myself up a bit.

Good for dry skin

Love this product. I apply over my makeup and it keeps my face looking fresh all day. Without it my skin tends to look dry, especially in winter. This is a perfect solution!

I use all day every day

This is such a gentle and hydrating mist. I use this daily to pick me up as I work in an office I often feel dull and dry. This is such a good quality mist!

Great

I love this whenever I use a foundation that dries up really matte. It mists good when sprayed on the face. I also smells nice. it also leaves my skin very hydrated and fresh.

spray of hydration

it is so refreshing and hydrating on the skin. i just have to spray like 2 sprays and it is enough for my skin and my makeup glides on it so smoothly.

Must buy

This is on my must buy list after trying a friends

Surprising scent but lovely glow

This spray mist smelled different to what I was expecting (not the typical rose scent perhaps!) but it still smells nice! It does impart a dewy glow on the skin - I've been using it over makeup to refresh and re-dew. I'm keen to try the rose glow too. The packaging is fun and colourful which I like! Not my holy grail spray but I still adore and use it!

Love the product hate the packaging

I love the product it makes my skin beam like i'd just gone out for a run. But the spray itself is horrid. I've taken to move the product into a daiso bottle and i love it. Pixi, please fix this

Hmm it's okay

This product is... okay. I don't mind it, but it's not something I'd buy again. I have found that I have only really reach for the product when my makeup looks dry and it usually just leaves me looking as though I have been sprayed in the face with a water bottle. I wanted to love this product but I simply didn't.

Love this product!

Super light mist but freshens the look of my face, my skin actually looks amazing. Love it!

Love

Has a lovely subtle scent and is lightweight and refreshing. Not overly hydrating, but gives my skin a quick moisture boost when needed. Super dewy finish so my skin is gleaming perfection.

Snapchat filter in a bottle

This mist adds a glow like none other I've tried - it leaves my skin looking dewy without being too shiny. I have dry/sensitive skin and find this great to use - not heavily fragranced or irritative. I also use it to set my make up before going out - would definitely recommend!

Instant refresh

I love keeping this in the fridge and using it on a hot day if my skin feels tight or dry. I don't think it should be used as a setting spray, but more for late afternoons if your make-up looks a bit worn and needs to be refreshed before heading out after work. I found that if I sprayed it over a matte finish foundation or powder, the tiny droplets would still be visible on my face, but it didn't ...

Read More

Refreshing

Refreshes skin instantly and gives a dewy glow

So fresh

I love this mist as a makeup setting spray and to use throughout the day to freshen up my makeup to keep my skin glowing. It has such a fresh smell, and I find myself spraying it on my face at home even when I don't have makeup on because it's so refreshing. Great to have in your handbag to keep your face fresh and glowing on long and/or hot days.

Love it

This product is great! I like to use it because it feels way better when I'm using it as part of my skincare and also priming my skin for makeup. Love the scent it provide and how convenient it is. Would recommend, it refreshes my skin and sets makeup and my face felt hydrated after use.

Nice product

I have just finished my bottle of this I bought around 8 months ago. It's nice and moisturising. Does make skin glow. I love it over makeup for a dewy look.

Beautifully hydrating

I use this as a light moisturiser to hydrate and replenish my skin and to achieve a natural, subtle glow. I love that it sprays evenly, doesn't take long to dry and is not greasy or heavy. A definite must have and lovely addition to any skincare routine.



Meh

I did not love it, did not hate it....this products is just ok. I did think it was gonna be oily so I was a bit hesitant at first but I was surprised that it really wasn't. I used it as a setting spray, definitely doesn't work for that (even though it claims it does). I used it before applying make up and it is refreshing but no real difference. I used it after my make up was set for a few hou...

Read More

Gorgeous glow and spritz of hydration!

Straight up, for me this wasn't a setting spray in the normal sense. It 100% removed the powdery look of my makeup - better than ANY setting spray ever has, but I didn't find it improved the longevity of my makeup. Then again, I haven't really noticed any product to that.

The glow mist gives you a lovely, dewy finish which can last a decent amount of time, however it's almost worth ca...

Read More

great over powder makeup

i use this on my minimal makeup days when i only wear a sheer coverage powder all over before applying a little (powder) blush and highlight. i like to apply it as a final step to help the powders melt into my skin. i love the way it looks. everyone seems to mention the great spray on it, however i think i may have got a dud, because mine has never been a fine mist, it's much more of a heavy spray...

Read More

Nothing too special

When i recieved this product, it worked well to hydrate the skin however didnt give me the glow i wanted. The spray is also a little bit un even, however it is ok but not worth the price.

for that healthy look!

a little goes a long way despite the small size, i use this product to bring the glow back when doing a fully matte look, it leaves a dewy and glowy finish whilst not affecting the longevity of my makeup. smells nice but the mist is a little harsh so dont spray too close to your face, otherwise is a nice product



Lovely

The spray on this bottle is nice and fine and doesn't make your face too wet. I use this Glow mist as a setting spray. I would highly recommend this product. Its good value.

Great spray to make your makeup glowy and dewy.

I was a little disappointed with the size of the bottle given the price but then found a little really does go a long way. I prefer to use this product to bring the glow back to my dry and dull skin after applying powders/long wear makeup. For this purpose it is excellent it leaves a dewy and glowy finish without affecting wear time. Smells lovely. Spray nozzle could be better so don't spray it t...

Read More

Wow

Sometimes when my skin is really dry, I apply to my face prior to doing my foundation and then after doing my powder also. It smells soooo good! Fresh and amazing.

Don't understand the hype

I either look like an oil slick using this and have my makeup move around, or get no effect at all from it. I don't find it refreshing and it doesn't make my makeup last. I just don't find it comfortable either. Even when I use barely any I can feel it on my skin. It's a cool concept but I do feel like I wasted my money as I can't even get one of my friends to take it off my hands.

on-the-go moisture

I have very dry skin and the cold has been making it feel taut and look rather dull. So I bought this to re-apply moisture throughout the day on top of my daily application of foundation, blush and brows. And so far, it's done a pretty good job. I love how dewy it makes my face look. And what's really great is that the product itself is surprisingly light. I just wish it was a little more affordab...

Read More

Good but not as good as Tatcha

I love the Tatcha mist however it is really expensive. Reviews online say that this is a dupe. It is good and does the job, but definitely not as well as Tatcha. For the price, it is fine.

Remember to shake the bottle before applying as the oil floats to the top!

Nice glow mist!

I use this glow mist in a few different ways. If I'm looking for extra hydration or glow I'll use on a bare face for no makeup days. I'll also use before makeup as a glowy base. I tend to use it more often after makeup to set my face and remove any excess powder as I hate the powdery look! It works well to leave a glowy dewy base.

Beautiful Product

I am onto my second bottle of this product. I have combination skin. I apply foundation and then powder over the top and I hate that real powdery look. I apply my glow mist onto the powder, and it immediately it gives me a glow and the minimises that powdery look. My skin glows all day long, and it makes your makeup really dewy. I often get asked what I have done to make my skin so glowy (my best ...

Read More

Expected more

I was keen to try this Pixi mist, heard a lot about it, it's ok , but I don't think it does much, I definitely love my Mac fix plus, and won't repurchase it , not worth the money.

Super glow

This is one of my new favourite mists to use either throughout the day to keep hydrated or I also really love using it after applying my makeup for an extra glow. It smells delicious and mists from the nozzle nicely but remember it does need a really good shake before applying :)