philosophy renewed hope in a jar day 60ml
Is this for you?
the unparalleled cult classic is back. philosophy renewed hope in a jar day is formulated with triple action technology. with a non-greasy lightweight yet deeply hydrating formula. with clinically proven skin renewal technology, radiance and youthfulness is restored. skin looks brighter and more hydrated. philosophy renewed hope in a jar is quickly absorbed, providing moisture and essential nutrients throughout the day.
Frequently bought with
Please wait while we find a match
Questions & Answers
(2 Questions)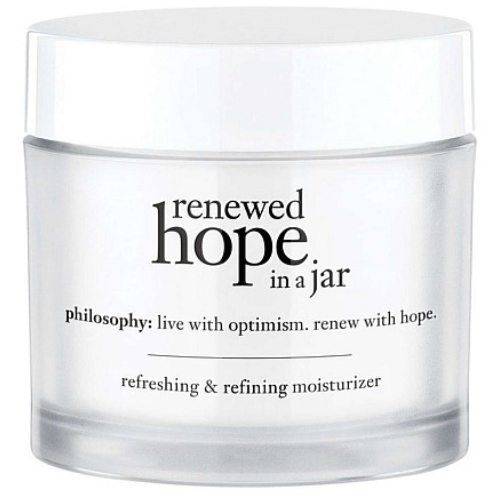 philosophy renewed hope in a jar day
Get an expert to answer your question about this product!
98% recommend this product
Most Helpful Positive
so nice
i love this moisturiser! it's super hydrating and makes my skin feel so soft
Most Helpful Criticism
OK but not great
This moisturiser is fine, but it's certainly not my favourite. For a day moisturiser, I find the texture slightly greasy. It does settle in pretty quickly, but it makes applying it less pleasant. I haven't noticed any particular improvements to my skin but at the same time I haven't had any negative reactions either.
so nice

i love this moisturiser! it's super hydrating and makes my skin feel so soft

Nice, but a bit greasy

I got a big jar of this on sale, and I'd wanted to try it for ages. The formula is light, though it does seem to leave a bit of a greasy feeling on the surface of my skin. The result were quite pleasant, but overall I think there are better moisturisers on the market, and this one would be much better for dry skin.

I've fallen in love

This has to be my new favourite product. Feels devine going on my skin and my skin feels incredible after using for only a week

Pretty good

A good product that helps with hydration during the day but I find that my foundation doesn't sit right on top of this.

Good Stuff

I ahave crazy skin at times! I've been loyal to one skin moisturizer for 10 yrs it's been good to me but I've heard grood things about Hope in a jar!!! I decided to try it. I've used it for two weeks and have seen such a Great difference in my skin!!! Love It!!!!!!

Gorgeous Moisturiser

I love most of the Philosophy range and this one is one of their best. It smells amazing, sinks in well and hydrates wonderfully. Really love this cream.

Lovely

Lightweight, non greasy and smells divine! Texture is lovely - a little goes a long way.

good cream and moisturize my skin

I have dry and sensitive skin. The cream is not too light or too thick, perfect for my skin. I mixed vitamin C powder with the cream. Very luxious for my skin. I recommend it.

renewed hope in a jar

Very thick, i only use this at night when my skin is extra dry

Best

This is my favourite in the winter as it's rich but doesn't make makeup hard to apply over the top! Might be too heavy for oily skins tho!

Best

This is my favourite in the winter as it's rich but doesn't make makeup hard to apply over the top! Might be too heavy for oily skins tho!

Non greasy moisturiser

Really like this moisturiser. I mainly use at night and it leaves my skin feeling hydrated, soft and dose not feel greasy.

Non greasy moisturiser

Really like this moisturiser. I mainly use at night and it leaves my skin feeling hydrated, soft and dose not feel greasy.

Non greasy moisturiser

Really like this moisturiser. I mainly use at night and it leaves my skin feeling hydrated, soft and dose not feel greasy.

All rounder

I use this on no-makeup days because it seems to smooth out my skin really nicely. Also find it very effective at night when my skin is feeling breakout prone.

It doesn't work so well underneath makeup though.

OK but not great

This moisturiser is fine, but it's certainly not my favourite. For a day moisturiser, I find the texture slightly greasy. It does settle in pretty quickly, but it makes applying it less pleasant. I haven't noticed any particular improvements to my skin but at the same time I haven't had any negative reactions either.

fairly good

Not my favourite moisturiser but still pretty good. It has a light texture and is moisturising. It is something I use if start to see dry or flaky skin because it's a bit more intensely moisturising than other products. Quite good but no noticeable effect on wrinkles.

Great Texture

I use this as a daily moisturiser under my foundation & primer, or under BB cream when I don't wear foundation. I find it provides a good base and leaves my skin feeling soft.

I'm not sure whether it is assisting in terms of removing or preventing wrinkles & age spots but I have purchased a second tub based on its moisturising ability and how it feels on.

Love!

Wow my skin looks and feels amazing after using this. It makes it feel like velvet

SMooth hydrated skin

This leaves my skin super smooth and hydrated. A little goes a long way with this also. The tub will last forever

Good.

This is a good moisturiser for normal to combo oily skin. It sinks in fast with no greasy residue. But keeps the skin hydrated.

Fantastic

Super hydrating, makes my skin feel smooth and also brightens !

Very soft cream

I've been using this for the past week and I'm really liking it. It's very moisturising and leaves the skin velvety soft. Hasn't broke me out either so that's good :)

great moisturiser!

A really soft moisturiser, goes on smoothly and left my skin feeling so soft! However a little expensive for how long it lasted, i only got around 2-3 months out of a jar. My skin is normal/dry and this was a really good base for underneath foundation however it didn't have enough moisture for me to use all day just by itself

Soft skin

I recently started using Philosophy products and I will never stop using them now. This cream along with the matching night cream are a miracle for my skin. I no longer have dry skin, this moisturiser plus the night cream has made my skin so soft and helped even out the texture of my skin. I love Philosophy moisturisers. Miracle in a jar.

Great for sensitive skin

My skin is sensitive and mature. This gives it a real lift. Feels purified, smoothed and refined. Gentle exfoliation action is silky to apply, and I still feel the benefit of having a beauty treatment.

Great

my skin is so dry and tight feeling that I felt like it would split open. This cream is light but soaks right in. My skin is soft and smooth without being greasy. I wouldn't want to be without this moisturizer!

Lovely smell and texture

This moisturiser has a lovely clean scent and is really nice for daytime under makeup as it is absorbed easily. I wouldn't use alone though as it is a more thin gel like texture, would be nice layered under something heavier in winter months. Will purchase again

The best moisturiser

This is great. Does everything you'd want a moisturiser to do. It sinks into your skin and doesn't leave any residue & it also makes your skin reeeeally soft

Feels great

This is an excellent night cream, super hydrating and great for sensitive skin

hydrating

This night cream is hydrating, creamy and sinks in leaving no oily residue. In the morning my skin is soft and clear. I have loved every Philosophy product I have ever tried, an affordable brand that works - what more do you want?

lovely moisturiser

i love the perfume smell this moisturiser has. i even use it in the night time after my serums and in the day time before my makeup. and my skin absorbs it in seconds.

Great

I recently started using this product and saw how beautiful my skin was looking after 1 week of use. I love how it feels; not greasy like many moisturizers are; smooth & silky. Love this one!

Lovely product

I buy this product for my mother dearest who has very sensitive, mature skin. She loves this moisturiser as it is oil-free and gentle on her skin, hydrating without being too greasy, and sits well under her makeup.

good for oily skin

i have oily skin but this moisturiser works really well for me. i wear it under makeup and it gets absorbed in my skin very quickly. very light formula.

Light weight like lotion

The cream is very thin like lotion, very easy to absorb. My skin is a bit dry as I am breastfeeding my baby, and it works, hydrate my skin and non greasy. But, the only negative point is that it is too thin and I need to apply huge amount each time.

Good value

Good hydration but does not keep long. I apply on every morning and I feel a bit dry after midday.

Pricey but good product

Received this as a sample and its just a lovely light weight moisturiser - my skin felt really hydrated a couple uses. Really great product. Its quite expensive but I think I would pay it for the product it was worth it.

Absolutely love it!

I received this as a sample and omg it is amazing! I've been using it as a night time moisturizer, along with the ordinary and my skin has never looked so good. Will definitely be buying!

Will purchase

Received a sample of this a few days ago and so far really happy with it. Really nice lightweight and moisturizing. Doesn't make my skin oily at all. My skin actually felt really hydrated and nice after applying so definitely would consider purchasing!

Incredible

I have combination/dry skin. I purchased this in the winter when my skin was really dry, and this has been incredible for it. It thoroughly nourishes my skin but doesn't feel heavy or greasy at all, which is essential for me. Another thing I absolutely love about this is that it doesn't clog my pores, when a lot of other moisturisers do! I would really recommend this.

Lovely

Received a sample of this with another philosophy product and its such a lovely moisturiser. Really LIGHTWEIGHT and goes on very smooth and silky. Its also very soothing its a very cool feeling on the skin. Its so light weight that ive even used the sample a couple of times as a primer before makeup!

Great

Really lightweight moisturiser. Great for night time and morning.

Hydrating

I usually have dry skin and this moisturiser is really great on the skin and usually the next day my skin feels moisturized and hydrated. Goes on really nicely and has a cool feeling. Smells really lovely too.

Amazing product

i am absolutely in love with this product. i have dry skin and i got sunburnt, and i used this to calm my skin down and get rid of the dry patches, it worked wonders, it smells sooo nice and is soo gentle and light on skin. totally recommended.

light and lovely

I've been using a sample of this product, and am really impressed. It is lovely to apply, quickly absorbed and has made my skin feel soft and smooth. Delicate scent, nothing too overpowering.

Lovely and light moisturiser

I got this as a deluxe sample on one of my adore beauty orders and I am so glad I did. It has a beautiful light gel like texture and amazing clean smell. Lovely for warmer weather wear and a little goes a long way. I will definitely be purchasing a jar of this when it's back in stock!

A lightweight moisturiser that delivers what it promises!

I was introduced to this moisturiser by a savvy retail assistant who recommended I use Hope in a Jar to avoid breakouts and oil build-up on my skin. Well, it has to be one of the most genuinely helpful recommendations by a shop assistant I've ever receieved! This product essentially does all it promises - it's lightweight and airy, fresh and non-sticky and leaves my skin hydrated, looking brighter...

Read More

Amazing

Love love this! I'm almost out of my sample and will buy the full size for sure.

Light and airy and perfect

I took a punt on this based on the reviews and I'm so glad I did. My new go to moisturiser. The moment I felt the soft light product I knew it was going to be good. I can't stand a heavy moisturiser, my skin likes light products and this is it. I use the Hope in a Jar Night cream too. Both products are lasting me a long time as not much is required to smooth over your whole face. I've noticed how ...

Read More

Gentle and soothing moisturiser!

This moisturiser is amazing for summer! It is lightweight and goes on really nicely. I am always on the lookout for products that brighten my skin tone and this definitely does it.
It is definitely not an intensive moisturiser, so it is not the best for really dry skin. I have been mixing it with some oils such as rosehip oil for winter to give me that extra moisture and have found it to be...

Read More

Great for the summer!

I switched over to this for the summer since I like to use a lighter moisturiser in the heat. I have very sensitive skin and this does not break me out or cause any irritation. I wouldn't say it's miraculous or does anything more than gently moisturise, however it does exactly what I personally need to to do for the season.

Really great moisturizer!

I have always struggled with acne and redness , this moisturizer along with the clear days ahead cleanser has cured me off the pain of acne . I have noticed a difference in the texture of my skin as well. It's much smoother , I'm guessing because my pores are minimized . It is pretty pricey for something I use everyday and have to buy every couple months but , in all honestly it's worth it to feel...

Read More

Love It

Beautiful product, great product which doesn't leave you oily. Would recommend this product!!

A great moisturiser

This moisturizer is a lifesaver for skin that needs a little love. Whether you are dehydrated, hungover, sleep deprived or under the weather - this lightweight product restores moisture and give you a healthy fresh glow. Great under makeup. It is a little more expensive, but worth the spend!

Lightweight

I love the light, whipped, texture. Makes skin so smooth!

Felt lovely on my skin & has a great smell

I received this as a sample and really enjoyed using it as my evening moisturiser (I use an SPF moisturiser for during the day).
It has a lovely smell and felt very moisturising on my skin. In the morning my skin felt soft and smooth.
I will buy this when I run out of my current evening moisturiser, I really enjoyed using it :)

good moisturizer

i have combo-oily skin and this product does a pretty good job. it does have a bit of a scent, but doesn't really bother me. it's a bit pricey but the tub has a lot of product, i think it has last me quite a long time. overall it's a good moisturizer.

Long lasting scent and very smooth skin

If you like stronger smelling moisturisers, this one has a scent that lasts for hours. Makes my combination skin very soft and smooth! Thick moisturiser on application, but sinks in quickly. Recommend

Pretty good - nothing mindblowing

This is the second time I've purchased this particular moisturiser, and I probably will buy it again in the future. It is a light-weight cream that moisturises without leaving an oily or sticky residue, and looks great under makeup. I have combo skin and recommend this to anyone who isn't extremely oily or extremely dry

my go to moisturiser

This is my all time fave! it's a bit on the pricey side but well worth every penny. it seriously cures my dry flaky skin with just a few uses. and even after it doesn't leave my skin feeling oily.

The new formula is so much better!

When I first heard that philosophy were planning to upgrade their famous, Oprah-approved hope in a jar I was pretty dubious - if it works, why fix it? But seriously this takes everything that I didn't love about the old formula and just makes it so much better.

I noticed a lot of people with oily/combination skins were enjoying this, so I wasn't sure if it would work for my sensitive ...

Read More