philosophy purity made simple - exfoliating clay mask 75ml
Skin Concern:
Acne, breakouts and blackheads
Skin Type:
Normal to dry
Normal to oily
Oily
Frequently bought with
Please wait while we find a match
Questions & Answers
(1 Question)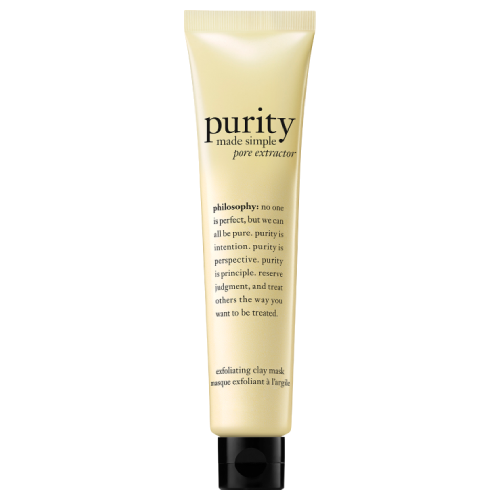 philosophy purity made simple - exfoliating clay mask
Get an expert to answer your question about this product!
Ask a Product Question
100% recommend this product
Most Helpful Positive
good
Makes my face really soft and clean after I use it
good

Makes my face really soft and clean after I use it

Great exfoliating mask!

My skin is so fresh after using this mask! I love it!

Amazing!

I received a sample in a previous order and fell in love! My Sample lasted a large amount of uses which was amazing and I have now bought a full size. I am prone to blemishes and this mask corrects my skin when I'm having a breakout, I love the multi use of this product and it has definitely improved my pore size. New holy grail!

Love this product

I love this mask, I received it as a sample and it's great for exfoliation. I would repurchase.

Gentle on skin

This exfoliator is really gentle on the skin!

Oily skin here!

I have oily skin and made the mistake to put this all over face. 9min later, the clay was super hard and massaged it while rinsing. My skin is very soft, pores minimised and this was after ONE use. A little bit rough so be careful to not over-massage it and avoid the eye area.

Noticeable difference

For the last few weeks I have been using this product twice a week and I have noticed my skin is a lot smoother and that it has extracted blackheads in problem areas (nose and chin) and cleansed out my pores. It really is amazing. Since using this product I have decided that I will move over to this brands one step cleanser.

Smooth soft skin

I only put this on my nose and chin (problem areas) and it really cleanses and exfoliates deeply. Skin always feels so clean and tight after using!

Great for a super fresh feel

Feels amazing on my skin and leaves me feeling refreshed, nourished and thoroughly cleansed. I've really noticed a difference in my skin since using.

Immediate improvement

I have been using this twice a week, and I noticed the effects almost instantly. I have less breakouts and my skin is smoother - helps with extracting blackheads and cleaning out pores. It is now essential to my skincare routine.

Works well

A simple clay mask that does what it claims! I didn't really notice huge differences after using the mask for a few weeks, but was really great for my sensitive skin it did help calm the redness.

Noticed results straight away

This is a staple in my routine now, I notice a difference as soon as I've washed the mask off. It clears any congestion right up and I love the exfoliant part of the mask too. Worth the money as a little goes a long way

Fantastic product

I am oily on the nose and chin with blackheads being an issue for years. I've only used this 3 times so far and I'm very impressed. It's a gritty clay mask and seems to be living up to expectations. My skin feels really smooth and clean after using.

Loved it

I Received this product as a sample , I absolutely loved it and will be purchasing it, my skin felt smooth and fresh and looked radiant after use.