philosophy hands of hope hand and cuticle cream 30ml
Is this for you?
a hand cream to protect your hands and moisturise your hands and cuticles.
Skin Concern:
Dull, dry or dehydrated skin
Frequently bought with
Please wait while we find a match
Questions & Answers
(1 Question)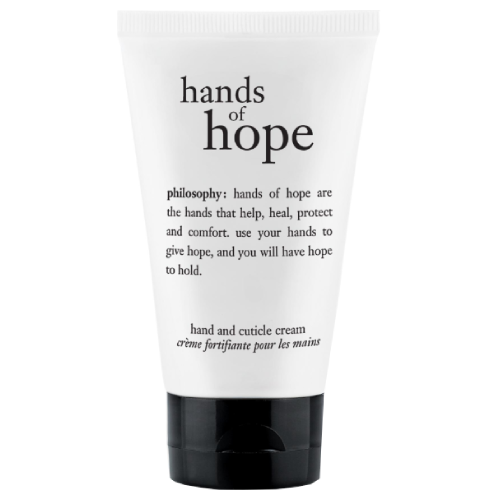 philosophy hands of hope hand and cuticle cream
Get an expert to answer your question about this product!
90% recommend this product
Most Helpful Positive
Smells amazing
Really happy with this! My hands feel super moisturised and it works really well!
Most Helpful Criticism
Average
The hand cream is average considering the price and how small the product actually is. It works fine but nothing special. I would probably just stick to the L'Occitane hand cream over this to be honest.
Smells amazing

Really happy with this! My hands feel super moisturised and it works really well!

Hands of Disappointment

I was really excited to use this product at first but it turned to be a letdown. The product felt bit waxy/sticky after application, and it would flake off like an eraser while rubbing it on.

Really terrible :/

Not a fan of the smell

This did a good job on my problem cuticles.
My sister and cat though hated the smell, I didn't find it so bad but a bit too overwhelmingly floral.

Average

The hand cream is average considering the price and how small the product actually is. It works fine but nothing special. I would probably just stick to the L'Occitane hand cream over this to be honest.

Nothing special

Just an average hand cream. Nothing special.

Yes to this!

Love using this when my hands are dry! Always adds moisture to them! Love it!

incredible

I was pleasantly surprised at how smooth this made my skin look, an honest must have!

incredible

I was pleasantly surprised at how smooth this made my skin look, an honest must have!

Very nourishing

Makes my skin feel soft and nourished. It is my perfect everyday go to hand cream. Very hydrating to the skin.

love

I would recommend this to anyone! Another great product from the line.

so good

I love to use this before bed. I always take this with me when I'm travelling!

love

It is very hydrating as it penetrates deeply into the skin and leaves a lovely scent afterwards This is a wonderful way to try the range!

Very soothing

Every winter my hands dry out so much and I have been searching for something to help them feel more comfortable and this has been a lifesaver. A little goes a long way and has made my hands so soft.

Dry winter time hands cure

Helps with super dry hands in the winter. Smells nice too and extremely nourishing

Perfect for winter

This hand cream is amazing! It hydrated and nourishes my hands so well! In winter my hands get super dry and so far this is the only product that has managed to keep them moisterizered all day! Definitely recommend

Loving this!

Nice, Iight and fresh smelling hand cream. Soaks in well and I really like it! Love this brand a lot.

Beautiful cream

I love this hand cream. It helps to counteract the various daily activities that dry out your hands, like overwashing and being out and about. It makes my hands feel lovely

Great

I work with the public and I'm constantly applying hand sanitizer which is very drying. I apply this location to my hands and rub the excess into my cuticles and it helps keep my hands and nails soft and mosturize..plus it smells amazing!

Hand cream perfection

A lovely light scented hand cream that is a joy to smell!
Rubs in easily leaving my hands feeling softer and hydrated, and does not leave your hands feeling greasy.
Best hand cream I have every used!

Amazing

Extremely soft with a lovely scent. Instantly smooths and hydrates. Works really well with my dry and sensitive skin and leaves my hands and nails soft and nourished.

great size

I love putting this in my carry on when I'm travelling! This product is definitely slightly more expensive, but worth it for the great quality! I suffer from dry skin and this product keeps my hands very hydrated, definitely recommend!

great hand cream

Philosophy has been a favourite of mine for years! I suffer from very dry hands and i find this product helps keep my hands and cuticles both nourished and hydrated! Would recommend to anyone!


mothers favourite hand cream

My mum raves on about this hand cream. She loves how moisturising it is and the small easy travel packaging it comes in. She's been using this for a while and loves it

Gorgeous Hand Cream!

I absolutely love this hand cream, so moisturising and hydrating especially for more mature skin!

Lovely hand cream

Leaves my hands soft and is not greasy which is a bonus!

nice texture

it has nice soft texture and is very light yet hydrating on the skin. i have noticed that just using this product only a couple of times the dryness of my hands has minimized

Perfect for older skin

I didn't think this product would be any different from other hand creams, but i was happily surprised. It took the crepey look out of my hands. It rubbed in beautifully, non greasey. It's a bit expensive but it works.

Beautiful hand cream

Favorite hand cream, non-greasy, leaves hands feeling silky and soft.

Favourite hand cream

I have combination/dry skin. I have such dry hands, especially in the winter and nothing seems to fully hydrate them, except this one! It feels so luxurious and beautiful-almost like i'm having a spa treatment. It also keeps my hands super soft for ages, I would definitely recommend this.

will be repurchasing!

i never take this off my bag! it has a really smooth texture, not watery and not too sticky. my skin absorbs the cream fast and it has a very subtle to no smell at all.

lovely. moisture

This has a medium consistency and spreads very nicely on the skin. I'm not sure how to describe the scent, aside from expressing disappointment that it doesn't have much to it, as I do love the scent of Philosophy products! This one does hydrate my skin nicely, and my skin does feel softer for using it

Love this!

So I've been on a hunt for at least the last two years to find a hand lotion with a pleasant smell, that absorbed quickly and left my hands feeling nice. They knocked it out of the ball park for hitting all of my ear marks and then some. I love using it - the scent is pleasant and vanishes quickly once its absorbed in to the skin. Doesn't leave a film or layer on the skin creating marks on clothes...

Read More

My hands drink this

I really really like this but it is soo small. My hands are extremely dry all year round so i am really picky with hand creams. My hands love this one, absorbs quickly and doesn't leave a greasy feeling. Also lasts on my hands longer than other creams, only thing is the tube is too small for me. I go through so much hand cream that unfortunately this makes it not quite right for me.

Love it!

I've been using this for years and I love it! I put it on before I go to bed and really rub it into my cuticles. My hands look great in the morning! Glad to see they've come out with some scented versions and am excited to try those too!

Absorbs great non greasy

Love this hand cream it's non greasy absorbs quickly and hydrates your hands. There's no strong odour just a soft pleasant one that is inoffensive. My hands love this stuff.

Lovely

Lovely hand cream. My hands get so dry during winter and this has been great. This has helped keep my hands hydrated.

Great

My hands have been cracking this winter and this is the only thing that has helped soothe and reduce dryness. Would buy again.

The handbag staple

This smells delicious and feel so lush on the skin. Can't live without it

Smells Devine

This hand cream has a beautiful smell and is very hydrating.

Lovely

Great hand cream. Looks feels and smells nice.. non greasy.

Heavenly hands

I think I've just found my new go to hand cream, would have given it 5 stars but the tube was too small and really needs to be a larger size.

Love Love Love

This cream is the perfect hand cream; it's a great size, it's very moisturising, non-greasy and has a nice neutral smell, which I absolutely love. The packaging is also lovely.

Ever so nice.

Absolutely gorgeous hand cream. Ticks all my boxes: nice smell, non-greasy (in that I don't have to wait until it sinks in, lest I leave grease smears over everything I touch like a high-maintenance slug), sinks in quickly, and leaves hands soft. I foolishly bought this small sized tube, which was used up in record time thanks to my thirsty hands. Protip: buy the bigger size!