OPI Infinite Shine Nail polish – Eternally Turquoise 15ml
Official Stockist
FLAMMABLE

This item is flammable therefore postage is restricted to Standard Post within Australia
Questions & Answers
(No Questions Yet)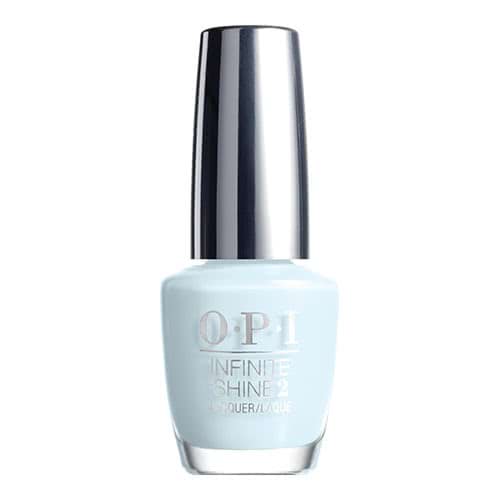 OPI Infinite Shine Nail polish – Eternally Turquoise
Get an expert to answer your question about this product!
Ask a Question
90% recommend this product
Most Helpful Positive
Nice pastel colour
You get the color with one layer, a nice patel light blue that looks amazing !
Very pretty colour

Since the name has 'turquoise' in it, I was expecting something a bit more green-blue - this looks to be a true baby blue color. It's still a very pretty colour though, and I received many compliments on it. The formula is nothing special - I needed 2-3 coats to get to an opaque coverage, but this is pretty typical of all the nail polishes I own. Although I like this and will continue to use it, not sure I would repurchase.

Nice pastel colour

You get the color with one layer, a nice patel light blue that looks amazing !

Lovely pale turquoise shade

Such a bright cheerful colour! This is the perfect pale turquoise shade for the warmer months. Love this shade against a tan. The quality of OPI polishes are always amazing. They last at least a week without chipping.

Really pretty colour

This nail polish is really pretty and suitable for an everyday wear. Looks really nice as toenail polish as well. I really love the colour

Pretty

This colour is really pretty - such a nice soft sky blue. Perfect for spring and summer. OPI is such a great polish brand - they have a cult following for a reason. If I am choosing a non gel colour, I always go with OPI as the brand delivers.

Amazing

OPI nail polishes are some of my faves. Very good quality. This shade of turqiose/light blue is perfect especially for summer.

Beautiful Blue!

This colour is so lovely and shiny! Such a Spring/Summer colour and the formula is great - dries quickly and doesn't chip.

very nice!

the loveliest colour that makes your nails pop with any outfit! looks so great and shiny

Baby Blue!!

Personally this would be my go to colour if I wanted to celebrate a new 'blue' arrival! A great pastel colour.
OPI is a household brand for a reason. With its professional standard quality available to the public at an affordable price it's not hard to see why. I have personally found OPI infinite shine lasts significantly longer than normal OPI polish. For example on my hands.. Standard OPI Polish - 4-5 days Infinite Shine OPI - 6-7 days Other brands - 2-3 days (This is in conjunction with using infinite shine base and top coat and still doing everyday activities) The colours are exactly the same as on the bottle and in images. The only time the colour may differ is if your screen distorts colour or if your brightness on your device isn't adjusted. To be 100% sure I'd recommend searching on google images "OPI *insert colour name*" and then return to Adore Beauty and choose your colour.

Lovely Spring Colour

Perfect for Spring - a lovely light colour that glides on beautifully. Only need two coats for an even, seamless application. Love this brand, and obsessed with this colour.