O&M Conquer Blonde Silver Masque 250ml
Is this for you?
Banish the brass. Over time, even the finest of blonde colours can turn yellow and dull - O&M Conquer Blonde Silver Masque helps to promote cooler tones, keeping your blonde salon-fresh looking for longer.
Frequently bought with
Please wait while we find a match
Questions & Answers
(1 Question)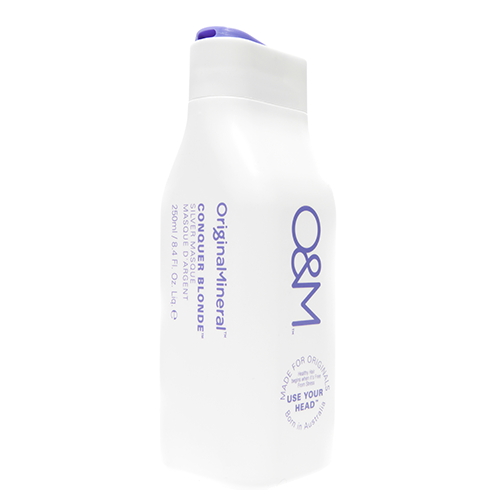 O&M Conquer Blonde Silver Masque
Get an expert to answer your question about this product!
67% recommend this product
Most Helpful Positive
Incredible
This has helped the damage and colour a lot!! Wonderful product and love this brand.
Most Helpful Criticism
Not the best conditioner
Whilst I absolutely adore the shampoo version of this, the conditioner is way too thick. It is extremely hard to get the conditioner out of the bottle. Also when you do manage to get it out, I found it not very hydrating. I would not buy this again.
Incredible

This has helped the damage and colour a lot!! Wonderful product and love this brand.

Not the best conditioner

Whilst I absolutely adore the shampoo version of this, the conditioner is way too thick. It is extremely hard to get the conditioner out of the bottle. Also when you do manage to get it out, I found it not very hydrating. I would not buy this again.

A bit too drying

This product worked well at rejuvenating my blonde hair (at the time), however it left my hair drier than usual.

Amazing

This mask has not seemed to do anything for me but turn my hair a little more brassy and it doesn't seem to condition very well. I would not recommend it.

Great

In my quest for "Mother of Dragons," Targaryen-style hair nothing gives my blonde more strength, softness and silvery shine than this conditioning mask! Bonus: it won't turn your hair purple either, just a nice, clean cool blonde!

Didn't work for me at all

This product didn't condition my hair at all. I wouldn't buy it again. And again with the bottle - I had to cut it open with a saw to get the product out. This company seriously needs to do something about their packaging.

Great Product!

I have destroyed my hair from having constant balayage and find it turns copper very quickly. I apply this product generously and leave it in overnight (wrapped up so I don't stain my sheets) and the results are fantastic. Would recommend!

Perfect for blondes!

Great product for blondes wanting to keep their colour fresh! I find other toners and purple shampoos can be quite drying but this one kept my hair a great shade while keeping it soft and smooth. Highly recommended!

Smell great, works well

Love the smell, makes my hair very soft.

Good product, difficult bottle

I do like this product. This is my first bottle and my hair definitely looks much less brassy after only two uses :)

My problem is with the packaging! I have never had to work harder to squeeze stuff out of a bottle! I have the shampoo too and it is similarly challenging.
I consider myself reasonably strong but I would definitely not recommend this to an elderly friend as I'm ...

Read More