Napoleon Perdis Brow Pencil 0.09g
Frequently bought with
Please wait while we find a match
Questions & Answers
(No Questions Yet)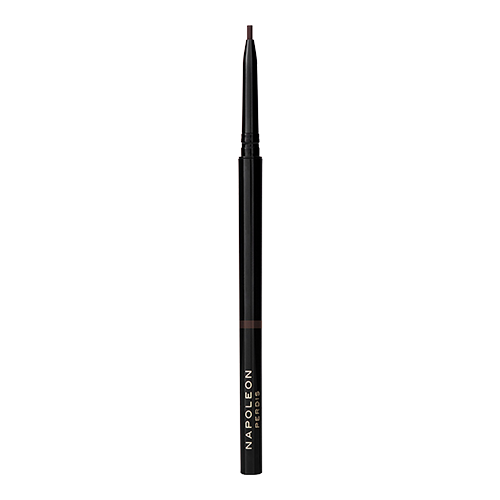 Napoleon Perdis Brow Pencil
Get an expert to answer your question about this product!
Ask a Question
90% recommend this product
Most Helpful Positive
Light
Perfect eyebrow pencil for a nice light and natural look.
Most Helpful Criticism
Shades
Great pencil, but not a lot of product inside. Love the shades!
Easy to use, nice shades

This product is really easy to use and has nice shades. It looks really natural and is from my favourite brand - what's not to love

Easy to use

I started using this eyebrow pencil after a makeup artist used it when doing my makeup. I have medium to dark hair and I find the chocoholic colour a good match. It fills in my eyebrows ok but I think I will need to use an eyebrow powder as well to get good coverage.

Light

Perfect eyebrow pencil for a nice light and natural look.

Love

Love the eyebrow pencil super easy to apply and blend

Love

I use this in the pale rider shade and have light brown/dark blonde hair. I like a very subtle eyebrow look and dont fill in much so this just really compliments and looks very natural.

ALWAYS COME BACK TO THIS

I use this in the shade Chocoholic and it is the perfect natural colour!

The pencil is super easy to use and blend out.

I always end up coming back to this brow pencil! FAV!!!! <3

Lovely and natural looking

(pale rider shade)

Really nice natural looking eyebrow pencil.

Great product!

I swear by this pencil/crayon. It is so easy to apply and doesn't smudge or move all day. I have problems with my hairs falling out due to the harsh application of some pencils/crayons but I have had no issues with this one. The chocolate brown is a great colour too!

Natural looking

Easy to apply and smooth. Natural looking. I have light brown hair and the 'Pale rider' shade is perfect.

No

Not a great colour (the light one), too 'yellowey' for my colouring.

staple product

This product makes it so easy to fill in your brows and its even fine enough to create a hair look, so perfect for natural or glam looks.

Natural look

I usually prefer a more natural look with my eyebrows so this is perfect - the pale rider shade is nice and light and fills in just enough.

Natural Look

Im happy with this purchase - the colour is really natural looking and I dont have to sharpen it. I have light brown hair and the 'Pale Rider' shade was a perfect match.

PALE RIDER - Light brown

The best eyebrow pencil. Looks so natural and goes on really smoothly. I use this daily and its perfect for days where I want a natural fill in look but also great for a full look. I use Pale rider shade and I have light brown eyebrows.

Easy to apply

Easy to apply. Dont need to sharpen. Looks natural.

Great for light brown hair

I have light brown hair/blonde and this works really well for me. Very Natural.

PALE RIDER

I always go back to this eyebrow pencil. I have light brown hair and fair light brown eyebrows and its perfect in the pale rider shade. Its a nice light brown but if drawn thicker turns to a darker medium brown. Really natural looking!

Great for fair hair!

I was so sceptical about using an eyebrow pencil - but the pale rider is the PERFECT colour for those with blonde hair - I use it every day - it stays in place and makes my eyebrows look naturally full (Not tacky and scary like some other products can do). Definitely recommend.

Beautiful, glides on

Glides on so smoothly and natural looking. Colour is great for my light brown eyebrows and lasts all day.

Pale Rider shade

My go to eye brow pencil. So easy to use and applies so smoothly and well. Great for natural looks. (Pale Rider shade)

Cant fault

One of the best eyebrow pencils. Never has to be sharpened, goes on really easily, great natural colour and can be built depending on how much you like your eyebrows shaded in.

Great

Gear brow pencil and it's so easy to use.

Favourite brow product

My favourite brow pencil. The pale rider shade is so natural looking and easy to apply. I have dark blonde/light brown hair and its perfect. I usually only lightly shade in my eyebrows so it lasts a long time but for someone who likes to fill them in a lot this would probably go quickly.

AMAZING

The only brow pencil I use. Dont need to keep sharpening. Really smooth application and looks natural.

Easy to use & Natural

I've been using this brow pencil for about 3 years now and its always been my favorite over any other. I have light brown hair and use the 'PALE RIDER' Shade. Its really easy to apply, goes on smoothly and looks really natural but can be built. Doesn't need to be sharped which is amazing. I only lightly shade in my browns so it usually lasts me months before I need to get another one but for people who really like to fill in their brows a lot I think this wouldn't last very long.

Shades

Great pencil, but not a lot of product inside. Love the shades!

Go to eyebrow pencil

Really natural looking and doesn't need to be sharpened. I usually like a natural look in the pale rider shade so this is great for that but also can be built darker.

Good but wont last

was a nice product but only lasts a month or so. runs out really quick

Love!

I have light brown/blonde hair and the 'Pale Rider' shade is really great and natural. It can be built too. Great brow pencil.

Natural and easy to apply!

Easy to apply and goes on so smoothly. Colour is really natural too.

It's okay...

The pencil itself is a bit hard in texture which makes it difficult to apply. It also doesn't come with a little spoolie to brush my brows. It's okay but think there are better ones out there for the price.

Great application!

This is my go to eyebrow pencil! I have brown hair and i use the pale rider shade and its got such a great application and the colour is really subtle and natural (Can be built). I use this product every day and it lasts such a long time! Worth it!

good buy!

I'm not a heavy makeup user, but this product really fills my need for an every-day brow pencil. the blendability isn't perfect, but it wears well and overall sits nicely.

Pretty good

This is really great eyebrow pencil and it makes my brows look great! Easy to use and looks natural!

Natural colour and great application

I have light brown hair and the pale rider brow pencil goes on really natural (but im sure it can be built to a darker colour if needed). The shape of it too is really convenient and it doesnt need to be sharpened. Its really easy to use and the colour is natural.

Hair like strokes

Chocoholic is the perfect shade for brunettes! It's a cool toned brown which is hard to find. The pencil itself is very fine which makes it easy to create hair like strokes. I also love that I don't need to press hard to get colour pay off.

Never needs sharpening!

The highlight of this one for me is that you never need to sharpen it. You can just wind the little crayon out further whenever you need a little more! The brown pencil actually blends quite well with my own brows giving a more natural, fuller look.

Pale rider is the perfect colour match for blonde hair

Pencil is easy to use and is easy to make hair like strokes for natural looking eyebrows or you can fill them in to look more full. Pale rider is the perfect blonde colour.

Either it will be your ride or die or it will just sit in the back of your makeup drawer.

There are two types of brow people. Pencil or Powder.
The NP brow pencil is perfect for a natural hair-like application. It creates depth without looking overdone and can be worn with absolutely no makeup or a full face. However, some people prefer to fill in with a powder so probably won't adjust well to change.
It's perfect and thin enough to keep in your purse but will last for ages.
Chocoholic will suit anyone with brunette brows (not black) and Pale Rider is great for blondes or those with barely there brows. You can apply lightly or build the colour up accordingly.

HOLY GRAIL

I have been using this eyebrow pencil for about 6 years and nothing even comes close.
I have huge gaps in my brows and it looks completely natural (like actual hairs).
This is the only beauty product I would never be without and I hope Napoleon never stops making it.

Even an eyebrow numpty like me can use thus

Loooove this! Recommended by a friend with enviable eyebrows, I started using this and haven't looked back. It took me a bit to get used to how I should apply to suit me, at the start I was putting it on too thick but now I take advantage of the thin shape and can fill in the gaps on my brows with feathery strokes that look really natural and not too harsh on my face.

Highly recommended

My eyebrow technician recommended this pencil to me and it's honestly the best I've tried, and I've tried a few!

I have very sparse eyebrows. My eyebrows are brown, and my hair is currently streaked quite light blonde. The colour of this pencil has worked for me with blonde, honey and brown hair colours. It's a nice cool brown, not red toned like a lot of other brown eyebrow pencils.

This isn't a waxy pencil, but it's not so dry it crumbles and pulls on application. It's pretty much perfectly in between the two. With this pencil I'm able to extend and thicken my eyebrows quite a lot while while keeping the look quite natural.

The only negative I can say about this is the design. The pencil doesn't last that long, and because of the twist design, I find I can unexpectedly run out of product with no warning. But because I like it so much, I just make sure I have a spare around.

Good Product

I love this product...I have been using a pencil in the past but find this much easier to use and great color...and goes on easily...would recommend this to any of my friends.

Great

Getting older my brows fall out so thins worked great and looks more natural than others I've tried

Unworthy of the Napoleon Perdis label

I found this product unworthy of the Napoleon Perdis label and I am a fan. This new 'wind up' pencil falls way below expectations. It is very sharp and actually hurts to apply. And it only lasted 4 weeks and I applied 6 days a week. The colour is good but please go back to the pencil.