Mirenesse Power Lift Super Star Eye Sheet Mask 1 pair
Is this for you?
No compromises - an eye mask that does it all. Mirenesse Power Lift Super Star Eye Sheet Mask is a rejuvenating hydrogel sheet eye mask that is your first choice against the signs of ageing. A synergistic blend of natural and scientific active ingredients, this must-have sheet mask targets dark circles, discolouration, and fine lines.
Frequently bought with
Please wait while we find a match
Questions & Answers
(1 Question)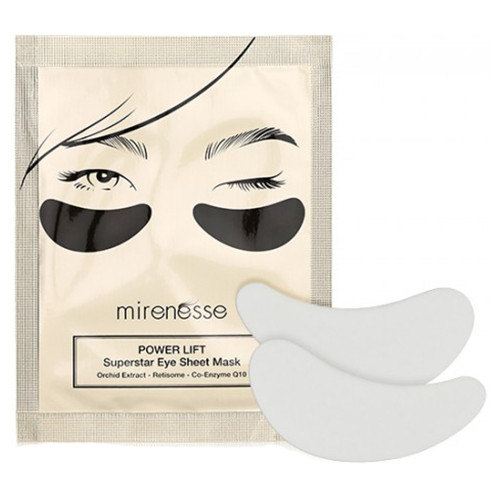 Mirenesse Power Lift Super Star Eye Sheet Mask
Get an expert to answer your question about this product!
86% recommend this product
Most Helpful Positive
Expected more
After reading the reviews, I expected more from this product especially with the price
Most Helpful Criticism
Not wowed
For the price I was expecting a "power lift" and was disappointed so I
would not recommend these
Expected more

After reading the reviews, I expected more from this product especially with the price

Great product for temporary results

I am a fan of eye masks and this gel sheet makes for a really soothing and comfortable experience.

I suffer from quite dark under-eye circles so I don't expect magic here! I was pleased with a boost to the radiance of my under-eye after using this but I imagine to keep that going I'd have to use these quite often.

It's worth getting for the temporary boost before a big event!

Good but pricey!

High price tag but I do like this. I probably won't continuously buy them because it's nearly $20 for one pair but they're nice to have sometimes and Greta before events! :)

I like them

I used these once and liked them a lot! Yes from me

Great

Love these! They make my undereyes feel so hydrated tight and brightened! Does everything its supposed to!

Plumping and pampering.

This eye sheet mask is truly gorgeous. I have dry, sensitive skin with dark under eye circles from allergies and this really helps to plump, hydrate and makes the dark circles diminish. It feels so soft and beautiful and is super easy to use. I feel very pampered when I use this. I wish I could use it every day but alas the price won't allow me to do that. A beautiful combination of quality ingredients.

Nice boost

I was pleasantly surprised with these patches. They provided definite improvement under my eyes, fine lines were somewhat diminished after using. Would buy again, and the price is worth it. I've used cheaper alternatives but haven't had anywhere near as good results.

Super hydrated

I got this product from Adore beauty as a sample. After tried once just fall in love with how it hydrate the eyes areas so well. Nice smell and make you feel like a treat for the day. A little bit dear but I will purchase again for a treats soon.

Not wowed

For the price I was expecting a "power lift" and was disappointed so I
would not recommend these

Hidden benefits

I'm 48 years old and have often been told I look much younger, but in the last 6 months or so the dark circles under my eyes have become much more pronounced. They're very ageing. So I tried this mask - I left it on for the full half hour - and I thought there was an immediate noticeable difference - it was great! And a few hours after using the mask (and after I had also applied makeup), I got lucky! So I will be buying this again, I can tell you ;-)

Nice n cool

This feels lovely, this is nice and cooling and feels great

Ok

Moisturises my under eyes and is very cooling .

Fresh

These really make me feel fresh and my under eyes hydrated.

Feel refreshed

Received as a sample. My eyes feel refreshed, soft and smooth after putting this mask on. I didn't see any other difference. I don't have lines and wrinkles so I can't comment about it.

Blown away!

Highly recommended eye wrinkle eradication/care - I was blown away after using these anti wrinkle eye pads...my bags were gone, crows feet markedly reduced and my eye area was firmed and, over time, my dark circles have faded somewhat too! A simple and easy eye care solution...I love them!

Very happy

I have dark circles and fine lines under my eyes and was having problems with dryness. These left my under eyes feeling so soft and smooth. Only used once so didnt see a huge difference with fine lines. Will be using these again before and/or after a night out!

It worked

I received this as a free gift with purchase. I didn't expect much from it but the fine lines around my eyes actually reduced for about 24 hours after use. They where also very easy to apply and comfortable to use. Will use again.

Amazing

I received these as a free gift with one of my purchases and I loved it! I will definitely buy them for myself. They made a difference after just one use! I have dark bags under my eyes and often have puffy underneath the eyes, with fine lines and wrinkles. But after using the eye sheet mask, under my eyes became a lot brighter and even my fine lines seemed to decrease.

Good eye mask

I received this a gift and used it while doing housework. It is easy to apply and the great thing is is that it doesn't move once you apply it. I left it on for half an hour and my skin was smoother and I looked less tired!

They are okay

I got these as a sample and was excited to give them a try as I love using eye masks at the moment - I have fine lines and experience makeup creasing under my eyes. I didn't notice a huge difference but my under eye area was nicely moisturized.

Amazing

I received these as a free when I bought other products, and to say I was amazed at how great they worked is an understatement. I've tried lots of different eye serums and creams and nothing has had the same effect as these. I hopped in the bath popped these on and let them work their magic. My lines were visibly reduced and plumper and the bags had diminished!! The effects lasted a solid week. And I'm about to go buy some more they were so great!

Not sure about it

I've got it as a free sample and was pretty excited to try it because puffy eyes and dark circles are a problem for me. Unfortunately the mask didn't seem to work for me. Small lines under my eyes seemed reduced but that's because the whole undereye area seemed a bit swollen or something. It looked a bit unnatural and weird. Maybe it works for others but not for me.

Wrinkle plumped up

Got this as a free gift, just used it while watching tv. It says to leave it on for 30mins but i watched a movie. When i took it off i notice my wrinkles were less obvious even when i crinkled my eyes... I'm 54yo.... will buy this product.

Noticeable improvement

I received these as a free sample and was very happy as typically I have very dark under eyes and generally feel self conscious about them -
I wore the eye mask for about half an hour and definitely noticed the skin beneath my eyes looked lighter / brighter more fresh .
I have young skin so can't comment on improvement of lines .
Overall felt relaxing and showed an improvement- would recommend.