Mirenesse 10 Collagen Cushion Tone Correcting Primer - Multi-Tone 15g
Questions & Answers
(No Questions Yet)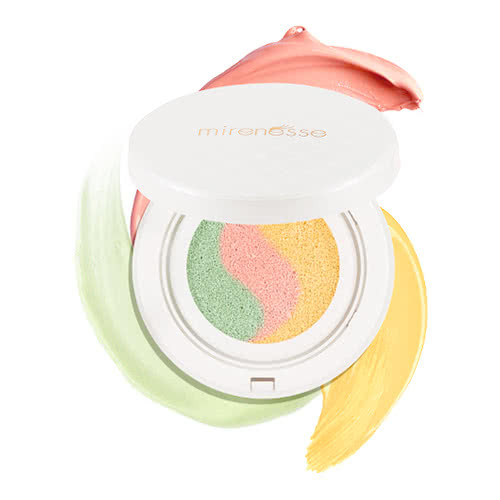 Mirenesse 10 Collagen Cushion Tone Correcting Primer - Multi-Tone
Get an expert to answer your question about this product!
Ask a Question
88% recommend this product
Most Helpful Positive
Nice!
This is really nice, I never usually use stuff like this so it's kind of fun! I like it!
Most Helpful Criticism
For fair skin
Unfortunately this isn't the miracle product I was hoping for after reading the reviews. I don't see how you could ever wear it on it's own like some reviewers are saying. I found you have to use this product very sparingly. I have fair to olive skin that sometimes tans, so this product made my face look very pale if I used it all over. Works as a colour corrector on light pigmentation. I use a mineral makeup over the top and then a bronzer/blush, but sometimes it doesn't really allow the foundation to set as well over the top.
Nice!

This is really nice, I never usually use stuff like this so it's kind of fun! I like it!

Great

I just love this toner. While my skin is not red & blotchy nor does it require a lot of correction toner. I find my make up glides on far easier with this primer & makes my make up stay put all day long. This primer gives my skin a photo finish day in day out!

Amazing

I just love this toner. While my skin is not red & blotchy nor does it require a lot of correction toner. I find my make up glides on far easier with this primer & makes my make up stay put all day long. This primer gives my skin a photo finish day in day out!

For fair skin

Unfortunately this isn't the miracle product I was hoping for after reading the reviews. I don't see how you could ever wear it on it's own like some reviewers are saying. I found you have to use this product very sparingly. I have fair to olive skin that sometimes tans, so this product made my face look very pale if I used it all over. Works as a colour corrector on light pigmentation. I use a mineral makeup over the top and then a bronzer/blush, but sometimes it doesn't really allow the foundation to set as well over the top.

Really lovely

This is a lovely primer, different to what I'm used to but great.

Game changer for those with sensitive skin!

I've tried so many primers before but they all make me break out into a rash. This product is different. It completely knocks out all redness, scars, pigmentation, dark circles & it is also completely non irritating! I'm so impressed! The finish is so gorgeous I don't even need foundation or concealer or BB cream over it! I have very very very pale skin (too pale for any foundations I have tried!) w very sensitive & dry skin. This contains no silicone or other irrigating ingredients & felt really nice on. Has a lovely dewy finish which I personally love. Game changing!

Easy as

So easy to use and it doesn't need to use much. Great job at covering up your blemishes.

Wow! it really does cover things up with very little effort

I am such a fan of this primer. I am terribly splotchy and oily and this takes care of both these issues in a really beautiful way. I put this on over top of SPF, and then just powder, bronze, blush, DONE. Easy and quick, this is something I really want to keep as a staple.

Pale princess proof!!

This colour corrector is perfect for all you pale princesses! So many colour correctors have added tint or pigment but this one aint messin around! Its easy to target the colour you want in the sponge or you can just use all three for over-all tone evening. I find sometimes I dont even need to conceal blemishes if I've used this! Would purchase again!

All day coverage!

Love this new correcting primer - I received an email for this new correcting primer, watched the tutorial & ordered it. I received it yesterday . it's so pretty. lovely compact & the colours so beautiful. I applied my make-up at 6.30am & at 7pm it's still in place. This is the first correcting primer that's easy to apply & does exactly what it's supposed to do. It covered my dark veins on my pale skin, took care of my pigmentation & my dark circles. It stayed smooth all day & didn't go into the creases around my eyes. I love it. Thank you Irene & Andrew for another wonderful product in the Mirenesse range. I truly recommend this amazing Correcting Primer
Louise