Medik8 is known and loved for its results-driven, powerful skincare formulations that absorb into the skin effortlessly. One of the best ways to venture into the world of Medik8 skincare is to use one of the brand's easy-to-use starter kits.
Medik8 Starter Kits have been developed to tackle individual skincare concerns and adapt your skincare routine to produce more dramatic results. Containing travel-sized products, these kits are the perfect way to trial Medik8 skincare without committing to a full-sized routine. If you are already a Medik8 fan, kits are ideal travel essentials, as you can take all your favourites with you whilst you are on the go.
What are the best Medik8 kits for oily and acne-prone skin?
For oily and problematic skin, the Medik8 Blemish Starter Kit is the best place to begin. This cosmeceutical kit starts with a trial-size betaCleanse Foaming Cleanser to remove impurities and reduce the spread of bacteria. The mini Hydr8 B5 Serum delivers a weightless moisture boost. betaMoisturise Mattifying Moisturiser balances the skin's moisture levels whilst leaving oily skin with a mattified finish. Retinol 3TR contains skin-rejuvenating Retinol to reveal a brighter and clearer complexion.
What are the best Medik8 kits for dry skin?
The Medik8 Hydrate Set contains 3 moisture-boosting products that are perfect for dry complexions. Bestselling Hydr8 B5 Serum contains skin-softening Vitamin B5 and deeply hydrating Hyaluronic Acid to quench skin thirst and restore moisture balance. Hydr8 Day 360 is a powerful anti-ageing moisturiser that blends Vitamin C and Ectoin to protect and brighten the skin, whilst advanced moisture magnets draw moisture into the skin. The set also contains Hydr8 Night Moisturiser, a rich night cream that provides intense moisture to dry and dehydrated skin overnight.
What are the best Medik8 kits for sensitive skin?
Carefully selecting skincare products for sensitive skin is particularly important to prevent irritation and further flare-ups. The Medik8 Redness Starter Kit has been developed with sensitive and redness-prone skin in mind. These products cleanse and moisturise skin without causing sensitivity. Red Alert Cleanser and Serum rid skin of impurities whilst calming and soothing skin. Hydr8 B5 adds an extra moisture boost to impaired skin types. Finally, Redness Corrector neutralises, moisturises, and conceals redness on the skin.
What are the best Medik8 kits for eye care?
The fragile eye area is often the first to show signs of premature ageing as well as tiredness and dehydration. The Medik8 Eye Focus Set has everything you need to treat and protect your eyes from environmental aggressors. Start with Hydr8 Eye 360, a powerful day cream containing a blend of Peptides and Antioxidants to protect skin whilst improving the appearance of fine lines and puffiness. Then apply Eyelift to stimulate collagen and elastin production for firmer skin. Eyelift also delivers a hydration boost courtesy of extra Hyaluronic Acid. Hydr8 Night Eye helps to target all signs of ageing around the eye area overnight.
Recent reviews on Starter Kits products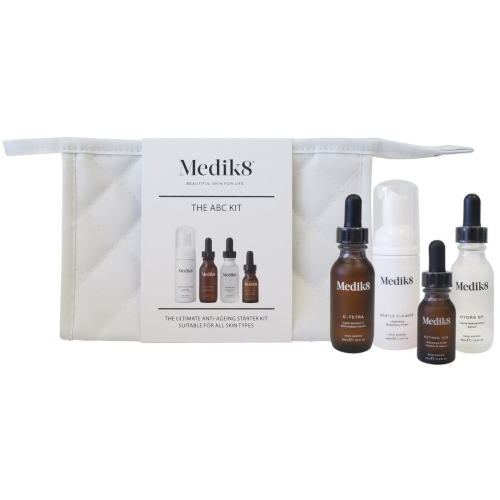 Medik8
Medik8 ABC Kit
$199.00
Nice but not right for my skin
Love the ease of this kit, but it is a bit too harsh for my sensitive dry skin. A good way to test the waters with the brand.