Palettes & Gift Sets
This bag contains award-winning skincare and makeup

This bag contains award-winning skincare, haircare and a mini Glasshouse candle

This bag contains award-winning skincare and haircare

Choose your Limited Edition Goodie Bag

Containing five award winning cult-classics when you spend over $150 siteweide

Bag Features:

This bag contains award-winning skincare and makeup

Gift will automatically be added to eligible orders. Make your choice once in the Shopping Bag.

3 to choose from, available only while stock lasts.

Receive a Bioderma Hydrabio Moisturising Concentrate Serum 15ml

When you spend over $79 sitewide

Gift will automatically be added to eligible orders. Gift must be visible in the shopping bag in order to be received.

Available only while stock lasts.

Receive an Oribe Beauty Radiant Drops Golden Face Oil 3ml and Night Ceremony Ultra-Rich Cream 6ml

When you purchase any two Oribe products (one being an Oribe Beauty product)

Available only while stock lasts.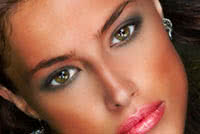 Luxe
Palettes & Gift Sets
Whether you're looking for the perfect gift for your makeup-loving family and friends, or you just want to treat yourself to something new, a makeup palette or gift set is a great option. Our selection of Luxe makeup gift sets and palettes gives you a vast range of products to choose from. No matter your skin tone, skin type, and taste, we have plenty of colour collections available for you and loved ones. Palettes are a great way to expand your makeup repertoire and create day-to-night looks easily. Whether you're after a neutral look or something a little brighter, our Luxe range has the best choices and the highest-quality products. Palettes are also perfect for travel, so you can enjoy freedom of choice whilst staying as compact as possible. If you aren't the only makeup-lover you know, makeup gift sets and palettes make great presents. Any beauty fan would be happy to receive a fresh set of brushes, full-face colour kit, or new eyeshadow palette. Whether you seek a gift for a friend or a gift for yourself, turn to our Luxe collection, which guarantees top-notch quality for beautiful makeup.
Read More
View All Luxe Brands
Professional
Palettes & Gift Sets
As a professional makeup artist, one of your first priorities is to build your kit so you can cater to all complexions. You'll quickly learn that carrying around bottles of foundations and individual pans of blush and eyeshadow isn't practical. You want to keep things as lightweight and compact as possible. The best and easiest way to build an ever-ready kit is to invest in makeup palettes. Makeup palettes will be your new best friends, as you can quickly blend colours to create the perfect desired shade. And palettes don't take up nearly as much space as individual pans do. Our Professional collection contains a vast range of palettes. Shop foundation and concealer kits for blending a matching base shade and perfecting the skin. Or browse a rainbow of eyeshadow, lip, and blush palettes to create your desired colour look. From demure debutante and bridal softness to striking runway and red-carpet glam, you can achieve endless looks all from the same palette. By minimising your kit size, you can actually maximise your versatility. You won't find this level of high quality and variety anywhere else, so browse our Professional range of makeup palettes to start building your comprehensive cosmetics kit.
Read More
View All Professional Brands
Essentials
Palettes & Gift Sets
Not all makeup obsessives want to splash the cash to enjoy the results. The best way to quickly and easily build your makeup collection is by investing in some palettes. With a few makeup palettes in your collection, you can easily create a variety of looks using the same products over and over. Whether you're after an eyeshadow palette that can take you from day to night, or a lip palette that has everything from everyday nudes to the classic red lip, our Essentials range can help you feed the addiction without breaking the bank. Makeup palettes are ideal for both professionals and novices. With a palette in hand, you can easily experiment with new makeup looks to see what works without having to go shopping. A makeup gift set can also be a really thoughtful gift for any makeup-lover out there. We have plenty of gift sets and palettes available, and our Essentials range ensures they all stay well within budget. It doesn't have to take many years and much money to build up a diverse makeup collection. Even though they might seem intimidating at first, palettes are actually the perfect place to start.
Read More
View All Essentials Brands