Our favourite tips and tricks to get those lips looking full and luscious, without looking fake or over-drawn.
You can achieve stunning lips with the right choice of lipstick and crafty application. Some colours may look unflattering on thin lips, so choosing the right shade is one key to giving your lips a gorgeous, full pout. But first, our application tips for pumping up the volume.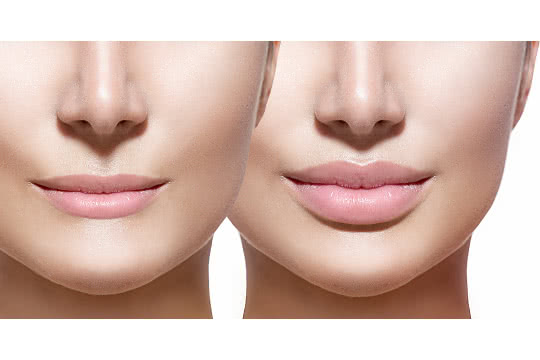 Makeup Tips to Give Thin Lips a Fuller Shape
Conceal: A full-coverage concealer perfects the 'canvas' of your lips before you add colour. Gently dab a small amount of concealer all over your lips, extending it a bit over your lip line.
Concealer can also be used to clean up the edges of your lipstick and define the shape of your lips - it gives subtle emphasis by creating a contrast between your skin and your lip colour.
Overline your lips: This is where lip liners come in handy. Don't panic! Using your trusted lip liner, draw a little bit over your natural lip line to give the illusion of a fuller pout. You should still stay close to the natural lip line, or else the effect will be completely unrealistic.
If you're not confident, try watching a video about how to line your lips. Lisa Eldridge has created our favourite video on lining lips - her advice is practical, easy to follow, and will change the way you view your lips!
Use a lip brush: The Estée Lauder Lip Brush is a very helpful makeup tool for those who have thinner lips. The fine bristles and thin tip give you perfect control over your colour application.
Apply lip gloss: A clear, opalescent gloss such as DuWop Moon Venom is the best makeup product for making your lips look fuller. This shimmery formula reflects light for maximum impact. If you're not into glossy lips, dab just a bit onto the centre of your lips, and you're good to go!
Best Lipstick for Thinner Lips
Choosing the right shade of lipstick is one great way to enhance your pout. Satin-finish lipsticks are ideal, because their slight sheen adds volume to the lips. Here are some beautiful colours you can try out if you want to give your thin lips extra oomph.
Avoid dark browns, deep plums, and vampish blood reds. Dark shades visually flatten and minimise the lips.
Full lips or thin lips—all sizes and shapes are beautiful! Knowing the do's and don'ts for your specific lip shape lets you flaunt your pout the best way possible.