No beauty law decrees that you have to use foundation with your concealer, no matter how dark your under-eye circles are.
If you battle under-eye circles daily, you've probably tried a range of gimmicks and miracle products. You might even think that covering dark circles requires endless steps before you get out the door.
The truth is that you don't need a special foundation or an exhaustive routine. The right concealer—perhaps alongside a colour-corrector—should be all you need.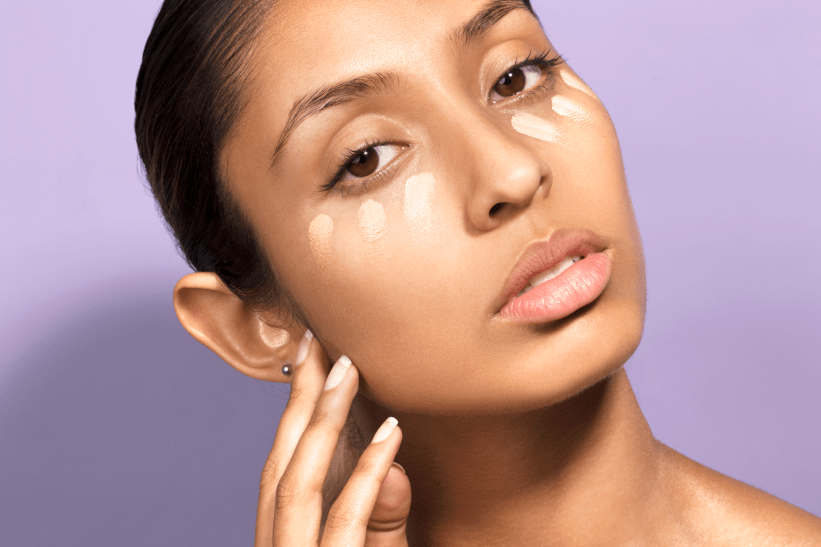 Understanding the Difference Between Foundation and Concealer
Foundation can and does cover minor skin imperfections, but its real purpose is to even your skin tone and improve texture. Concealer is supposed to do the heavy lifting of covering discolourations such as acne, brown spots, and dark circles.
In fact, if you're using foundation to cover major skin imperfections, you're probably using too much! Instead, concealer should cover, while foundation blends seamlessly into your skin, creating a flawless but natural finish.
Since it's concealer, not foundation, that covers major skin imperfections, you don't need foundation to erase under-eye circles. Using concealer alone can even help you achieve the much-coveted natural look that convinces everyone you woke up like this.
How to Use Concealer to Cover Dark Under-Eye Circles
If your dark circles are faint, you don't have to correct them first, so you can skip Step 2 below. If you have significant dark circles, though, you'll need a bit of extra help. Here's how to cover your under-eye circles in just a couple of minutes—no foundation needed:
Begin with an eye primer formulated for your skin type. Primer gives your makeup something to stick to and can prevent it from becoming greasy or settling into fine lines as the day wears on. Benefit Stay Don't Stray Eye & Concealer Primer is an excellent choices.
Apply a colour-correcting product to the area. You might need to experiment to find the right one for your needs. If your under-eye circles are reddish, then green hues work best. For blue-green circles, yellow or red will do the trick. Maybelline Master Camo Colour Correcting Pen is a great starting point for your experimentation.
Dab on concealer with your fingers or a concealer brush. Blend any visible edges by dabbing or tapping, not rubbing, since excessive rubbing can irritate the delicate skin under your eyes.