There's nothing quite like a sweep of a beautifully coloured blush across the cheekbones to define your bone structure, bring life to your complexion, and wake up your overall look.
Blushes come in textures ranging from creams to powders, so you'll be sure to find a product that suits your skin type whilst making you feel chic to boot.
We've got all the blush formulas you could ask for in a wide range of shades, so you have options that can take you from day to night. Whether you're going for a subtle shimmer or a bold pop, you'll find that plus a gorgeous texture in our luxe blush selection.
And really, why stop at one? There's so many colours to choose from, you might find yourself wanting one for every day of the week. So jump into our selection of gorgeous blushes and find your dream flush!
Our Favourite Powder Blushes
The best blush for mattifying the skin is the IT Cosmetics Bye Bye Pores Blush, which comes with impressive pore blurring technology.
One of our best baked blushes is the M.A.C Cosmetics Mineralize Blush, which adds a touch of luminosity when swept over the skin with a blush brush.
Our Favourite Cream Blushes
At Adore Beauty, we love a good cream blush and the MAKE UP FOR EVER Ultra HD Blush Refill is a staff favourite. Creamy, blendable, versatile and sustainable, this blush has almost everything going for it - plus you can pop it in a palette.
Another liquid blush colour we can't get enough of is the ICONIC London Sheer Blush, with a luminous effect on the skin and a stunning shade range, you'll want to ditch your powder products. Plus, this can be used on your lip and cheek!
Our Favourite Blush Palettes
Can't decide between a pink blush, rose blush or a peach shade? You shouldn't have to. Try one of our versatile blush palettes or bronzer and blush duos to get the most out of your look.
Our favourite blush makeup palette for on the go is the Benefit Mini Cheek Stars Reunion Tour, which includes cult favourites for light to medium skin tones.
If you're after a range of blush shades for dark skin tones we recommend the highly pigmented Eye Of Horus Love and Light Illuminating Palette.
Showing 7 products of 87.
---
Blush, articles & community
Recent reviews on Blush products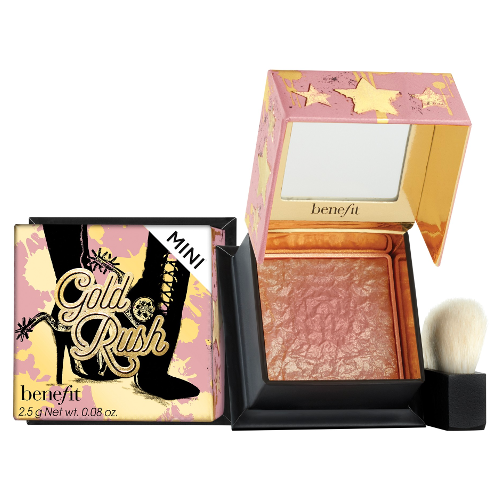 Benefit Cosmetics
Benefit Gold Rush Blush Mini 2.5g
$29.00
Amazing
I just love benefits products but this blush is just amazing. The pigment is great and you don't have to worry about reapplying your blush. Its long lasting and gives my skin a nice glow. Love it & would definitely recommend.
What people are looking for the most