Loving Tan Tan Removing and Skin Polishing Glove
Questions & Answers
(No Questions Yet)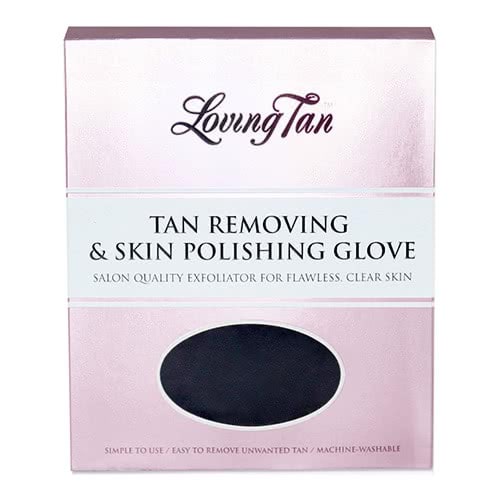 Loving Tan Tan Removing and Skin Polishing Glove
Get an expert to answer your question about this product!
Ask a Question
84% recommend this product
Most Helpful Positive
Definitely recommend!
Really helps to prepare my skin for tanning and is gentle but highly effective!
Most Helpful Criticism
GREAT
This is a really great tan remover mit. Its very harsh but really scrubs off that hard to get tan. I honestly cant justify $30 though? Its great but I couldnt pay $30 again when they sell similar ones for $15 at a chemist.
Definitely recommend!

Really helps to prepare my skin for tanning and is gentle but highly effective!

Gets every last bit of old tan off

Great exfoliating mit! Preps skin perfectly for a fresh tan! Removes all the old tan and makes skin feel soft and clean

Gimmicky

Didn't get the hang of this remover and polishing glove, would probably stick with a good pair of exfoliating gloves for half the price.

great mitt does as discribed

i love this mitt its not to course for my sensitive skin i do use this in combination with a body scrub or tan remover to remove my tan and to prep for my next tan. This does the job great :)

Pleasantly surprised!

This exfoliating glove is so good- I was pleasantly surprised! Definitely helps in exfoliating the skin (pre-tan) and removing tan. However probably too pricey for other similar products on the market being much cheaper.

GREAT

This is a really great tan remover mit. Its very harsh but really scrubs off that hard to get tan. I honestly cant justify $30 though? Its great but I couldnt pay $30 again when they sell similar ones for $15 at a chemist.

A tanning necessity!

Definitely scrubs off any dead skin or pre-existing tan!

I find it excellent to use before I apply a deep, rich body moisturizer or prior to a fake tan! :)

Yes it is a tad abrasive but that is exactly what I wanted! Give my skin an excellent fake tan preperation! :)


Fantastic

Fantastic at removing the last little bits of your tan or having a really great scrub before tanning or to even out any minor tanning mishaps :)

Removes unwanted dry tan patches

I bought this on a recommendation, however this person used the glove to apply their tan. I tried it and I personally didn't like it. I remove dead skin cells every second day however this gets those little stuborn patches of tan that won't budge. I hadn't pirchased it for this purpose however it was a great discovery and not a waste at all.

Works great

I highly recommend using this before applying your tan. It leaves your skin so soft and removes all the rough patches so that your tan does not cling to any skin and leave streaks. Also great for removing tan fully once it starts to look patchy. Very easy to use.

Okay product

Im a frequent tanner and this glove is great for removing tan. It does take some work though just like most other tan remover gloves. But for the price its not amazing - I find it quite similar to cheaper products ive used. I have other mits/gloves that work just as well for half the price.

Useful!

I never thought this would be something I needed but it works so well to remove yucky left over tan streaks (even after a spray tan) and when in the shower with the loving tan wash off ones it works well because sometimes you still have like a layer that's hard to get off.

Good quality

This is good for removing tan, preparing your skin for tan or just exfoliating in general

Great for removing tan

I use this to remove my tan and its really great and isnt too harsh! For the price though - ive found similar products cheaper that work just as well.

Amazing

Love the way this mitt removes excess tan without harsh scrubbing. It leaves my skin feeling amazingly soft and super exfoliated.

Great before tanning

I use this to get rid of patchy tan or a day before applying a new tan. It removes all the dry skin and excess skin in a couple of uses

Ride or Die

Only thing i have found to remove stubborn tan, perfect for when you need to get an old tan off to apply a fresh one!

Best remover out

This glove is amazing! The tan literally balls up and comes off. It's not super abrasive but is very effective. I wait till my tan is at least a week old then use the glove after letting my skin soften in the shower for about 5 minutes. It comes off easily and evenly, providing the perfect base for a new application. Must have.

Easy Tan Removal

I've just started using this glove to help remove my stubborn tan and it really helps slough away the layers that are super hard to remove. I use it damp on warm skin and gently buff away the excess tan left on my skin. I don't find it too harsh for my skin but it still removes the tan easily without feeling like I've lost layers of skin. I don't tend to go super heavy with my tan but I do usually apply a couple layers and I've really found this helps with the removal :)