Loving Tan Deluxe Bronzing Mousse - Dark 120ml
4 instalments of $8.74
Or 4 instalments of $8.74 with
LEARN MORE
4 instalments of $8.74
Or 4 instalments of $8.74 with
LEARN MORE
Official Stockist
Is this for you?
Made by tan lovers for tan lovers, Loving Tan Deluxe Bronzing Mousse Dark gives you a natural looking, sexy tan within minutes. Loving Tan is your go-to for an olive glow, with professional results.
Frequently bought with
Please wait while we find a match
Questions & Answers
(1 Question)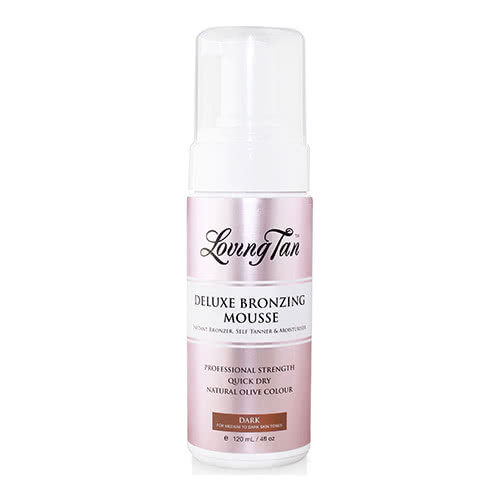 Loving Tan Deluxe Bronzing Mousse - Dark
Get an expert to answer your question about this product!
Loving Tan Deluxe Bronzing Mousse - Dark Reviews
94% recommend this product
Most Helpful Positive
best tan
Only tan that shows up on my skin. Quick drying and really nice colour
Most Helpful Criticism
Why are people obsessed with loving tan?
I'm so confused why this product gets such rave reviews. I think it is overpriced for what it is, but that being said, I will probably repurchase again when I want to have a reddish undertone in my tan as opposed to an olive undertone. Asides from Ella Bache, Loving Tan is the only brand that does a good job at non-olive skin tones. And I love the chocolatey smell!
lovely tanner

I liked this tanner, it smelt really good when applying and didn't really have a strong fake tan smell afterwards but wouldn't repurchase because it is a bit over priced and didn't find much of a difference between it and a drugstore tanning products

Good tan!

Amazing tan, but a bit overpriced. If you have the money to spend or are new to tanning I would recommend, but there are a lot of alternatives that have similar results

best tan

Only tan that shows up on my skin. Quick drying and really nice colour

Best I've ever used

Holy crap - this is the white whale of tanning products - natural colour, long-lasting, fades evenly, and not only doesn't smell bad, it actually smells GOOD!!! By far the best fake tan I've ever used. No turning back.

Best tan ever

This fake tan is easily the best I've used. In 15 minutes had a natural golden looking tan that lasted just over a week. I liked the fact it seemed to blend into my own skin colour and faded naturally without looking patchy. Will definitely buy again.

LOVE THIS

I have tried so many however, those mousse is the best. The colour is dark but natural. Goes on so easy and dries quick. I'm obsessed.

Super long lasting !!

I used this tan a few years ago but decided it was a little too expensive at the time and switched to a cheaper tan, I've now fallen in love all over again and can't believe I ever changed. Usually I apply tan 1-2 x a week depending on what I had tanned but this tan has stayed dark from Sunday to now Friday and barely shifted despite going to the gym everyday.
The colour is beautiful and I m...

Read More

Why are people obsessed with loving tan?

I'm so confused why this product gets such rave reviews. I think it is overpriced for what it is, but that being said, I will probably repurchase again when I want to have a reddish undertone in my tan as opposed to an olive undertone. Asides from Ella Bache, Loving Tan is the only brand that does a good job at non-olive skin tones. And I love the chocolatey smell!

great

such a great product. There product are so easy to apply and this mousse is amazing, it has nice fragrance.

Great!

Loving tan is so great! I'm really loving this colour in particular as it works super well with my natural colour and leaves me feeling glow and tanned!

Best fake tan on the market !

I have been wearing fake tan for almost 15 years and yes I have tried almost every product on the market. Loving tan definitely takes the win and I swear by it every week when I put it on. I actually moisturise first and then apply loving tan mousse in dark all over. The following day I shower and put on a second coat and this will last me approximately 6 to 7 days.
It's vegan, cruelty free...

Read More

Good

This is the best self tanner I've found after years of trying! No streaks, smells good and it lasts.

The best colour!

This is the best self application ran I've ever used. It's such a natural looking colour. I get so many compliments and no one knows its fake. Really easy to apply and not streaky.

Makes skin so brown!

I have very pale skin so it's always very exciting when I find a fake tan that doesn't leave my skin orange and patchy. When I tried this tan that exciting feeling was there! This tan is amazing! It makes my skin nice a bronze and dark, it goes on so easily, smells so nice and dries so fast! I definitely recommend this product to everyone, whether you have pale or dark skin, this one is perfect!!!...

Read More

holy grail

I purchased this on a whim after using Bondi sands for years and this is my new holy grail! This tan gives such a nice olive colour without the orangey tone and lasts 1-2 weeks if you keep your skin moisturised. Definitely worth the money!

Nice colour

Really nice colour and not too strong smelling. You get a lot of use out of the bottle and the formula is really well made. This tan is on the more expensive side but you definitely do not go through it as quickly and the quality and is really good for money!

Salon Quality

This tan really gave me a salon quality looking tan. Looked really nice and natural. Only downfall was that it was quite sticky so I had to wait 5 minutes in aircon / a fan to really completely dry before putting on clothes. It took about 4-6 hours to develop and then overnight before I seen the tan.

Fabulous tan

This tan is AMAZING! Super dark!! And easy streak free application that doesn't smell and wears off nicely

Good

I love using this tan - its a nice natural looking tan but if I leave it on longer it gets darker. They have it in 2 HOUR express so I now get that one so I dont need to sit in it so long.

Highly Rated ⭐️⭐️⭐️⭐️⭐️

I have been using Loving Tan for ages, I wouldn't use anything else again. Fast drying, No sticky feeling, No smell, Highly recommended to all, definitely worth it !

NOT STICKY AT ALL

The best tan out! Honestly never sticky! And it never goes patchy (even if I get lazy and don't remove my old tan!

Natural

Has a really natural colour to it. It can be a little sticky though and takes a while to dry so I usually stand under a fan or air-con first to let completely dry. I like this one but prefer it in the 2HOUR version so I dont need to keep it on so long.

My go to!

This is my go to tan in summer! It's super hydrating and doesn't look orange on me at all! The colour lasts for a good 4 days before I start notice any sort of fading.

Love the colour undertone!

I am so fussy with fake tans and the undertones of them, however this did not disappoint! I will definitely repurchase but ill buy the express version next time to see the difference! love this! New fav tanning product!

LOVE!!!!

This tan looks so natural and like nothing else I've tried. I've been using Loving Tan for a few year works perfectly every time.

Good natural tan

I like this for a more natural looking tan. Gives the right amount of colour and this brand doesn't go green on me

Loveee it!

Love this fake tan! Very easy to apply, gives such a natural colour without being patchy at all!!! Also don't mind the smell it has in comparison to other tanners. Keep in mind that a lot of it washer of after one shower

Love it!

Hands down the best tanning product on the market. This tan develops into an amazing colour that wears brilliantly. I have never had a problem with this going patchy or streaky its always worn very evenly. Love this product.

Doesn't look orange

I like this tan as it doesn't come out orange and it has red undertone rather than a green so it doesn't look dirty. It's a nice bronze colour and the mousse applies nicely and doesn't far off patchy

Favourite Tanning Product!

This is by far my favourite tanning product I've ever tried.
I have quite pale skin and the dark colour gives that perfect colour for summer! The tan itself stays on for 7 days or more, and never applies patchy or streaky.
I 100% recommend this to anyone wanting to try a self tanning product that doesn't wash off after a few days!


The Product Is Fabulous!!!

I am so in love with this product!
I am super pale and it doesn't give me that horrid orange colour that many other fake tans normally do.
I also love that it doesn't have any kind of smell
Great product, have bought multiple bottles

2 hour express is better

While I love the Loving Tan 2 hour express range, I didn't have as much luck with this. It's easier to apply but for some reason when I sleep in my tan I find it clings to hands, feet etc. even though I apply it the same way with moisturiser. Would recommend the 2 hour and washing it off before bed. You'll wake up just as dark!

The B.O.M.B tan :)

This is hands down the best tanning product I have ever tried. I have been using Loving Tan consistently for the past year, and other brands leading brands just do not compare.

This tan is the most brilliant, rich olive colour that looks super natural and deep on the skin. I have fair skin, and I find alot of other products (like Bondi Sands and St Tropez) don't go dark enough on my s...

Read More

AMAZING

best tanner i have ever used. looks so natural and doesnt have an over powering scent. will only be using this brand from now on

Best. Tan. Ever

Loving Tan is hands down my favourite self-tan (and I've tried many). The applicator mitt is also the best one I've used. If you want a fake tan that gives you a natural-looking olive glow - this is the one for you. It's streak free, dries quickly and I find it lasts up to a week on my skin, or longer if I'm looking after it properly. I highly recommend giving it a go - if you have light-medium sk...

Read More