L'Occitane Shea Butter Hand Cream - 30ml 30 mL
4 instalments of $3.75
Or 4 instalments of $3.75 with
LEARN MORE
4 instalments of $3.75
Or 4 instalments of $3.75 with
LEARN MORE
Official Stockist
Is this for you?
L'Occitane Shea Hand Cream is a super-smoothing--and best-selling--synergy of 20% Shea Butter, honey and sweet almond extract, blended with the light and alluring aromas of jasmine and ylang-ylang essences.
Skin Concern:
Dull, dry or dehydrated skin
Frequently bought with
Please wait while we find a match
Questions & Answers
(1 Question)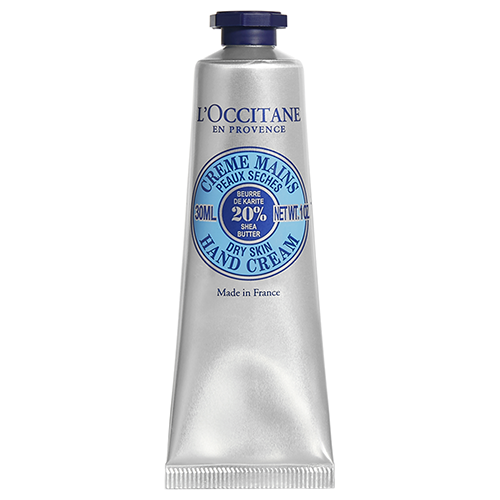 L'Occitane Shea Butter Hand Cream - 30ml
Get an expert to answer your question about this product!
L'Occitane Shea Butter Hand Cream - 30ml Reviews
96% recommend this product
Most Helpful Positive
very good
It works well! an effective, efficient and pleasant product. I like it.
Most Helpful Criticism
Not impressed.
I had high hopes for this hand cream. It felt greasy to me and did not leave my hands feeling any better. I'm glad I only bought the smaller size.
love

this a great hand cream if you have dry skin. leaves my skin feeling hydrated but does leave an oily residue - great handbag size

very good

It works well! an effective, efficient and pleasant product. I like it.

Good Hand cream

Its a good hand cream, not overly fragrant yet moisturising.



Staple

Everyone needs one of these in their bags :) great staple and moisturising hand cream, mine lasts ages

Hand care

I really liked this hand cream, it made my hands feel smooth and soft after but not oily or like they felt too moisturised to do anything. Little size.

Not impressed.

I had high hopes for this hand cream. It felt greasy to me and did not leave my hands feeling any better. I'm glad I only bought the smaller size.

Lovely

Lovely hand cream. I love the texture is not too thick and not feel sticky after use it. Good for dry hands.

Winter handbag staple.

Love the mini size of this, handbag essential! Super thick and nourishing, but soaks in well and doesn't leave your hands feeling greasy. Loses one star because the price point is pretty high for a hand cream!

Dry skin saviour

I love how this hand cream is great for dry hands but still manages to be non-greasy. It also has a nice, neutral smell so would be good for both males and females. I would definitely recommend getting this in the larger size.

Will never use anything else!

I have been buying this for 7 years now. I heard about loccitane's brilliant products through a work friend right before Christmas 2013, so bought my Mother a gift pack of their Shea Butter collection, including this handcream. Over the years we've fallen in love with loads of their Shea Butter range, but this handcream remains my absolute favourite must-have product. I always have to have one on ...

Read More

Best hand cream I ever bought

This hand cream works miracles during the winter time , when my hands become really dry. Because it has such a rich texture, I use it before going to bed , in the morning my hands feel incredibly soft. And the smell is beautiful too. Definitely will buy again.

L'Occitane Shea Butter Hand Cream - 30ml

When i first tried this, i didn't get the hype but honestly this is the OG hand cream. The scent is very minimal, clean and almost baby powder like. The texture is creamy and thick but absorbs very quickly and so you don't have that greasy oily feeling afterwards.

Great choice

I have been using this in the winter and it is moisturising. It keeps my hands moisturised despite washing my hands many times but it can be a bit expensive

Nourishing Hand Cream

Great size to keep in your handbag or take travelling. Excellent for the dryer months.

Very nice

This hand cream is perfect for dry hands. I also use it on my elbows which have been dry and scaly dry to winter at the moment. The cream is thick and nourishing and does a great job of rehydrating dry skin.

did not love this one

I didn't really love this one. It smells a bit weird to me and it also didn't help hydrate my dry hands

Perfect to keep winter hands at bay

I received a deluxe sample size of this in the recent goodie bag. I love L'Occitane products, and this hand cream doesn't disappoint. I wash my hands frequently as I have small kids at home. Usually my hands are dry and my knuckles crack and bleed, but at the moment my hands are soft, hydrated and smooth! I have been pairing this with The Ordinary Marula oil on my cuticles, and my hands and nails ...

Read More

Beautiful

My hands are always dry lizard hands and this is so nourishing. I don't like heavily scented hand creams because I also use them at bed time and this one ticks all the boxes.

Very RIch

Amazing hand cream but i find this a bit too rich for my liking

soothing

this is such a wonderful product for dry hands. it smells so good and soothing to hands. the scent is so mild yet you can still smell it and can be described as soft scent. it is worth a try

A little goes a long way

I've been washing my hands so frequently over the past few weeks that I've noticed it has become a lot more dry and rough. This product has been my go to hand cream at the moment since its super hydrating but doesn't leave a sticky residue when applied. You also only need a very small amount for every use which saves a fair bit of money.

Good

This has a very nourishing formula and it works great for my dry hands.

Indulgent

I really enjoyed this hand cream, super nourishing for my dry skin, it wasn't oily though, absorbed quickly, gentle scent and just divine.

Beautiful hand cream

I love this hand cream, it hydrates my hand beautifully and none sticky. Smells lovely. Will be purchasing the larger tube next.

Hands down the best

Scent. Moisturizing. Price point. Quality. Quantity. Tick, tick tick. This hand cream has been my fave go to for the past year. Great travel size. I keep one in my bag, in my car and at work.

On the go product

Love this for on the go. I just put it in my handbag and use whenever I feel dry! Highly recommend

Super moisturising

Super moisturising and absorbs into the hands very quickly and without an overwhelming scent

A Forever Favourite.

This handcream is to die for. The consistency is just perfect, not too oily and absorbs into the hands well and quickly leaving the most beautiful, natural scent. It is a bit pricey but worth every cent, it lasts an extremely long time as you only do need a little bit and the quality alone speaks for the price. Highly recommend.

nice scent

Super nourishing and rich, but absorbs into skin and can't feel any stickiness. very nice scent.

Good for dry hands

Didn't make a huge difference with my skin as I had very dry and cracked skin on my hands at the time during winter. However I later found out it was dermatitis from the gp so I would recommend this product for people with dry hands that need nourishment but not for people with skin conditions

Hero Product.

Super nourishing and rich, but absorbs so nicely into the skin. This is a perfect product for older, drier hands

Good

I received this as a free gift with an order and I was surprised at how good this cream is. It absorbs into the skin easily and makes my hands soft without making them greasy.

classic

classic L'occitane hand cream, always handy to have one in your handbag

Nourishing hand cream

Thick, nourishing and moisturising hand cream which isn't greasy. Has quite a strong scent. Shea butter is soothing and nourishing. Not a fan of the metal type tube packaging though.

Love this hand cream

I love everything Loccitane does, however this is my favourite of their handcreams. I love this size, as it lives in my makeup bag in my handbag. It is so moisturizing and I love the scent.

Very soothing and smells lovely

Great hand cream, hands feel nourished and soft and it lasts a while. Packaging looks lovely too.

Keeps hands soft!

This hand cream is lovely, keeps my hands feeling soft and hydrated. Great size to keep in your handbag!

Dry hands no more

Great present for a gift or to put one in the handbag for someone on the go. Great for the extra nourishment for dry hands.

Life saver!!

I have had the worst eczema on my hands for years now and finally discovered this cream - it has saved my hands! My eczema is nearly gone completely, something that even the strongest cortisone cream hasn't been able to do. Amazing!

The best hand cream I've come across

I've been on the hunt for a hand cream to keep in my hand bag as I have extremely dry hands to the point where they hurt sometimes if I don't moisturize them. This product is expensive (my only negative) although it's definitely worth it. It smells amazing, soaks in well and doesn't leave my hands feeling oily. I definitely recommend it to anyone with dry hands!

Can't go wrong with this brand

For me, L'Occitane is the holy grail for hand creams. I have tried nearly every hand cream and scent of their range and cannot fault any of them. This is definitely in my top 3 favourites. Not oily and deeply moisturising.

Good

A good hand cream that hydrates without making my hands too oily.

Go to hand cream

I have a hand cream obsession. This is my favourite. Love that extra Shea butter that this hand cream contains- compared to the L'Occitane hand creams that are scented. I love how nourishing this cream is and that the scent is so minimal. A gorgeous hand cream that sinks in so quickly.

Perfect for your handbag

This is a lovely, thick hand cream which smells beautiful. Perfect to throw in your handbag for those dry winter hands.

Soft Hands

I got this in the trial pack and it is so lovely. It smells great, makes your hands feel soft and isn't greasy. Dries quickly.

Best hand cream!

This is the best hand cream i have ever used!!
Its so creamy and my hands feel amazing when I have this on. I have SUPER dry hands from having to wash them at work all day and this is the first hand cream I have found that is moisturizing but not greasy.
It is expensive, but I guess that's what you get with a quality product like this, and I have not found anything that comes close to ...

Read More

Best little gift

Amazing hand cream, non oily and the fragrance is to die for. Best little gift for someone (or yourself!)

Love

Smells lovely and lasts awhile while deeply moisturizing

Perfect

Absorbs into my hands nearly instantly and has a really nice scent that's not overwhelming. 10/10 would recommend!!

Essential in your hand bag

I have bought this over and over, it is an essential in your hand bag. Great on dry skin and sunburn also!

passed down

I got an obsession of this from my mum which it definately deserves as it is a great product. The smell is lovely and not overwhelming while it sinks into the skin nice and fast

Moisturising hand cream

This hand cream is lovely and moisturising- it really does the job.

The fragrance is lovely, but still quite light rather than an overwhelming scent.

It's a nice treat. For everyday, I would personally use a cheaper product, as I believe there are other hand creams out there that are just as nourishing but a bit cheaper.

Great

Very nice hand cream that provides adequate hydration without leaving a oily residue. Nice slight fragrance. Easy to use tube that's great to chuck in your hand bag,

SUPER hydration

i have a very dry hands and just after one use i noticed them fully hydrated. this hand cream has a light yet very nice scent.

Feels luxurious

I love this cream so much. I'm in the medical field so have to use hand sanitiser heavily which makes my hands horribly dry! I put a tube of this next to my bed and use it nightly. I love its scent, which is mild but gorgeous, and it makes my hands feel amazing! Not greasy which is a must for a hand cream that I use before bed. The only negative is the price, as it's quite expensive, but if you wa...

Read More

Love!

Absolutely love this hand cream! It makes my hands soft and nourished. Perfect size for travelling!

Nourishing handcream with a lovely scent

I received a sample of the Shea Butter hand cream in an Adore order. I love the scent and the consistency of the cream. My hands are more hydrated and eczema has reduced. While this has worked wonders and I have loved it, I don't know if the hand cream is necessarily worth the price tag.

Very nice

This is a very nice hand cream! It smells so good and leaves my skin noticeably more soft and supple

Beautiful non-greasy hand cream!

I love a good hand cream and this one really delivers! All through winter my skin has been super dry and the only thing I hate more than dry flakey hands are greasy hands.. this hand cream does not give you that issue! It is super moisturizing and leaves a non greasy finish. Will definitely repurchase!

gentle and hydrating

Very hydrating and always leaves my hands soft. Has the most gentle clean smell

adore this

It is very hydrating as it penetrates deeply into the skin and leaves a lovely scent afterwards

amazing

It is very hydrating as it penetrates deeply into the skin and leaves a lovely scent afterwards

one of my favourite hand creams

I use this for years and never changed. The size is easy to carry and the scent is very nice. It keeps my skin soft and smooth all the day. Love it.

Shea

Love the shea scent of this hand cream, but I found the size was very small! A little goes a long way but quite expensive for a hand cream. It is very thick and hydrates dry hands well

Great

Only the best hand cream for your purse!

I swear by this product, I use it on my hands, and dry skin on my body and it's really great for sunburn! This size is a must have in your hand bag at all times

hydrating

Got my first one couple of years ago as part of a gift pack and have repurchased twice since than.
I have a bit dry hands and fragile cuticles and most hand creams while seem to absorb well, don't really last long - except this one. Love the fragrance and thick texture. Not a big fan of tubes, would rather prefer a tub but when a product is so good at doing it's job, you wouldn't care about ...

Read More

Good

This is my favourite hand cream. The only one I buy continuously. It makes my skin feel so soft and luxurious.

Excellent for repairing dry hands

Excellent for repairing dry hands. I use this regularly to keep my hands nice and soft.

Best hand cream

This cream is non-greasy, has a lovely subtle scent and absorbs well into the skin. I'm now hooked and always carry this in my bag and keep some at work. I use antibacterial hand wash at work and this keeps my hands from drying out too much because the wash is quite drying on my hands. Highly recommend and this would also make a great gift!

Liked

A beautiful hand cream. The scent wasn't too strong and applied nicley without it being to oily feeling. I just wish it made my hands a little more softer

Absolute favourite hand cream

This is my favourite hand cream as it is one of the only brands that works for my dry hands. Smells glorious

I adore this hand cream

This is my absolute favourite hand cream. I'm a hand cream fanatic and this one is a dream. It's my number one of many on rotation.

But.

Only this basic shea butter version works for me. I find the limited edition scented creations to be drying and am not a fan of a single one of the scents.

Lovely handbag size hand cream

This is a lovely little handbag size hand cream that has a mild fragrance. It says it has jasmine in it but I honestly couldn't smell the jasmine, which was disappointing as I love it! It is hydrating without leaving your hands sticky. I sometimes had to apply it twice if my hands were very dry. I liked it but I'm not sure if I'd buy it again.

very hydrating

Been a favourite of mine for a while! I suffer from dry skin and this product keeps my skin very hydrated!

AMAZING FOR WINTER!

the only bad thing about this hand cream is that it gets used up so fast because I am obsessed with it! This hand cream is perfect for dry hands, it hydrates and nourishes them. This is perfect to carry around in your purse everyday, especially in winter when hands tend to get dry. I definitely recommend!

wow i love it

The shea butter really hydrates my hands during cold winter months. I even use on dry elbows

Hydrating shea

Love the shea butter in this! Very hydrating - I can use this on the eczema on my hands and it will calm it down

Soft, does its job!

Makes my hands and cuticles soft and smells good

Hardworking moisturiser

This hand cream is rich and moisturising while not greasy. The small size is perfect for a purse for everyday use. I also like the fact that, unlike most other products by L'Occitane, this handcream is not so fragrant and simply does the job of protecting your hands.

Love

I have several tubs of these in my handbag and at my office. It has such a pleasant scent and it is truly moisturizing.

Nice but not sure I would pay for it!

I received a very cute 10mL sample version of this today. It is absolutely very adorable as most miniature-sized things are, and I have to say it is quite moisturising. The formula also sinks in quite quickly and doesn't leave any slimy, tacky residue on my hands. But I think the full-sized version is quite overpriced, unfortunately, and I think the scent is a bit overwhelming. I would love to try...

Read More

A staple for the handbag

This is such a delightful hand cream. The scent is what I wish a baby's bum smells like (powdery soft goodness) and not too overpowering. The balm is a bit like what you want out of old school peanut butter - never oily, never dry - and I find the moisture lasts well even with a small amount. Winner all round. A handbag staple and the even mini-er versions fit nicely in my wallet.

Rich hydrating hand cream

A rich hydrating hand cream , deeply nourishing and moisturising great for cold winter months.

The best hand cream money can buy

This it literally the best hand and body cream money can buy and it fits so nicely in my handbag. I am a nurse and suffer dry hands from washing them all day at work. It goes into your skin with out a greasy feel and is great on dry skin. I have even used it on sunburn and it has been so soothing on my skin. I have bought this many times and will purchase again and again

excellent

During winter my hands get very dry, so I'm always looking for the perfect hand cream to moisturizer them. I have finally found it! This product hydrates my hands so well and it lasts for hours! It smells amazing as well

Smells amazing

This hand cream not only smells great but feels great. It is very moisturising and leaves your hands feeling soft. I'd defintely recommend it

Hydrating

Very good for dry hands. Has a nice texture but does leave a slight (though not unpleasant) residue. The smell is very mild but pleasant (not perfumed, just some of the natural ingredients have a slight scent). I work in healthcare and it helps for the dryness from constant handwashing. However, due to the residue can't put on disposable gloves straight afterwards.

excellent

this cream is so good! I consistently have dry hands and this moisturizers them so much and makes them feel so soft and hydrated. Absolutely recommend

So good

this cream is so good! I consistently have dry hands and this moisturizers them so much and makes them feel so soft and hydrated. Absolutely recommend

Winter Skin Saver

I've been using this hand cream for the past couple of years, more-so during winter. It's not greasy and absorbs quickly while smelling amazing! Have not had my usual winter eczema since using this!

Hydrating with a subtle scent

This is one of my hangbag favs, I am always trying new handcreams but have this one in my car or handbag, it absorbs well and doesn't pill or leave a greasy residue on my hands. Its has a clean subtle scent which is great for me at the moment as I am pregnant

Always have this

Have used this for over 10 years and haven't found anything better. Appears greasy at first but soon absorbs in and you don't need to use too much either.
I have it in 3 sizes!

Moisturising not greasy

Smell lovely and moisturises well without giving a greasy or sweaty feeling. Absorbsb well and doesn't leave a film on your hands.

IT works!

I always keep this hand cream on me during the day. It makes my hands really soft and is great for travel. It absorbs quickly and leaves little residue and it also has a really mild and pleasant smell.

Moisturising hand cream

Love shea butter and this hand cream is very moisturising and nourishing, am not a fan of the packaging however with the metal type packaging and screw top lid, I thnk the packaging could be improved.

love this!

super convenient to throw in your handbag! I suffer from dry skin and this product keeps my hands very hydrated! I would recommend this to anyone!


Handy for your bag

Luxurious hand cream in a handy travel size. I keep this size in my bag or at work. Also a great size to take on a plane if you are travelling!

the shea is beautiful

L'occitane is by far one of my favourite brands! I love this cream! I have super dry skin and this product leaves my skin feeling very hydrated, would definitely recommend!

Hands love it

This is literally my travel buddy everywhere! I have got both a sample size and full size version and my hair look much better. I normally use it during Winter and Autumn due to the weather or just before I go to bed and my hands looks healthy.