Lanolips Rose Balm Intense for Very Dry Hands 50ml 50ml
Frequently bought with
Please wait while we find a match
Questions & Answers
(No Questions Yet)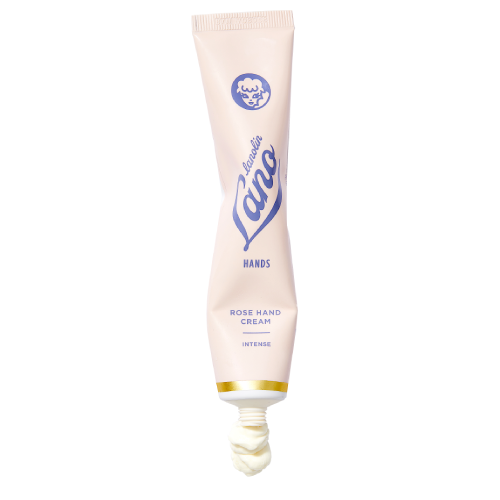 Lanolips Rose Balm Intense for Very Dry Hands 50ml
Get an expert to answer your question about this product!
Ask a Question
82% recommend this product
Most Helpful Positive
LOVE
Great product. Very moisturising and not at all wet or sticky on hands.
Most Helpful Criticism
Not for me
I am a big fan of lanolips - unfortunately i really wasn't a fan of the smell of this, so i just couldn't use it. Gave it to my mum who loves it though! It is still a very good formula and very hydrating.
LOVE

Great product. Very moisturising and not at all wet or sticky on hands.

Nourishing and hydrating

This balm for dry hands is amazing! It is great for nourishing dry winter skin. It keeps my skin nice and hydrated.

Very effective and good value for money

This intensive hand cream is great to use before bed, your hands will feel silky soft in the morning! I had this in my desk at work but found it's not super practical for every day as it takes quite a while to sink in and can leave a bit of residue. The results however are excellent and the tube lasts ages, so I find it very good value. I'm a huge fan of rose scents and this smells lovely at first but does have a lingering "lanolin" smell which is not super appealing. That said, this smells much better than the other plain lanolin intensive creams on the market. Definitely will repurchase this but I think I'll try the lemon formula next.

Lanolips, do I need to say more!

If you like lotions and creams that smells like rose, you cannot walk past this. It smells amazing, is very moisturising on dry hands (and lips, neck and décolletage too!) and leaves no residue if you apply an appropriate amount.

very hydrating

It is definitely slightly more expensive, but worth it for the great quality! I suffer from dry skin and this product keeps my hands very hydrated!

Best hand cream

I get super dry hands from washing them constantly at work so this hand cream is a blessing. Smells amazing and doesn't leave a residue on my hands either

Great winter moisturiser

I use this in winter on my hands and feet and love it. It's got a lovely smell and stops my hands and feet from drying out. Highly reccomend it

Loving it so far!

My hands have always been problematic! They get so dry - particularly in winter.. so much so that they begin to crack and bleed.. it's painful! I've also started to become concerned about the signs of aging on my hands and reached out tonadore beauty who recommended this cream. I'm enjoying using it so far, my hands actually feel hydrated and cracking has reduced. The smell is fine and while the cream can feel initially tacky, that feeling goes away quite quickly. I've been putting it on at bedtime and my hands feel really nice in the morning.

Great product

It's kinda sticky like a pomade when you try it at first. But if you want affordable hand creams, this one is the best. It made my hands moisturized especially this cold season and I always use hot water when dishwashing.

Worth it just for the smell!

I don't find this hand cream as hydrating as the others in the Lanolips range, but it's still beautiful. I'd argue this one isn't the best for intense hydration but I still use it every day for the beautiful rosy scent.

Not for me

I am a big fan of lanolips - unfortunately i really wasn't a fan of the smell of this, so i just couldn't use it. Gave it to my mum who loves it though! It is still a very good formula and very hydrating.

Great

This stunning smelling hand cream has a beautiful creamy texture that easily absorbs straight into my hands without leaving any oily residue. It contains ingredients that highly moisturise and protect my dry hands. When applied my nails and cuticles always become softer and more hydrated all day long.


Dry peeling feet

I purchased this to help fight signs of aging on my hands. Perfect. My feet were peeling and I didn't know what to do so I tried rubbing my feet (and hands) in this right before I go to bed. This is perfect for them both as my feet no longer peel and aren't dry.

THE BEST hand cream on the planet

I will never go back to another product, after finding this. My hands get really dry during winter and they're also ageing, so I am a regular applier of hand cream, all year-round. A friend recommended this to me and I just love it. It has lanolin in it, so it gets in deep and really makes a difference. So many hand creams just "sit" on the top of your skin and are washed off with water. This is the opposite of that.

Great for dry skin

I have dry hands, especially in the winter. This hand cream is great, it feels super hydrating. The only thing I don't like is that it takes a while to soak in.

Average

Hard to spread, left my hands feeling sticky after application and don't really feel that it moisture's my hand as well as other products do

Great for sensitive skin

Extremely soft with a lovely scent. Instantly smooths and hydrates. Works really well with my dry and sensitive skin.

A little goes a long way!

This super moisurising hand cream is perfect for dry and damaged hands. You only need a small amount as it comes out quite white, but eventually soaks into hands and is super moisturising. My hands are so soft after only a couple of applications.

Great hand cream

This is a really lovely hand cream. It's thick and feels super nourishing, leaving my skin soft and repaired. It's a good multi-purpose cream to keep stored in your handbag. I love the scent of this too!

Would definitely recommend and I will be purchasing it again!!

Woke up with dry hands

I love Lanolins as a brand, but this hand cream was a miss for me. I feel like despite being an intense balm, it is too dry. I apply a decent amount before going to bed, but I always wake up with dry hands.

Decent hand moisturiser

I purchased this having high hopes but it did not work wonders for me like it did for many others. The scent is beautiful and sinks into your skin very quickly - however I found that it did not do much for my dryness.

Great!

Super moisturising and leaves my hands feeling so soft.

Amazing!

I love the lip balm from this brand which is why I gave this a go. It's excellent for dry hands and doesn't leave them feeling sticky. The tube is also a great size so you can put it in your handbag for on the go!

Amazing Hand Cream!

Leaves my hands super soft and moisturised!

My go to hand cream

I have many great hand creams but this is my number 1. It soaks in almost instantly and makes my skin instantly feel nourished and soft again. it has a very soft scent which I adore and It doesn't feel oily or sticky on my skin :) a must have!

Banish Dry Hands For Good!!

I'm a big fan of lanolips 101 ointments and I thought to venture out and try some other products from there range.
I'm so glad I did because I'm now on my 4th tube!
It's a very rich thick cream and I love using it as an intense hand treatment for my night time routine.
I don't have particularly really dry hands but once this has absorbed into the skin, it leaves them super velverty and soft!
The scent has a very light rose smell and the tube is so perfect to keep in your handbag too!


SO good

I love love love this!!!

one of the absolute BEST hand creams I've ever used, Fixed my dry hands and nails overnight. it doesn't feel greasy, it actually has a kinda waxy feel once it's absorbed into your skin and it doesn't feel as though it washes off straight away either it kind of has like a waterproof feel to it which I love, I can feel it actually absorbing into my skin and making my skin soft

Nice

Ideal for Normal skin. Very dry skin users will likely not find the level of hydration adequate as this cream is more maintenance than repair. Also if you're sensitive to fragrance, this cream is quite fragrant and the scent lingers so this could be an issue.

The best !

This is La Roche Posay lipikar baume AP + are the best thing for dry hands ! I can't believe how great this cream is, it works instantly. I have used this so many times when my hands are so dry and just in need of rescuing and the second this cream is rubbed in my hands feel soft smooth and relieved ! Would definitely recommend to everyone !

Nice Product

Smells great, leaves my hands feeling a little greasy, although it does seem to sink into my hands nicely and leaves them feeling soft.

Great for super dry hand

I get looks of dry patches on my knuckles and in between my fingers in winter, this product has helped smooth them out.
The scent is lovely, and I love how the formula feels nourishing on my hands.
My only issue is when I spread the formula across my hands it can feel like it doesn't want to spread any more. If your keep warming it up in your hand though, it will spread the product evenly.
Would highly recommend as a nourishing hand cream for winter.

Not what I expected

I've heard great things about the Lanolips brand but the hand balm was not what I expected. It did not spread well and actually made my hands even drier than before. Really unimpressed as I had such high hopes!

Love, love, love!

Must admit I'm a sucker for anything rose scented so this product had a head-start. But, also love the texture and the way it absorbs. A little goes a long way. And, did I I mention the scent?? Divine!!

Excellent!

Too greasy - unpleasant

I really didn't like this cream. I'm sure it does a great job with continued use but I couldn't stand the lingering sticky/greasy feeling on my hands. I waited half an hour for it to at least soak in a little but when I still couldn't touch anything after that time I had to wash it off. There are definitely better creams out there that do a great job moisturising and don't leave you with a greasy film on your hands for ages.

So special

My hands love it as a treatment with gloves, afterward they are younger and elegant

Update

Just a qwik update ..... not only is this a brilliant concentrated hand cream, it is the first one I have ever used in my whole life that has actually softened my goats knees elbows !! For the first time ever my elbows are soft AND smooth. Proof of a top rate product.

Great buy!!

I agree 100% with Meg. A fantastic concentrated hand cream.

First thing that struck me was the grandma fragrance, really took me back to when I was a littl'n poking around her duchess looking at all the pretties. The second was how quickly and thoroughly it is absorbed into the skin!

Very glad I read the reviews. A top buy product.

Excellent

Wonderful handcream. Finally a handcream that does what it says. Thank you Lanolips!!
I combine this cream with the lol cream for my cuticles works perfectly. I love it!!

Awesome!

This is the best handcream I've ever used. I'm not a fan of handcreams, they always leave my hands greasy, no matter what the advertising says! But this stuff? Completely absorbs! I can use my iPad right after and it leaves no marks. Gorgeous stuff. Rose scent is a little "old lady" but I don't care!

Love this handcream!

After receiving a little 25ml sample tube of this lovely handcream in a gift bag (thank you Lanolips) I have to buy some more! It is the most lovely rich cream with beautiful gentle scent. i have it next to my bed and apply it every night. My hands have never felt better.