For almost 100 years, Lancôme has been at the forefront of luxury beauty.
For almost 100 years, Lancôme has been at the forefront of luxury beauty. Masters of skincare,make-up virtuosos and well-versed in the art of perfumery, this French fashion house inspires everyday with its elegance, innovation and ease-of-use.
Think beautiful, think happy, think feminine and you have Lancôme. Deriving its style and mission from the effortless chic of Parisian women, this pioneering brand is one of the most successful in history and continues to win over make-up artists, skin therapists and cosmetics lovers the world over.
Lancôme Fragrance
Combining cutting edge science, with the best of nature and a genuine understanding of women's needs and desires, Lancôme's iconic products include the Visionnaire and Génifique skincare ranges, cult perfumes such as Trésor and La Vie est Belle, plus the coveted Hypnôse mascaras, Absolue lipsticks and Teint foundations.
Little wonder than that celebrities such as Penelope Cruz, Julia Roberts, Kate Winslet and Lupita Nyong'o have chosen work as ambassadors for this much-loved brand. With an array of products to care for and inspire you, whatever your mood, Lancôme has something to offer every woman…
Lancôme Origins

Named after the Lancosme chateau, Lancôme was founded in France by Armand Petitjean, originally as a perfumery. The castle provided inspiration for the brand's iconic rose logo, epitomising Petitjean's vision for elegant, typically French beauty.
Since its launch in 1935 with just five fragrances, Lancôme has grown to include luxury skincare, make-up and bodycare. It is now among the most trusted and best-selling beauty brands ever, continuing its proud history of taking Gallic style to the rest of the world.
Your Lancôme must-haves:
Lancôme Skincare
VISIONNAIRE: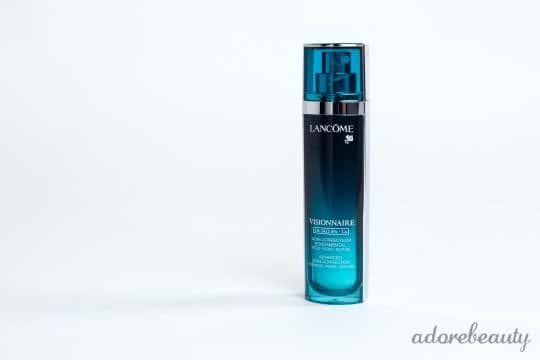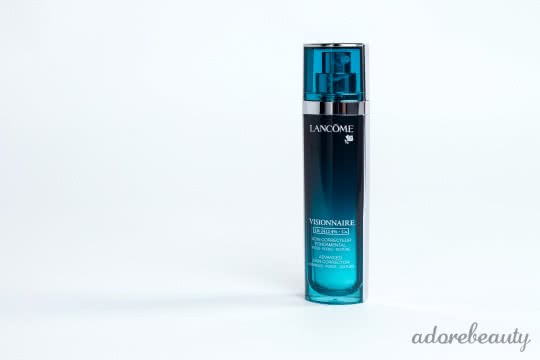 Lancôme Visionnaire
To get the best results, it pays to use the best products. See your skincare as an investment and you'll be thankful down the track. Even as little as a month down the track – if you're using Lancôme Visionnaire Advanced Skin Corrector, that is!
The product that we all know and love has recently been made over (yes, after receiving almost 100 international awards and winning over scientists and beauty experts alike, Lancôme decided it could go one step further) and the amazing results must be seen to be believed.
But first let's backtrack to 2001, when Visionnaire [LR 2412 4%] Advanced Skin Corrector was quite the ground-breaker. The first serum capable of recreating exceptionally beautiful skin, the secret lay with its unique LR 2412 molecule. Created in an eco-friendly way by Lancôme's team of researchers, this ingredient has a high affinity with the skin and allows it to permeate evenly into the epidermis.
Now, the formula has been further developed for even more effectiveness. Ever the perfectionists, the French cosmetics house doubled the biological strategy of LR 2412, to create LR 2412-Cx. This is a unique combination of two molecules that allows optimum balance and distribution of Visionnaire. In layman's terms – twice the effectiveness!
With Visionnaire, you'll notice:
– Lightweight oils, to nourish the skin without shine
– Optical agents, to leave a powdery soft finish
– Enhanced blurring, to further erase uneven skintone
– Fine pearly particles, to give an illuminating effect
ADVANCED GÉNIFIQUE:
Lancôme Advanced Genifique
A youth-activating concentrate, Advanced Genifique targets a range of concerns in just one drop. Here's why we can't get enough of it:
Results
In just ONE week, you will begin to see changes in your skin.
Backed by science
Formulated without any parabens, phthalates or sulfates, rest assured that your skin is in the best hands possible.
Patented formula
The special mix of potent-yet-caring ingredients and supercharged formulation is patented – so if you want the results this combination gives, you'll only find it in this bottle!
Targets 10 signs of ageing
This is multi-tasking skincare at its best. In just a few drops, Lancôme Advanced Génifique improves the look of:
– Texture
– Skin tone
– Elasticity
– Clarity
– Firmness
– Radiance
– Sagginess
– Wrinkles
– Strength
– Fine lines
Suits any age group
Did you know that Lancôme Advanced Génifique can be used at any stage of your life? No matter your age, it will work to nourish, add radiance, hydrate and preserve a youthful look.
Easy, innovative application
The self-loading dropper ensures only the exact right amount is dispensed, each and every time, meaning no wastage and the peace-of-mind that your skin is receiving the correct dose.
Fits into all skincare routines
Extremely versatile, it can be used morning, night or both and in conjunction with your preferred cleansers, moisturisers and treatment products
DREAMTONE:
Lancôme DreamTone
Combining cutting-edge research with the luxury and style of French skincare,DreamTone is your answer for beautiful, dark spot-free skin. With unique technology, the revolutionary serum targets different pigmentation issues using a triple action approach – so you get long-term results!
How DreamTone helps remove your spots
Three made-to-measure formulas seek to correct dark spots, irregularities in tone and unevenness in texture. Active ingredients are tailored to each unique pigmentation concern, helping to:
Improve radiance
Minimise excess synthesis of melanin (our skin's colouring)
Re-shape the skin structure
Lessen inflammation
Stimulate blood circulation
Decrease ruddiness and discolouration
Diminish sallow, dull skin
Reduce the appearance of blemishes
Unique, light-diffusing agents instantly brighten and give skin a more uniform look for that healthy, toned complexion you've always dreamed of!
Lancôme Make-up
HYPNÔSE:
Lancôme Hypnôse
Comprising Doll Eyes, Precious Cells, Drama and Custom-Wear, choose the Hypnôse family of mascaras for the ultimate in length, curl, volume and separation, from root to tip!
What makes Hypnôse so successful? Here are some insider secrets!
1. Hypnôse has won over 130 international awards.
2. The Soft-Sculpt™ formula, associated with a lengthening and coating Polymer complex has been one of the keys to the success of Hypnôse over the past decade.
3. The Hypnôse PowerFULL brush has around 1,000 bristles, which use 'sensors' to seek out even the teeniest of lashes.
4. Hypnôse is the number one mascara in Europe.
5. For the past ten years, one Hypnôse mascara is sold every 10 seconds across the world.
ROUGE ABSOLUE:
Lancôme Rouge Absolue
They're creamy. They're vibrant. They're glossy… and they're luxuriously packaged.Lancôme lipsticks are like no other. Used by make-up artists around the globe, there's a colour to suit every mood and a texture to withstand all those pesky makeup-removing behaviours (you know, kissing, eating, drinking, waiting outside in the elements).
Loaded with lip-loving nourishment – think hydration, SPF and vitamins – Rouge Absolue won't feather and are super easy to apply. Looking chic at all times, has never been easier, but really, would you expect anything less from the French?
TEINT FOUNDATIONS:
Offering a variety of foundations, Lancôme is renowned for its high quality powder, cream and liquid foundations. Make-up artists and women the world over enjoy the buildable coverage, from sheer and natural to full and high impact, catering to each individual skin type.
My skin is normal
You can get away with pretty much any formula! Keep everything in balance, looking for a foundation that will provide just the right amount of radiance, moisture and anti-shine. The perfect candidate for a product with SPF, check out Lancôme Miracle Air De Teint SPF 15 or Lancôme Teint Idole Ultra 24H SPF 15
Lancôme Teint Miracle
My skin is oily
You'll love a compact. The powder will mop up any shine, giving a long-lasting, matte finish. Your skin will be left soft, while coverage can be built up to your desired level – and touch-ups are super easy! We recommend Lancôme Teint Miracle Natural Light Creator
My skin is sensitive
Gentle, light foundation is what you should look for. Let your skin breathe with a BB cream type of formulation, which will reduce any irritation, provide hydration and protect from the sun. Here is our suggestion – Lancôme Teint Idole Ultra Compact
My skin is mature
A nourishing, firming formulation is what you need. As well as hydrating the skin, this sort of foundation will plump, restore vitality and help to diminish the appearance of wrinkles – ensuring the product never settles into them! Try Lancôme Teint Renergie Lift R.A.R.E. Foundation or Lancôme Teint Visionnaire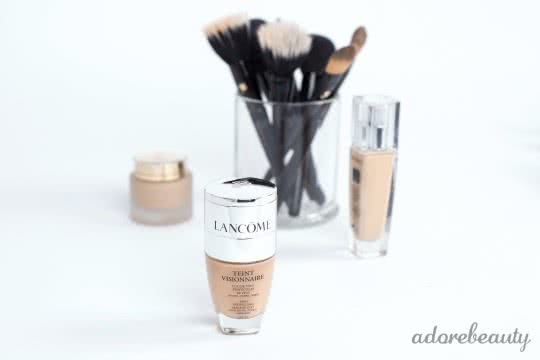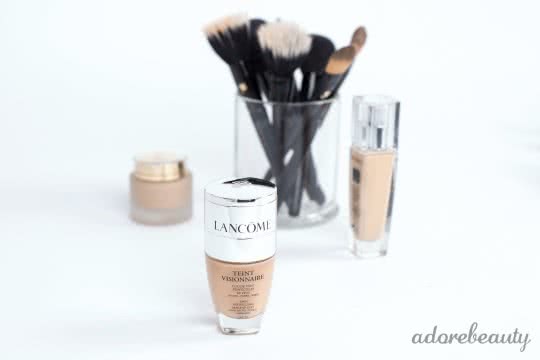 Lancôme Teint Visionnaire
Lancôme Fragrance
TRÉSOR
Laced with peach and leather, the original Trésor eau de parfum embodies a sensuous rose. Interwoven with spiced, honeyed tones, it is unparallelled in its charm.
Offering delicacy and intimacy through velvety accents of peach, Trésor is delicately dusted with heliotrope. It also features an animalistic leather tone, swathed in amber, musk, vanilla and sandalwood.
In a sentence: Mesmerising and voluptuous, like a second skin.
Trésor
TRÉSOR IN LOVE
Keeping the floral, fruity scents of the original version, Trésor in Love eau de parfum adds in notes of cedarwood, white musk jasmine and pear-nectarine to capture the spirit of romance.
Light and liberal, the perfume combines sweetness and intensity to create a most radiant, sensual, vibrant and lumionous aura. Let the scents recall a youth of falling head-over-heels; that thrilling emotion which is both confusing and alluring.
In a sentence: Carefree and innocently passionate, like a long-lost flame.
Trésor in Love
TRÉSOR MIDNIGHT ROSE
Channel your inner femme fatale, with this playfully magic version of Trésor.
With top notes of jasmine, peony, pink pepper and blackcurrant, Trésor Midnight Rose is still laced with the rosy, musky cedarwood scent we all know and love. Tangy raspberry adds a modern edge, creating a deep, intense femininity.
In a sentence: Sweet and sexy, like a romantic addiction.
Trésor Midnight Rose
Shop Lancome here.