La Flor Cosmetics Pearl Luminous Brightening Mask & Rejuvenating Gold Ampoule - 5 Mask Sheets + 1 Vial of Ampoule 5 Sheet Masks
Skin Concern:
Dull, dry or dehydrated skin
First signs of ageing
Wrinkles and loss of firmness
Skin Type:
Dry
Normal to dry
Normal to oily
Frequently bought with
Please wait while we find a match
Questions & Answers
(No Questions Yet)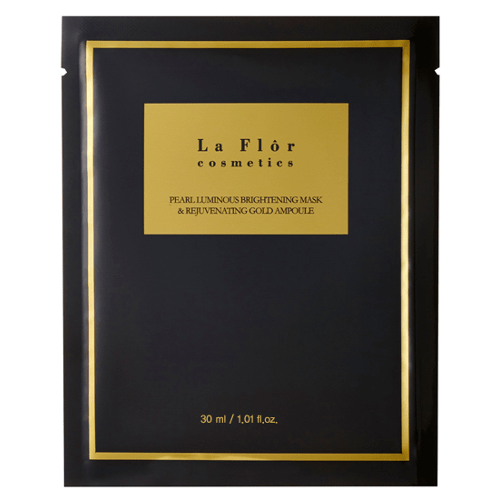 La Flor Cosmetics Pearl Luminous Brightening Mask & Rejuvenating Gold Ampoule - 5 Mask Sheets + 1 Vial of Ampoule
Get an expert to answer your question about this product!
Ask a Question
94% recommend this product
Most Helpful Positive
Good
This is an amazing mask that helps my skin feel glowy, bouncy and nourished.
Good

This is an amazing mask that helps my skin feel glowy, bouncy and nourished.

Ahhhhmazing

Amazing mask that does exactly what it says!! Skin
Is left bright, glowing and healthy looking! Love it

BEAUTIFUL MASK

This mask would have to be one of the best that I have ever used.
It feels so cool on the face and when you take it off you are left with this gorgeous glow .
Also you feel more hydrated it's just beautiful

Highly recommend this mask

Like the other ladies, I initially received this as a sample & it is by far the best mask I've ever used, so much so I've gone onto buy the packs.
I'm 41 yrs of age, fair skin with a bit of rosacea, I put the sample mask on one night just to try & my skin after was so beautifully hydrated & plump & it looked amazing I couldn't stop looking at myself! When you remove the mask there's ample serum to rub over your face, neck & hands hydrating everything.
I had no irritation whatsoever, & given the results for my skin I have no issue with the price of these masks.

Good

This feels very good and luxe

Plump & Glowy!

Really effective serum sheet mask!

It's perfect for long haul flights or when your skin needs a bit of a pick me up.

It left my skin feeling and looking plump, glowy and hydrated.

It is quite pricey but a nice mask if money isn't of concern.

Would definitely recommend to those with dull and dehydrated skin.

I'm a return customer for this product. It's very hydrating and enjoyable to use

My skincare therapist even commented on the appearance of my skin, that it looked plumper and not so pink. There is a lot of serum which i used during the next day. It's definitely good value, easy to use and my skin soaked it up. I would highly recommend if you like giving yourself a home treatment

Great but wouldn't soak in!

I loved this mask, and after applying it my boyfriend came home and said "you look like you had an amazing sleep, your face looks so fresh and bright!". He had no idea I used the mask! The only reason I gave it 4 starts rather than 5 is because six hours after application, my skin is still sticky and the serum hasn't absorbed properly! There is a lot of serum in each packet (not a bad thing!) - even enough to apply again on another day!

Didn't find it made a difference

I was very excited to try these after reading so many good reviews but I honestly found they did nothing for my skin. I did one when I was a bit dry and then applied the serum afterwards, the following morning I was less dry but had a rash in the most dry spots and was breaking out on my t zone. Then the little serum smashed as its so small so I only have the masks to work with and while they no longer give me the same reaction as the first time they really don't do anything to my skin.

Amazing

First day These masks arrived I tried one and fell in love. Left skin feeling hydrated, plump and bouncy.
Beautifully packaged, and beautiful to use.
Will be repurchasing!

Luxurious and a great result

I have tried many sheet masks, but these ones are definitely higher quality and leave my skin glowing, hydrated and feeling very fresh. The serum that you put on after, adds even more glow and moisture. Also, my skin looked just as good the next morning. I would definitely recommend these masks as a weekly treatment in your skin routine or as a pick me up for dry tired skin after flying or to use before a special event.

Pleasantly surprised

I've always had good skin,ppl always commented , I didn't really take care of my skin unless a pimple pops up lol. Now I'm 33 an have a 3yr old,noticing how dull n bleh my face n complexion is an blemishes are scaring or taking longer to heal. Decided to get this after reading from reviewsfor me I didn't notice much change but couple ppl commented I looked good today or my face was glowing an same day I was asked for I.D Buying wine lol definitely a must even try once! My mom tried a the gold ample said next day her face looked fresh, I had to hide because it's nearly empty an the bottle mind u the bottle isn't that big to begin with lol :)

Luxe moisture

This is lovely and soothing to apply and leaves skin feeling calm, plump and hydrated.

So good

Easy to apply, feels like the mask is clinging to your face. Lots of product.
Super hydrating and leaves your skin feeling very radiant and revitalised.
Highly recommend, especially for the great price.

Um HELLO new favourite mask!

Wow.

This is the Queen of all masks. I wasn't sure what to expect when trying La Flor, I have tried a lot of face masks in the past and have had reactions to some, found some just average and loved only a small number. So excited to have found my new favourite in La Flor! I put this mask on for around 30 minutes whilst having a bath - it instantly revived my usually dehydrated skin and left it soft and clear. I can't believe how well priced this mask is for the incredible results it produces.

The Ampoule is absolute luxury and left my skin absolutely glowing (not to mention I felt pretty glowy myself using such a luxe product.)

If you are looking for a little treat for yourself or a beautiful gift for a friend look no further than La Flor!

Pearls and Gold luxury for your face

This was the newest and most exciting find from a Korea trip.
It offers extreme hydration, the most you will ever experience from a mask and works in-conjunction with gold serum.
My skin looked amazing even though I just came off a 13 hour flight.

I love the gold serum and the ampoule lasts a long time - a alittle luxury everyday.

Worth trying!





Perfect for at-home pampering!

This is LUXE in a sachet - a great quality sheet mask that is super luxurious and feels so nice while it's on my skin. The mask formulation has a great consistency and creates a silky, cooling effect. It left me with a smooth and bright complexion that felt super soft and hydrated. For the benefits, this mask is great value for money and I'll definitely be repurchasing again.

Where have you been all my life?!

I love a good mask, but can be really fussy. If you're like me and want to see results right away, this mask is for you - IT. IS. AMAZING!

I have combination skin, which is quite sensitive and prone to congestion, so I get need to be careful with certain products. I applied this mask before bed, left it on for the specified time, then removed the mask and used clean hands to pat the remaining product into my skin. The next morning, my skin literally looked airbrushed (this never happens!). I couldn't believe it! My skin felt healthy, plump, smooth, looked radiant, and though it doesn't claim to do this, my pores seemed visibly reduced.

10/10 would recommend to anyone looking for instant results - it would be perfect to use before an event, or on a flight for that much needed hydration boost. It will certainly be an essential for me in future!

Love!

I didn't expect much when I was handed this mask to try, but after hearing one of our other team members rave about it, I went home that night and tried it. Oh. My. Goodness. I've tried many sheet masks before this one, but La Flor is in a league of its own. My skin was left incredibly soft, plumped and refined. It looked like I'd just had an oxygen facial in a skin clinic. The redness in my cheeks was diffused and my skin felt nourished. Highly highly recommend this mask for normal-dry skin types. It's worth the hype!