Kryolan Ultra Foundation Trio
Skin Type:
Dry
Normal to dry
Normal to oily
Frequently bought with
Please wait while we find a match
Questions & Answers
(No Questions Yet)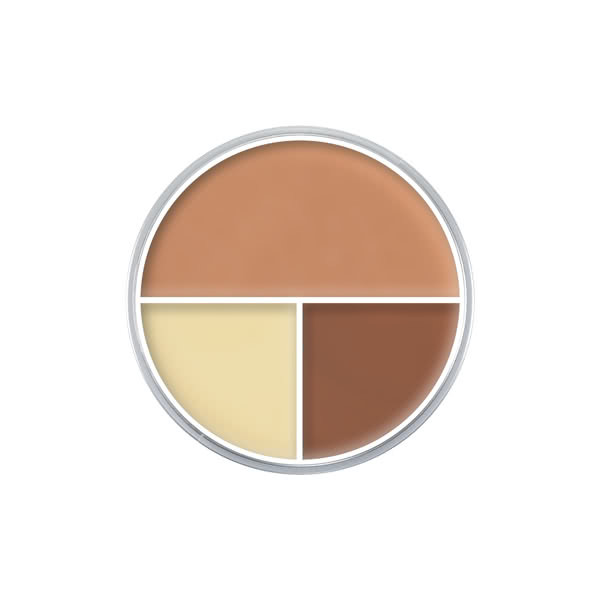 Kryolan Ultra Foundation Trio
Get an expert to answer your question about this product!
Ask a Question
100% recommend this product
Most Helpful Positive
Totally worth it
I use it everyday. Works wonders and looks super natural when you use it correctly!
Totally worth it

I use it everyday. Works wonders and looks super natural when you use it correctly!

Contouring & Highlighting

This little wheel is great, and is my go-to for cream contouring and highlighting. I give it four stars, and would give it five if like the Kryolan concealer it had a little button with a white cream for very bright highlights, then it would be truly perfect. However even as it stands this does most of my contouring and highlighting, and I would recommend it for that purpose. Best of all if space is an issue this can absolutely work as foundation, and the three shades can be mixed, or tinted with shades from the Kryolan concealer wheel so you can use it on almost any imaginable skin tone. So just those two little wheels, and you can shade, highlight, conceal and makeup any face!

When I think about how much money I burned through on foundations when I first started in this field, I want to cry when I realise I could have just bought these two wheels, and been able to do any foundation, concealing, contouring and highlighting all with these two little products. That is power and versatility that you cannot easily put a price on, but the actual price, at less than $200, is a considerable bargain.

Like all Kryolan products the quality is there. It has good feel, is highly blendable (especially when warmed up) and gives a nice, skinlike finish. If the price seems high bear in mind Kryolan do not simply re-package private-label products like most brands, and they are one of the few professional brands who do not sell products in China meaning they do absolutely no animal testing, and this is very important for many clients, but it does mean they lose out on a billion customers so naturally this pushes prices up compared to brands of comparable quality like Mac. This may seem trivial to some, but that PETA approved label could mean the difference between getting or losing some clients. Imagine losing an entire wedding party because the bride is a vegan, that right there would cover the price-difference for an entire makeup kit.

I have no interest in taking such risks.

You Wont Regret it!

I know that some of you may think its pricey but let the atheist lord be my witness, this product goes a LONGGGG way! I freaking love Kryolan, this is what I use to contour & it works so fabulously with my foundation. Easy to blend and to work with, this will forever be my one and only! Definitely would recommend this product, over and over!

love love love

i love using this for my cream contouring. it's really easey to use just a lil bit, but when i'm going out i can use the same product for more dramatic look, just use more brown and yellow.

Great combo

I love using this trio for my whole face. All the shades blend together beautifully and the foundation feels amazing on my skin.