Jurlique Daily Exfoliating Cream 100ml 100ml
Is this for you?
A deep daily cleanser to purify and exfoliate.
Frequently bought with
Please wait while we find a match
Questions & Answers
(1 Question)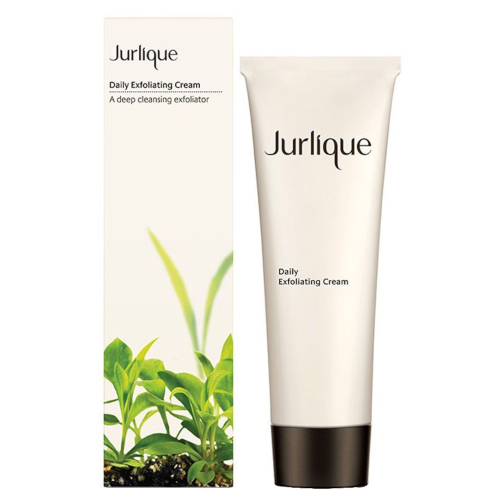 Jurlique Daily Exfoliating Cream 100ml
Get an expert to answer your question about this product!
92% recommend this product
Most Helpful Positive
Gentle
This exfoliate is quite gentle. It removes my dead skin without irritate my skin. Love it.
Most Helpful Criticism
lovely smell, doesn't do much.
Love the smell of this but It failed to really enhance my skin much.
Gentle

This exfoliate is quite gentle. It removes my dead skin without irritate my skin. Love it.

Strange texture

Product has a very strange texture, not very cohesive. However it actually works great and is very soft and gentle on the skin. I love it, smells great and really notice after how lovely and clean and soft my face it. I mix it with a little of the daily jurlique face wash to adjust the texture.

Great!

You can really feel the oil in this exfoliating cream. It really leaves your skin feeling hydrated which is fairly rare in a cleanser.

so good

Very surprised at how soft my skin felt after! It is very hydrating as it penetrates deeply into the skin and leaves a lovely scent afterwards

Love!

Love this, helps buffing away dead skin cells etc from my face. It doesn't feel like it's really 'doing' anything like some other exfoliants but I think it's important to put natural things on your skin sometimes.

lovely smell, doesn't do much.

Love the smell of this but It failed to really enhance my skin much.

Delicious!

This is a super gentle exfoliator that smells like honey and oats! It's a great alternative to scrubs that have harsh exfoliating beads. Be aware that it can be messy.

Sensitive

This is a great product for my sensitive combo skin. I use it every 2 days

Very gentle

Nice natural smell, very gentle to my sensitive dry skin

Lovely but needs improving

I do love this, it works very well and smells great. The ingredients are lovely and it smooths the skin without being harsh. The texture needs a bit of work, there is nothing really holding the oath lumps in the matrix. I mix a bit of the cleanser cream into it and it is perfect. I would still buy this product again.

Natural

A nice natural exfoliator, leaves skin feeling great but can be a little messy

Love it!

One of the most gentle exfoliators i've come across. Would recommend if you have sensitive or dry skin like me

Very gentle

Love the scent of this cream! I have sensitive skin and usually can't use exfoliators too often but I can use this one daily and it leaves my skin feeling soft and smooth

soft, dewy and moist skin

firstly if you like me have always loved making your own products from kitchen products then this is the exfoliator for you! honey, oats and germ make for quite a chunky and slightly messy experience but I still love it! I do recommend using it correctly though and that is dabbing it not rubbing it on the skin. Leaves skin hydrated but can be a messy not for a quick morning routine but when you ha...

Read More

gentle exfoliating

I use this product on days where my skin is slightly irritated. It is really gentle and leaves my skin feeling clean and fresh. It smells amazing.

The best

I actually bought this for my husband but I used it once in the shower and now I have found my new favourite. I have tried so many other brands, some really expensive, but this is great. My skin feels so soft and looks lovely after use. I use it morning and night. Yes, the consistency and texture is rather weird, but if you can get past that it's wonderful. It also has a very mild cooling action a...

Read More

Not my idea of exfoliating

I have loved every Jurlique product that I have purchased with the exception of this one. Every time I use it I imagine that I've picked up some of my breakfast porridge and that I'm rubbing it on my face.

And it's about as effective as porridge would be.

Bring on the heavier duty exfoliation for me. This is one for someone who would like to imagine that they're exfoliat...

Read More

Breakfast anyone?

This exfoliating cream does not hurt my skin like other exfoliating cream that i've tried and I can use it daily. It works wonders to remove my dry skin on my face and neck. It leaves my face smooth and cleanse.It smells good too!! .

natural, no perfumes, economical

this is a great natural product, without perfume that is very economical.