Glasshouse Rio De Janeiro Mini Candle - Passionfruit & Lime 60g 60g
Questions & Answers
(No Questions Yet)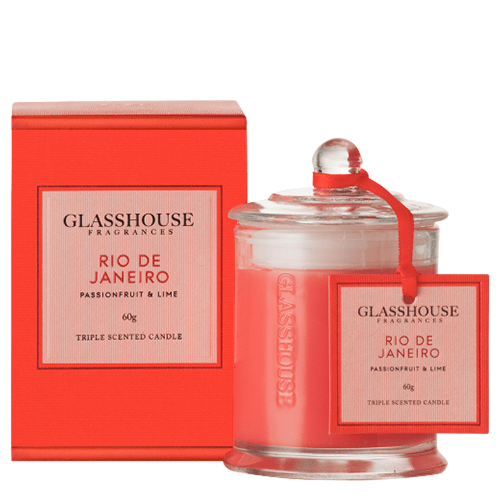 Glasshouse Rio De Janeiro Mini Candle - Passionfruit & Lime 60g
Get an expert to answer your question about this product!
Ask a Question
100% recommend this product
Most Helpful Positive
Awesome
nice refreshing scent perfect floral scent for the living room
Awesome

nice refreshing scent perfect floral scent for the living room

Great gift

Love giving as a gift as something little. Gave these as prizes for my baby shower as I love the smell! Whenever I have one burning everyone has always loved It. Packaging is gorgeous too.

Sweet

Really fresh and sweet and fruity scent. I have purchased this a few times as gifts. Love the quality and packaging of these candles!

Beautiful scent

I received this for a secret Santa Xmas present after I requested for a new candle( preferably glasshouse)
This is such a beautiful smelling and looking candle. The scent is so fruity and delicious. I love this as a spring/summer scent. The fragrance makes the whole house smell so good. Also, I love the vibrant orange colour of this candle.

So fruity

I cannot recommend the glasshouse candle range highly enough, they are among my all time favourite candle brands. They have a strong scent that will easily drift arounds the home, great burn time, and they are affordable. The gorgeous packaging also makes them great gifts.

This candle is soo fruity! it almost smells like a fruit dessert.

Fruity and tropical

Purchased this as a gift for a friend who absolutely loves this candle. This size is just the perfect little gift for someone and comes in such nice quality packaging. Its a very strong and sweet scented candle which isnt what I go for but would be so nice for someone who likes that kind of scent.

Love this scent!

One of my favourites from the Glasshouse range - love it and will continue buying this scent!

Strong and citrusy scent

Quite a strong and fruity scent. I did enjoy it, but it might be more of a summertime scent.

Holy grail candle

I absolutely adore Glasshouse candles- but I fell in love with Rio De Janiero on first smell! The fruity fragrance is so refreshing and pleasant, and is perfect for the spring and summer months. The candle is of high quality, and the fragrance is strong and lingers in the room.Although the candles are not cheap, they are worth every dollar as it is such a luxurious item to have in the home!

Party in a candle

I love the quality of Glasshouse candles, they last for ages, and they smell divine. The Rio De Janeiro is a thick summery smell. Love it

Amazing

Smells amazing and has fresh scent
Lights up entire room

Favourite candle!

Hands down my all time favourite candle. Fills my whole house with a beautiful fruity smell, and I will continue to repurchase it! LOVE IT!

Beautiful candle

This candle is so lovely! The scent is lovely and fresh.
They are more expensive candles, but make a lovely gift or treat to yourself because they are very good quality with strong, beautiful, lasting fragrances.
I love treating myself to one every now and then, and adding them to gifts for loved ones.

Love it!

Love this candle! The scent is so summery and tropical! I love it for my living room and it make the whole house smell amazing. Would definitely recommend and would purchase again

Lovely fruity/zesty smell

Really lovely candle. Perfect size and price for a gift - smells exactly like what it says (passion fruit and Lime). Really sweet and fills the room in just a couple of minutes of burning.

Smells amazing

Even though the mini candles are substantially smaller, they still smell as nice as the larger ones and are so cute and great as gifts!


Lovely smell

This one smells amazing! These size candles are a little on the small side but even with just the lid off the smell is strong enough to go through the house.

Favourite scent

Rio de janeiro is by far my favourite scent by glasshouse and the mini size is just so cute! perfect present for someone!

AMAZING!!!!

Bought one for me and one of my friends and we looveeee it so much! The smell is absolutely amazing! Although it is small it lasts a very long time! Highly recommend for gifting for others and yourself!

Smells amazing!

I cant get enough of this candle! It smells amazing and the scent travels around the room well.

Sweet fruity candle

Amazingly scented warm fruity candle. Definately recommend! It's small but still manages to fill a large room with the scent

Fruity

Love the colour of this candle. It's fruity and sweet and the packaging is really cute

Sweet and Gorgeous smell

Love this smell! The warm fruity smell gives off a nice summer feeling in my home.

YUM

This candle honestly smells so amazing and is such a fresh sweet smell that Ive never smelt before in a candle

favourite

I tried the mini of this first as i do with most glasshouse candles and i absolutely feel in love. It is so nice and i wish everything smelt of this. Highly recommend

My go-to glasshouse candle

This candle is seriously summer in a jar! It is my absolute FAVOURITE. It makes my house smell absolutely amazing and everyone always comments on it!

Passionfruit

Rio De Janeiro smells very warm, tropical and fruity. When I burn it, it evokes this "warmthness" that takes me back to when I was travelling overseas in a hot summers day. I can detect a lot of passionfruit. The candle is high quality and takes forever to finish burning. One large one usually lasts me about 2 months. The mini one definitely burns through very quickly so I would suggest getting the 350G size - lots more value for money. The scent wafts throughout the entire house. It's just beautiful. Highly recommend as a treat to yourself or a gift to a loved one.

fruity fresh smell, decent burn time

Bought this on a recommendation and was pleasantly surprised at the fruity smell! Not too overbearing, but enough scent to fill a room. Would repurchase in larger size when this one is done.

Smells amazing! decent burn time, would buy again.

I bought the small version because i was unsure of the scent, it is heavenly and i will be rebuying the larger version. It was a pretty decent burn time for such a small candle and the scent fills the room so quickly.