Glasshouse Persia Candle - Jasmine Wood & Vanilla 350g 350g
Questions & Answers
(No Questions Yet)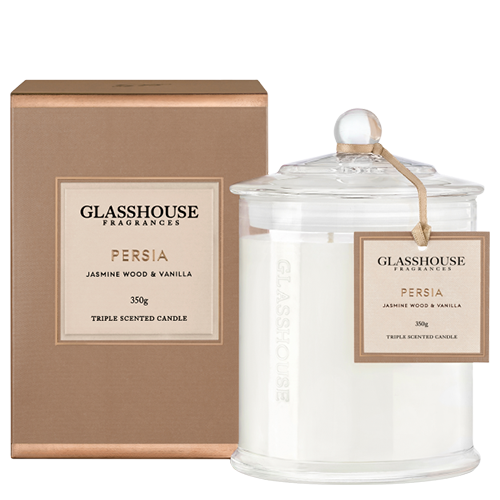 Glasshouse Persia Candle - Jasmine Wood & Vanilla 350g
Get an expert to answer your question about this product!
Ask a Question
100% recommend this product
Most Helpful Positive
fills the house with a beautiful smell
fills the house with a beautiful smell

very sweet and cosy

Love this one

The glasshouse candles are amazing, the packaging is luxurious, and the burn time is quite long, and even, making them great value for money! Not to mention they smell amazing.. especially this one which is the perfect combination of vanilla and floral

Beautiful gift

I bought this as a gift for a friend and I wanted to keep it for myself! It has a beautiful scent that would cater to just about anyone's preference of fragrance. Glasshouse quality is great, will continue to buy.

Another great glasshosue candle

SMELLS AMAZING! Not overly sweet or floral, a nice neural candle if someone in your house doesn't like overly sweet smells

So divine!

This is my absolute favourite candle from the entire Glasshouse collection. It's not too sweet and has just the right mixture of woody floral and smells just so divine!

Gorgeous scent

This has to be one of my all time favourite Glasshouse scents. It's not overly sweet, which my boyfriend likes, but it has that subtly warm woody vanilla aroma that I adore.

My favourite

Glasshouse candles are so well made and the packaging is so luxurious! Not to mention the scent is divine, I cant get enough of this one, it smells so good. It's not too sweet and not too floral, it's just a right mix!


Woody and sweet

A very nice subtle scent and a mixture of woody and sweet. This is one of my all-time favourite candles and is great for a gift

Lovely

I received this for Christmas as my friends knew how much a loved the other woodier scents like Arabian Nights - this is a lovely candle. A bit sweeter than Arabian Nights, but also a bit lighter - there would be no problemo lighting this candle in a bathroom with the door shut (depending on your own fragrance desires...) To me, Glasshouse can do no wrong.

I LOVE IT SO MUCH

I love vanilla scents and the mix of jasmine and vanilla in this is absolutely beautiful, I am obsessed. It is also a safe scent to gift because i think people would universally generally like this type of scent.

Delicious

Neutral, crowd pleasing scent

4/5 because it's not very strong

This is such a beautiful scent, the Jasmine Wood really dumbs down the Vanilla scent which makes it not so sweet, just subtly sweet but still fragrant. It doesn't fill an entire room in my opinion, but it would fill a bathroom, or eliminate bad smells from the area. It also gives dim lighting for a romantic aura, if you're going for that. Smells delicious, I recommend.

NEW FAVOURITE SCENT

I received this as a gift from a friend and it is my favourite. It burns for so long and is strong enough to fill an entire room.

LOVE IT!!

Got it today and felL in love with the scent straight away!

Beautiful product

Beautiful scent and attractive looking candle. Leaves the house smelling fresh when guests are over, or just for us when relaxing in the evening. Would buy again.

Favourite Glasshouse Fragrance

This is my favourite Glasshouse fragrance! I find some Glasshouse fragrances to be to intense (so great for filling big rooms with scents) or OTT, but this one is just perfect. It has the perfect balance of floral and warm/woody notes. It's not a divisive fragrance either - I've bought it as gifts for friends before and each friend has loved it. It's quite a classic fragrance and 'warms' up your rooms beautifully :)

Subtle warmth

I don't know how I resisted buying this for so long. I kept picking this one up every time I had a chance to walk past a tester - wow does this smell beautiful!

This scent has a more subtle throw than many other Glasshouse candles, it fills the room but never takes over. Jasmine Wood and Vanilla are a wonderful combination - warm and comforting, but not foody. It's kind of like the sort of scent you'd expect in a library, or a beautiful old hotel.

This is a lovely gift for someone for whom you're not sure what kind of scent they prefer, I can't imagine this not working well even for those particular with scents.