Glasshouse Montego Bay Candle - Coconut Lime 350g 350g
Questions & Answers
(No Questions Yet)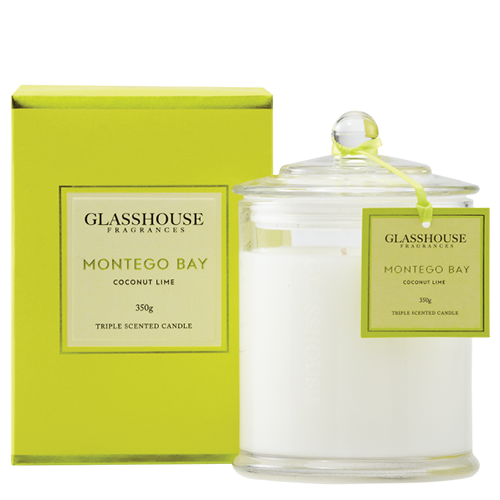 Glasshouse Montego Bay Candle - Coconut Lime 350g
Get an expert to answer your question about this product!
Ask a Question
100% recommend this product
Most Helpful Positive
Awesome
Beautiful packaging and lovely scent. Very fresh that makes my house smelling amazing
Most Helpful Criticism
Lovely Scent, Issues with the Candle
This was my first purchase from Glasshouse Fragrances. When I opened my package, I could smell the beautiful coconut and lime smell throughout the box. I love the scent of this candle, it's not too strong, but can perfume a large room. The fragrance lingers for some time after blowing out the candle.
I wasn't impressed with the air bubbles inside my candle. I was disappointed after paying almost $43, I expected it to be beautifully poured, but this was not the case.
I would still consider repurchasing, but from David Jones where I can open the box and check for air bubbles.
Smells like a tropical holiday!

This is my husbands absolute favorite glasshouse candle. The gorgeous smells of coconut and lime make you feel like you are on a tropical island! Not too strong like some of the others and isn't overpowering. Would recommend.

Awesome

Beautiful packaging and lovely scent. Very fresh that makes my house smelling amazing

Love!

This was one of the first luxury candles I ever owned. It is a beautiful candle - the scent and packaging are both exquisite. The scent is fresh and bright and works well in any environment. The lid is such a good idea too, as it stops the candle from collecting any dust.

Beautiful tropical scent

I am a sucker for anything coconut. But when it comes to this candle it smells amazing, it transports you to a beautiful tropical island and fills a large space easily without being to over powering.

Favourite summer candle

This smells like an amazing tropical holiday! The combination of coconut and lime is so delicious and the smell lingers around hours after the candle is put out!

Stunning smell

All glasshouse candles are beautiful but this is one of their best! Not too sweet and smells beautiful when burning

Smells like a holiday

This is such a great smelling candle and whenever I light it I feel like I'm on a tropical holiday somewhere in the Bahama's sipping on a pina colda.

Beautiful scent

I adore this scent ! And it lingers for quite a while after it's been blown out. It's so yummy and refreshing. I use it when I need a pick me up or If the house just needs a freshen up

SWEET

This candle isn't personally my cup of tea its very sweet and as the name suggests it smells like a light coconut and lime. I don't mind it but I buy it for my mum who absolutely loves it.

nice and tropical

not my favorite from their collection but is a nice candle for the bathroom, smells tropical so its very relaxing for when im having a bath

Love the citrus

This candle in particular has the most incredible tropical smell . I am a huge fan of coconut and whilst it isn't that really creamy smell the lime gives it a citrus tang and the two paired together is just insanely amazing.
Glass house is such a reliable brand for gorgeous smelling candles.

Great quality candle

Love this candle. Lasts for ages and the smell is really intense but not over powering.

Beautiful candle, smells divine!

Love this candle it reminds me of tropical holidays, lasts ages and the smell is definetely there, i love all glasshouse products, just gorgeous!

By Far My Fav

If your a person that LOVES topical beach Holidays this scent is for YOU!!. Each time I light this candle the smell reminds be of being on a beach relaxing drinking a cocktail.

This Candle is perfect for a present for a young age or mid 20's as its the sweet topical VIBE. Now that I have this candle I will counite to buy because who needs a holiday when you can just have a candle.

This is by far my favourite candle in the whole collection

Def my favourite!!! I have been using this candle for around 2yrs. I just love this coconut lime smell, its soooo nice when you burn it and also amazing if you just wanna leave it in the room! The scent makes me feel very calm and warm. I love burning it all year around! Even makes me feel safe when im trying to sleep. I feel like im used to it already and i keep coming back for it even after ive tried many other scents. Everyone should give it a go!!!!!

Best scent in the range!

Glasshouse Candles are great value as is but this is by far the best scent they've come out with. It's creamy and coconutty and reminds me of a tropical holiday. The only downfall is that I can't stop lighting it and they are quite pricey.

Yum!

Smells like the beach! So yummy!

Lovely scent

I purchased this as a gift and the recipient loved the scent. The coconut smell is offset nicely with the lime.

perfect for coconut lovers

perfect scent for coconut and lime lovers, has a very refreshing smell.

Gift (Coconut lime)

You really have to be a fan of coconut and lime to love this candle. I purchased it as a gift for a friend who loves the scent. I think its a very high quality candle that is presented really well. Definitely a really lovely gift for anyone. I do find that in this size it didn't burn for very long because it was so small.

Coconut Lime - Gift

I personally dont like the scent (Coconut lime) but I purchased this as a gift for my mum and she loved it so much. Will definitely purchase again for her!

wonderful and retains scent

I received this Glasshouse candle as a gift and I think it's wonderful. .The glass container is beautiful and I later reused it, and the candle fragrances my entire home and doesn't lose it's scent.

Love it

When lit, it's like someone is baking a cake in the oven. I love it. I burn it for hours and the scent just lingers in the backdrop. It's fresh but sweet at the same time. Reminds me a lime pie smell. Love it. It also burns quite evenly, just need to ensure the wicks are not too short the first time you burn it so that it burns evenly and not tunneling.

Perfect Gift

Really great gift when you arent sure which scent to get. Comes in cute packaging and quality glass/wick. I have purchased this for a few different people and they have loved it. Im not a fan of coconut and lime myself (personal preference) but everyone I have bought for has absolutely loved it.

Classic scent for the summer home

This is one of the first candles I bought from Glasshouse almost ten years ago now and it's still on regular rotation during the warmer months. The scent is quite specific to a warmer climate but I think it can also brighten up a gloomy home during cool transitional seasons. There are many many coconut and lime fragrances out there and this is hard to describe, but it is definitely worth splurging on compared to cheaper alternatives. The throw is excellent despite the relatively small size of the container and it emits a soft fragrance even without burning. I think Glasshouse represents one of the best value home fragrance options out there, the quality is unmistakable and has broad appeal.

Fresh Beach scent

Smells amazing, lasts ages and can reuse the jar!! bonus

Beautiful candle

This candle smells fruity, fresh and fills the room with the scent. I'd highly recommend this one :)

Tropical coconut

Nice coconut smell with a hint of lime. Fills the room quickly.

Smells nice

A bit too coconutty for me but still nice. Two wicks which is a bonus over Ecoya.

Divine scent

Long lasting, amazing scent plus I love the jars which I reuse to store pretty hair clips etc in.

My Favourite Candle!

Absolutely LOVE this scent. It isn't overbearing and lasts a long time. I will definitely be repurchasing when it runs out!

Glorious summer scent!

I received this as a gift and love it so much! Smells so fresh and summery. Great quality, as you would expect from Glasshouse.

Nice subtle scent

This was a nice and subtle, not to overly feminine scent.

Lovely fragrance

I brought this as a gift and the recipient loved it. Yet another great glasshouse fragrance.

One of my favourites

This candle has a really fresh and summery smell. It seems to last forever and doesnt burn too quickly like other candles

5

This is my favourite scent in the range. The coconut smell is so lovely and a hint of lime....so tropical and summery

YUM

This is such a divine scent and a must have in the collections. this candles last far better than any other brand I have tried. Highly recommend.

Fresh scent

I love how this candle smells both sweet and fresh. Really nice scent for summer days.

For coconut lovers

I'm a huge fan of coconut scents and this candle smell divine! The lime adds a nice citrus twist. Really high quality hand made candle

Fresh

Love this candle! It's got that sweet coconut scent but the lime cuts through the sweetness and makes it fresh smelling also

Classic scent

You cannot go wrong with this scent. Just beautiful. It has fantastic throw and is so relaxing...makes you feel like you are in the islands for summer. My only negative is that the wax is not soy so the burn is not as clean as competitor products.

Fruity coconut scent

Such a nice refreshing scent! Perfect for summer as it's a bit lighter and more fresh as opposed to sweet

Expensive smelling coconut.

Im not a huge coconut fan usually as i find it can often smell overly synthetic. The coconut in this though is creamy and beautiful , and way more subtle then allot of other coconut scented products i've come across. Glasshouse is always a good choice.

Beautiful scent

Like a fresh smell - then this is perfect! it Reminds me of coconuts at the beach! Stunning smell... highly recommend for a gift

Paradise in a little jar

This scent is just divine and really powerful - the whole house smells wonderful when this candle has been burning. They're not the cheapest products on the market, that's for sure, but they really are a lovely luxury and the perfect gift.

My favourite on and on..

This candle has stayed my favourite scent out of the entire range for many many years! very impressed that this candle can still manage to take me feel nostalgic and think of holidays even in the winter months!

Like a summer holiday!

Love this candle. The scent transports you to a tropical beach. Nothing beats the quality of Glasshouse candles! They make the perfect gift!

LOVE IT!

I got this as a gift and it's not a candle I thought I would like so I never purchased it for myself but I love it

Love

One of my favourite candles. Smells amazing and lasts a long time. Really high quality hand made candle

Fresh

If you like fresh scented candles then this will be for you. I found the scent to be a little less intense than the others but still very nice

Favourite

This is my favourite candle for the house. The lemon/lime scent is so fresh and gorgeous. The packaging is lovely too!

smells amazing

I love this scent and how it really makes your whole house smell lovely

Great products

Love Glasshouse Mountain candles they last for a long time and the fragrance is gorgeous and makes my home smell so good!

Amazing scent that lasts forever

The scent fills my entire 4-bedroom home without being overpowering. The softness in scent gives a warm aroma to the house. Highly recommend as it last forever and you won't be disappointed with spending this amount on a candle. Montego Bay is my go-to scent and has been for years.

Perfect summer candle

This candle is summer in a glass. It's the perfect light scent that is perfect for lighting on a warm summers day. It's a perfect Christmas gift!

Great!

Such a lovely scent, makes me feel as though I'm on a tropical island! Lasts very well too!

LOVE!

Smells amazing! Lasts ages!

smells like summer

I love the smell of this candle soooo much!! Reminds me of a summer day at the beach with a nice cocktail!! Candle lasts for ages and get so many compliments on the scent from visitors

Great fragrance

This candle is super nice! It has a great scent without being too over powering (you can light it in a small room without it being too much). When buying glasshouse candles as a gift, this is the one I tend to always get for people.

Splice

This reminds me of splice ive cream. It smells so good and my whole room smells great for hours.

Off to a tropical island!

I love any scents that remind me of a hot summers day!
This scent honestly takes me off dreaming of a tropical island. It has a good quality depth of scent with long a lasting fragrance. I love how it wafts throughout my home.

Lovely Scent, Issues with the Candle

This was my first purchase from Glasshouse Fragrances. When I opened my package, I could smell the beautiful coconut and lime smell throughout the box. I love the scent of this candle, it's not too strong, but can perfume a large room. The fragrance lingers for some time after blowing out the candle.
I wasn't impressed with the air bubbles inside my candle. I was disappointed after paying almost $43, I expected it to be beautifully poured, but this was not the case.
I would still consider repurchasing, but from David Jones where I can open the box and check for air bubbles.

The BEST smelling candle ever

This is hands down the BEST smelling candle I have ever owned. I simply can not get enough! It is such a unique scent and the first time I opened it i was surprised by the absolutely accurate representation of coconut and lime. The smell is strong but now overpowering, it leaves the whole house smelling fantastic even not lit. I am simply obsessed.

Lovely

Such a beautiful scent - very light and tropical. Light enough that you could have this candle lit in a small room without it being too overpowering or tingly on the nostrils. Not very rich or sickly in the coconut fragrance, so if you hate the coconut scent that's in so many products these days, you might be pleasantly surprised with this one!

Lovely tropical scent

Can't go past Coconut & Lime - it is quick becoming a classic. This candle has a lovely strong scent without being unpleasant. Would recommend

So summery

Excellent quality like all Glasshouse candles but this has such a tropical and summery scent it's lovely to have burning during that time of the year. Particularly over drinks or dinner!

Summer Favourite

I have many favourites within the Glasshouse range and this has to be competing for the top spot! The smells reminds me of summer and it just makes me feel happy. The scent fills my lounge room within half an hour and hangs around long after I've blown it out.
I've recommended this to my friends and family and will continue to purchase this scent in the future. :)

Love the tropical coconut scent!

I've heard great things about the Glasshouse candle range, so I thought I would treat myself to the Montego Bay scent. The candle already smells amazing without even being lit up. I love the tropical coconut smell, it filled the whole room and the hallway of the house within an hour or so.

Top tip - Use the lid to put the candle out. The first time I blew the flame out and made a bit of a mess with the wax!

Smells like a beach holiday...

I love Glasshouse candles, and Montego Bay is no exception.

The smell is amazing! It really does smell like the best pina colada you've ever had.

Glasshouse always burns evenly and the scents are really strong. They tend to fragrance a room, with just the lid off ...no burning required! Of course, it's better if you light it up.

Highly recommended!

Most amazing smell ever!!

Glasshouse Montego Bay Candle is the most amazing smelling candle I have had!! The smell takes me away to lying on a beach sipping cocktails out of a cocnut! My whole house smelt Fantastic and has made waiting for my holiday to Bali next week just that little bit easier!! Thank You! :)