Glasshouse Florence Candle - Wild Peonies & Lily 350g 350g
Questions & Answers
(No Questions Yet)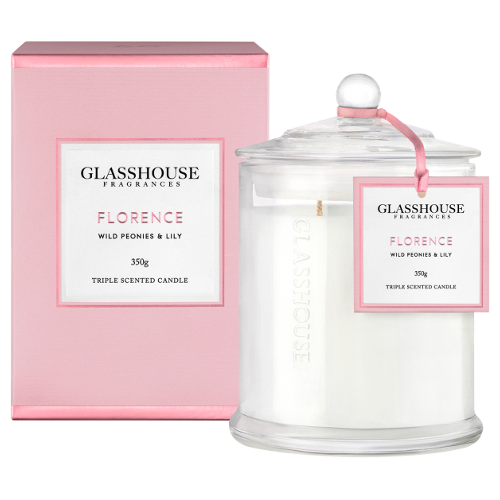 Glasshouse Florence Candle - Wild Peonies & Lily 350g
Get an expert to answer your question about this product!
Ask a Question
100% recommend this product
Most Helpful Positive
Sooooo pretty
Such a pretty candle with the most prettiest smell to go with it! Loveeeee
Sooooo pretty

Such a pretty candle with the most prettiest smell to go with it! Loveeeee

ABSOLUTE FAVE

loveeee this candle!! i use it in my room before i sleep. the smell is so soft and feminine.

beautiful and feminine

I received the 60gm Florence candle free, as a promotion, when I purchased anther Glasshouse product.I absolutely loved it! I purchased the 350g since and also purchased for other family members who have converted - very feminine but not too floral.

BEAUTIFUL

I received the 60gm Florence candle free, as a promotion, when I purchased anther Glasshouse product.
This was the first time I've tried this one and it's absolutely beautiful, soft and feminine.
It brought back memories of when I spent time in Florence on a European trip.
I'm planning on buying the 350gm size when the small one runs out.
It's divine.

A light scent

This is so gorgeous! Very feminine and a relaxing smell.

Heavenly

This scent is gorgeous as are all Glasshouse fragrances. It's quite subtle so if you don't like anything too strong this is a good choice.

Love

I can't believe it has taken me so long to find this one given I have an addiction to Glasshouse candles. Even my husband loves the smell of this one.

Sweet and subtle

I got this as a gift with purchase, It's a really nice subtle scent, nice for the bedroom. I have put mine on my bedside table and the room smells lovely and fresh even without the candle having been lit

Subtle but amazing

I love glasshouse candles. Ever since I bought one a few years ago, I won't buy any others. This one isn't as strong as some which is nice. I have this in my bathroom, and it's a lovely subtle smell. I'll definitely be getting this one again.

Beautiful & Luxurious

The smell is devine and its slow burning and lasting longer. I light it each night as part of my self care routine before bed. Im so thrilled i can get it on AfterPay too!! Will definitely be sure to complete the collection of these gorgeous candles. Worth every cent.

If you love flowers, look no more!

I've been purchasing glasshouse candles for years, especially because they are Australian made. All their candles tend to be of a stronger scent, in comparison to volumes, which make it perfect for open and large rooms. My sister in law is also a big candle lover, so I tend to buy her one a year. This has an incredible floral scent, without being over powering or too girly. She was very happy with her gift.

Amazing and quality.

Smells amazing and the quality of the candle is great. Glasshouse candles never disappoint, will never stop buying them. Worth the investment

Lovely gentle scent

Not my favourite of all the Glasshouse scents but it is still really lovely. A nice gentle scent that would be perfect for a bedroom. Would be happy to purchase again.

Beautiful candle

Beautiful name and beautiful candle. The scent is gorgeous and would make the perfect gift. Very floral and feminine.

Lovely scent

This is a lovely, sweet, delicate scent and it lasted for ages.

Really nice floral

Floral but not too old lady-ish and kind of sweet! Lovely packaging

Fresh floral

Such a pretty scent. Great quality candles, great for yourself or a gift to a loved one.

Best quality candles

Never disappointed with glasshouse candles I purchased as a gift for a friend it's a beautiful delicate fragrance

Floral and fresh

Can't go wrong with these gorgeous hand made candles from glasshouse. The scent is divine and the packaging is stunning. Florence is floral and fresh

Floral

Floral candy but not overly floral like you're getting a whole bouquet of flowers in your face. It's quite nice and the packaging is beautiful

Wow

Glasshouse do the best candles. The scent is always amazing and lasts well after its blown out.

I gave this as a gift and months later it's still going.

Perfect gift

Gave this candle as a gift and it was the perfect gift. Amazing candle that's triple scented and lasts a long time. Perfect for candle lovers.

Pretty floral candle

Definately for floral lovers! The scent is divine and the packaging is stunning.

Strong floral

As a lover of floral scents, this candle is right up my alley. The scent is strong in a good way and smells gorgeous.

Great floral scent!

This is a really nice candle for people who like floral scents (I do!). It is very strong meaning that the scent lasts all day and will fill the room. I really like it!

Great candle if you love floral scents

I'm not normally a fan of flower scented candles but this one is lovely. It's not overly powerful and there's a nice balance between the peonies and the lily. Perfect gift idea for those who love flowers

Lovely

Lovely floral scent perfect for summer and spring. May be a bit strong for those who don't like strong florals but I love it and most people who enter my house comment on this lovely candle!

lovely

It's a beautiful floral scent that smells strongly of peonies and lillies. It also features peaches and cherries. It's a very feminine scent that is accompanied by woody base notes. It burns evenly, just like all glasshouse candles.

absolutely love it

This is a fantastic scent, it reminds me of summer and the nature because it is so fresh but sweet. The right amount of strength so it's not too overpowering. Highly recommend

pretty!

such a pretty candle!!! Great for a gift and it smells amazing

Fresh floral scent

This one is very pretty. Excellent scent throw as usual for all Glasshouse Candles. This is a bit sweet for me but I would definitely repurchase as a gift for someone else.

Great scent for the bedroom

Lovely fragrance with sweet and delicate floral notes - I only burn mine for an hour before snuffing it as it gets a bit heady after a while.