Fanola No Yellow Duo Pack 350ml x 2
Hair Concern:
Brassy tones (blonde/grey hair)
Colour protection
Frequently bought with
Please wait while we find a match
Questions & Answers
(No Questions Yet)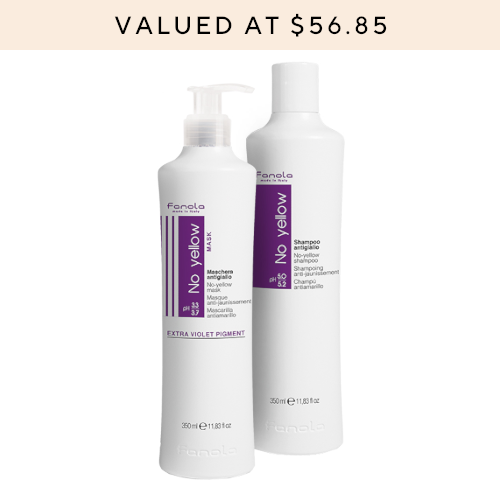 Fanola No Yellow Duo Pack
Get an expert to answer your question about this product!
Ask a Question
83% recommend this product
Most Helpful Positive
10/10
I was able to see results within the first use of both products!!
Most Helpful Criticism
More grey than white
I bought the duo pack as I wanted the masque too. The pump didn't work, so I have to pour the shampoo out, and as there's no pump on the masque you use a lot more than you need.

As others have said, it's more of a grey tone but as my hair is bleached white blond with a lot of greys, it's ok.

My hairdresser earned it is very drying though and can cause breakage.
Great toner

I have always had this shampoo but never tried the mask. I found the shampoo was quiet drying on it's own but since using the mask which is extremely hydrating i think they both work really well together.
It's defiantly the best toner i have used on my blonde.

10/10

I was able to see results within the first use of both products!!

10/10

I was able to see results within the first use of both products!!

More grey than white

I bought the duo pack as I wanted the masque too. The pump didn't work, so I have to pour the shampoo out, and as there's no pump on the masque you use a lot more than you need.

As others have said, it's more of a grey tone but as my hair is bleached white blond with a lot of greys, it's ok.

My hairdresser earned it is very drying though and can cause breakage.

Great toner

Excellent toner shampoo probably the best on the market. It is a little drying so use a mask after. Be careful not to leave it on too long unless you want purple hair! Also it will stain your hands and nails too so wear gloves

Nice for a grey tone

Makes hair more if the grey blonde tone rather than a clean white. Very very strong so it stains hands and shower anything it touches! A bit drying so a deep mask or conditioner is need after