Estée Lauder DayWear Advanced Multi-Protection Anti-Oxidant Creme SPF 15 Normal/Combination 50ml
4 instalments of $18.75
Or 4 instalments of $18.75 with
LEARN MORE
4 instalments of $18.75
Or 4 instalments of $18.75 with
LEARN MORE
Official Stockist
Is this for you?
A lightweight and refreshing day moisturiser for normal to combination skin, with antioxidants and SPF15.
Skin Concern:
Dull, dry or dehydrated skin

First signs of ageing

Wrinkles and loss of firmness
Skin Type:
Normal to dry

Normal to oily
Frequently bought with
Please wait while we find a match
Questions & Answers
(3 Questions)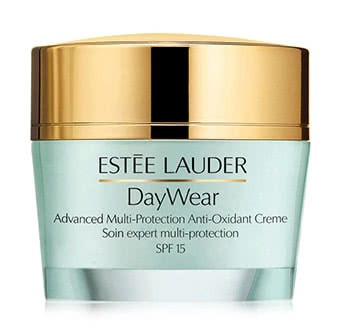 Estée Lauder DayWear Advanced Multi-Protection Anti-Oxidant Creme SPF 15 Normal/Combination
Get an expert to answer your question about this product!
Estée Lauder DayWear Advanced Multi-Protection Anti-Oxidant Creme SPF 15 Normal/Combination Reviews
81% recommend this product
Most Helpful Positive
Great product.
This moisturisers is reasonable price. Good quality. Definitely give skin feel smooth and fresh.
Most Helpful Criticism
Not for me
I love the scent of this but I have found when I accidentally leave it and sleep I get up the next day with redness on my chin (my breakout prone area)
Not for me

I love the scent of this but I have found when I accidentally leave it and sleep I get up the next day with redness on my chin (my breakout prone area)

Good

Thick consistency and I think it works better for dry skin rather than combination skin and sits well under makeup.

Great product.

This moisturisers is reasonable price. Good quality. Definitely give skin feel smooth and fresh.

Good

A lovely, abd very light and hydrating day time moisturiser. Feels like a gel and a cream combined. A really fresh scented moisturiser too, soaks in well and leaves skin soft and moisturised, never oily

Nice scent

I like the cucumber scent it's really fresh and the spf 15 is enough for daily when you are in door. I would definitely apply another layer of sun screen if I'm going outside in the sun.

A good buy

I have found Estee Lauder to be a very good buy.Its certainly a "high end" brand...but ive used their skin care & make up over the years & the prices have not increased at all very much. This day cream performs as well as or better than other high end day creams. Very effective & very highly recommended :)

Super Hydrating and super value

This goes one heavy but then sinks into your skin. It smells fresh and is so hydrating. I am prone to breakouts and this did not break me out.

Great moisturiser

This is such a lovely daily moisturizer. It's very hydrating and leaves my skin feeling velvety smooth. Makes a great base for makeup

No Faults

This goes one heavy but then sinks into your skin. It smells fresh and is so hydrating. I am prone to breakouts and this did not break me out!

Amazing SPF moisturiser

Love this! I received a sample and bought the full size. It keeps you moisturised all throughout the day with a lovely scent, and I find I don't need a primer when using this. Would repurchase over and over but wish it came with higher SPF content (I mainly use this in Winter).

One of my fav EL moisturisers

I love this one. My BF would sneak and use it too. It's refreshing, it goes on your skin thick but then it sinks in.
I have acne prone skin and this never broke me out. My face felt moisturized all day long!

has spf!

I love the smell of this moisturiser, it smells so fresh and fruity. it also feels very cool when you apply it and soothes my red face every morning.

Good simple moisturiser

This is a gentle, simple moisturiser. It's great for younger people seeking daily hydration. Helps fight dehydration.

Everyday moisturiser

I find this moisturiser perfectly fine for everyday use, but nothing special as I would get from other Estée Lauder products. I like it but it's no better than cheaper moisturisers out there so wouldn't repurchase

Standard

This is good daily moisturiser, if used on make up free days. I find it to be a tad heavy/oily when used under make up. That said, the cucumber scent is devine which is a pick me up each morning.

Too heavy for combination skin

Tbh I wasn't a huge fan of this one and can't comment on any other Estee Lauder products as I haven't tried them. I splurged on this day moisturizer due to its anti-oxidant and SPF claims but the SPF is only 15 and it feels very heavy on my skin, within a couple of hours I am a big greaseball and this hasn't happened to me in years. I would not repurchase.

Lovely and light

A good moisturiser for the day time. It has spf 15 so is good for sun protection too. The texture is nice and light, it smells fresh and does hydrate and smooth the skin. Good if your skin is a little oily.

Great intro to Estée Lauder

One of the cheaper moisturisers from Estée Lauder without sacrificing quality. Definitely give it a go if you've never tried anything from the brand

Always reliable

I have used this for years and loved the sheet tint moisturiser in this..it has never broken me out.. but im not sure if it does anything great to my skin either..

Lovely but not for oily skin

This is a nice moisteriser, just not for my oily skin. Feels thick and luxurious but was too heavy for me.

Amazing

It is a lovely day-time moisturiser which doesn't break me out in spite of the light cucumber fragrance and which makes a particularly good make-up base. It would be wonderful if it were available in higher spf.

A bit thick

I find it a bit thick for day-wear and so it doesn't breathe as much as I would like. But it is super hydrating and feels lovely.

Very Nourishing

I received this as a sample and recently used it. I absolutely loved this moisturiser! It has a light scent which smells lovely (so it's good for those that find heavy scents overpowering). It left my skin so well moisturised that even several hours later it felt as if I had just applied it.

I would consider buying this for winter just because I have combination skin and live in a ver...

Read More

Nice

Nice everyday moisturiser with a bit of sun protection that works under makeup

Not for me

I feel like this creamis quite thick and not hydrating enough on my skin even though i apply few layer of lotion, hydrating serum underneath. Wont purchase it again.

Light moisturiser

This is a lovely light moisturiser perfect for daytime.
It applies well and absorbs quickly. It leaves a dewy finish on my skin and leaves it feeling soft and hydrated.
Even though it has an SPF it doesn't feel like a sunscreen does.
In the warmer months I always use a separate sunscreen over this, but in the winter I only use this.
This has a fresh cucumber scent and is a...

Read More

Happy to use this when my skin feels really dry

I received a sample of this and found that it's quite hydrating. I think it would be ideal for the winter months or for days when you need a heavy hydration boost. It would be ideal if the SPF was higher than 15. Nice product to use though.

Decent moisturiser

I like this moisturiser because it does what it is supposed to do: moisturise. It is rich and smells nice. I find it a little greasy for my oily skin. I do not generally like jars as they can be unhygienic. The SPF in it is also not impressive. Bit expensive for an average moisturiser.

Great all day hydration

I love this product so much. During winter my skin gets really dry, however my skin is also quick to get oily as I have oily hair. This moisturizer is super hydrating day and night, and does not overproduce the oils on my skin. It is also the perfect base under my foundation and stays on all day. I would definitely recommend this product. It also has a beautiful, fresh smell.

Livens skin up

I use after days of wearing lots of makeup to liven my skin up and bring bad moisture. This stuff does the job perfectly

My favourite

My skin is sensitive to many moisturisers and foundations with chemical sunscreen ingredients; but this Estee Lauder moisturiser doesn't irritate my skin at all, I use every morning and it works well under makeup. The fresh cucumber scent is very lovely

It's okay

The smell, consistency and packaging are really nice. However, SPF 15 is a bit low for Australia; it should really be 30+ hence 4 stars as opposed to 5.

Doesnt break me out

I like this as it doesn't break me out..and goes on nicely under my akeup but maybe not as nourishing as other estee lauder moisturisers

Best sunscreen ever

I am really happy with my purchase of this product. Seriously , this is really one of the best sunscreen I have ever used. It is suitable for acne prone sensitive skin as it does not break you out. All we need is the product that does not clog your pores. I give one less star rating as I wish they had at least 30SPF in it.

Good

This hydrates and blends into my skin well. Just wish it was not so expensive

unsure ?

I am not sure if something about this product has changed? I used to use this quite a lot for many years, but recently i found that it began irritating my skin (in the areas that were drier) and creating a burning feeling. It was so bad that i had to stop using this product and I have not had the issue continue whilst using different mositurisers. This was really good to use under foundation too a...

Read More

Mother-in-law's favourite

I buy this for my mother-in-law and she swears by it, been using it for years and years, she's 84 and her skin is fantastic!!

Great moisturiser, feels like I'm treating my skin

Great moisturiser but make sure you also use an SPF afterwards as the 15 in this isn't enough for Aussie sun. Perfect under makeup and feels so refreshing in the mornings

Good moisturiser for combination skin

Doesn't irritate or break me out which is good! I have combination skin so it doesn't make me too oily so it's perfect.

not for me

I tried this cream and it felt very nice on my skin but it wasn't nourishing enough so I went up to the revitalising supreme range. However this could suit someone with oily skin and who needs an spf! It smells amazing and is a great price too

smooth

i got this as a sample and it was such a nice lightweight cream to use each morning. sometimes i find SPF creams oily but this one was smooth and silky! would purchase

The Perfect daily moisturiser

So I tried this after the daily foam cleanser... and it was the perfect combination! I have super sensitive skin and this worked a treat! My skin felt hydrated all day long!

Blends well

Blends and absorbs into the skin well and doesn't leave an oily residue. Love this one under makeup. Smells great too.

Smells good

It's an overall good moisturiser with a fresh smell. My skin is sensitive to some spf ingredients and this broke me out slightly after few uses. Other than that it's a good moisturiser both on it's own and under makeup.

Gives a dewy glow

I received a free sample of this lightly fragranced moisturiser. It had a cooling and soothing effect on my skin, and it gave me a dewy glow. It did a good job of increasing hydration, but it took a while to absorb and my skin looked slightly oily for several hours afterwards. I have normal skin, so this product would probably work best for those with dry skin.

Smells great

I love the smell of this. It's refreshing with a hint of cucumber. It goes on well and is absorbed well, leaving my skin feeling hydrated even hours after application.

Combination skin! Worth the price

I bought this as a Mother's Day present and it was such a great gift. It smells amazing and of course it works so well on the skin. I tried it myself and I can tend to be more on the oily side but my skin stayed amazing through out the day!! Will buy again

great for the skin

makes skin look so hydrated and helps to reduce redness. great for day/night on oily acne prone skin

Beautiful

Absolutely love this creme. It's super expensive for me though so I don't purchase often. Skin feels excellent when I use it and is a great base for makeup.

smells like cucumbers

This moisturizer leaves your skin feeling incredible. It's it best one I've ever used and the spf is a welcomed bonus. But the scent is just god awful. It's and overpowering artificial cucumber-like smell.Although it is creamy, it is not oily at all. Once it settles into my skin, I can apply any type of primer and/or foundation over it. It definitely does keep my skin hydrated all day, providing a...

Read More

Fresh and feels lovely

I received a 15mL sample from a promotion and really love this cream. I've been using it daily for the last couple of weeks and my combination skin drinks it up! It's very moisturising but still feels light and fresh on the skin, and has a nice cucumber-like scent. It definitely feels like a luxury product.

affordable moisturiser

This is great for young skin with no real anti ageing concerns, it has a little bit of sunscreen too which is great for every day wear. It is very lightweight and smells good too and I'm not too fond of Mose fragrances creams.
It goes on well underneath foundations too, just takes about a minute to dry and sorb into the skin

Super smooth

This moisturiser is so smooth and calming on my skin, it absorbs quickly and doesn't leave any yucky residue. Leaves my skin feeling so fresh!

loving it

i got this in mini size as a gift with purchase and i am absolutely loving this. i have added this to my morning skincare routine and my skin has never felt softer. it gets absorbed by the skin in seconds leaving the skin very hydrated. i have dry skin.

Refreshing and hydrating

I like this as an everyday moisturiser, it has spf coverage, is light and works well under makeup. It has a refreshing cucumber smell.

Just not sure

This product is so mixed for me.

LOVE - the texture, the smell, putting it on, using it, the soft moisturiser.

But HATE HATE HATE - the tub. I hate dunking a finger in every time I use it, and opening the lid exposes the product to air, which starts damaging the product quicker, than a pump style bottle.

It's a lovely moisturiser, reasonable for the price, ...

Read More

Lovely

My skin has cleared up since using this, it's light yet hydrating

Cucumber in a tub

Good every day light moisturiser, smells of cucumber

Does the job

Such a light but hydrating moisturiser that leaves my skin feeling smooth and balanced.

Not for sensitive skin

I really wanted to like this product, but it's just not right for my skin. The moisturiser is a little thick and makes my skin feel irritated and break out. My skin is sensitive but I've previously used EL hydrationist with no issues. It is good for dry skin and would suit as an everyday product.

Luxurious

This product feels so luxurious on the skin. I originally received it as a gift with purchase, but I would definitely recommend. Beautiful texture and a lovely fragrance.

Nice

I have used this on and off over the years, initially got it in a sample pack.
It's nice and light and is kind to my sensitive skin.

Lovely moisturiser

I received this as a sample size and it has lasted months! A little goes a long way. I have oily, congested skin - this did not cause any breakouts, but I need to use very sparingly, as I find it to be very moisturising. Smells so fresh and lovely and feels amazing on my skin. I will purchase this again as it is a lovely moisturiser.

Lovely moisturiser

I received as part of a sample pack.I have combination skin and this moisturiser is just right for my skin. I love that it has SPF just wish it was a higher SPF. Has a lovely light scent which I love.

Okay product

I have been using it for a long time but I definitely want a better product than this. It does the job of moisturising but haven't got enough spf fo my liking and makes me tan if I go in the sun with only this on my face. However it's good as a moisturiser.

Love it

I first got this product as a sample and went back and purchased it . Light weight not heavy smells fresh and soft on your skin

Breaks me out

The texture is thick and gel like. Really nice to apply but after a week my skin became congested and I broke out with blind pimples. They were so painful. It's never happened before. Then a couple of weeks after I stopped using this product it went away. I gave it to mum and she had no issues. So probably avoid if you have sensitive acne prone skin

I would buy this again and again!

I use this product after washing my face and using an exfoliator. Smells good, goes on smooth, and absorbs really quickly! Also good to use before putting on your makeup.

This is my go-to

This my fourth purchase of this product - actually the first two times I used the oil-free version. Both types are wonderful - I moved to the non-oil-free because I'm getting older and skin is drier. This absorbs in quickly and evenly, application is luxurious, and doesn't undermine application of primer and then whatever else. Love it - worth the money.

Nice!

I have been using this for years! It's great that it has an spf too.

Ok

I find this ok but a bit plain and boring, don't really find it has much going for it compared to other Estée Lauder products

So fresh!

I recieved this as part of a gift with purchase and I am going to repurchase for those days where I don't want an Active moisturiser. It absorbs so quickly into the skin which is important to me and the smell is absolutely devine. I love the packaging. I don't think it needs the colouring though. But as a basic moisture for oily combo skin, it is perfect!

Had better

I'm unsure about this moisturiser. It feels nice when you put it on but I can really see results. If I want something to feel nice when it's on I'd prefer just to buy a $10-$20 cream

Very good

I love this moisturiser, but I wish it didn't have SPF in it so that I could use it at night. The SPF is really too low for an Australian summer, and I suspect it is included more to preserve the anti-oxidants in the formulation than to provide any real sun protection. That said, it is still a lovely, light moisturiser.

Smells like cucumbers!

I bought this as a gift for my mum as she looooooves it!
Based on my mum's endorsement I gave it a go and wasn't disappointed.
I first thing I noticed was the amazing smell; it smells like fresh air and cucumbers!
The cream has a lovely texture and leaves my skin beautifully hydrated.


pretty good

I love how soft my skin feels after use. I also really like the scent. It smells very fresh and leaves my skin feeling refreshed. Its very light, has SPF15 and absorbs well so its perfect for day time.

Smells like cucumber and I love it

This is such a fresh cool cucumber smell and i am truly obsessed with it i wish they had a perfume for it. The actual product is also fantastic it provides the perfect amount of hydration and is a very nice base for makeup.