essie Treat Love and Colour - Sheers To You 13.5ml
Official Stockist
FLAMMABLE

This item is flammable therefore postage is restricted to Standard Post within Australia
Frequently bought with
Please wait while we find a match
Questions & Answers
(No Questions Yet)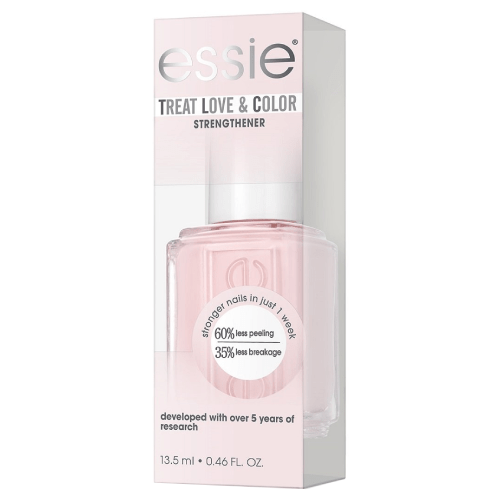 essie Treat Love and Colour - Sheers To You
Get an expert to answer your question about this product!
Ask a Question
100% recommend this product
Most Helpful Positive
5 stars
Excellent item. Love it! Colour is faithful, easy to apply and my nails are really stronger, and longer!
5 stars

Excellent item. Love it! Colour is faithful, easy to apply and my nails are really stronger, and longer!

Nails definitely improve after 1 week!

I bought this to try after finally removing the Shellac gel I wore for months - my nails were brittle. peeling and dry. After only one week, my nails are smoother and healthier. I love the barely there colour as nails look natural but shiny and chips aren't noticeable. The wide curved brush makes polish easy to apply. I'm so excited about these results!

Rehab for Nails

This product really helped save my nails. I had SNS/acrylic on for almost a year and when it was removed i had horrible ridges and discolouration in my nails. This strengthened them and also a added a pearlescent pale pink colour to my nails. It wasn't an obvious shade but it did hide the flaws on my nails.

Amazing!

Great nail strengthener. does exactly what it says. Its also a pretty sheer pink colour so you nails look polished:)

Pretty colour

This formula strengthens my weak nails and is such a pretty colour. The only downside is that it does chip quite easily.

Good for my nails

This is great for a lovely colour but also for my nails. My nails were in better shape now than what they were before using this.

Saved my nails

After religiously getting shellac for about three years, you can only image the state my nails were in. Thin and prone to breakage, I found it really hard to grow them out nicely. I've been using this for about a month have have noticed my nails are definitely stronger, they don't break as easily and it's even helped with ridges, unevenness and those 'milky spots' you sometimes get. The colour is exactly as described, a sheer pink that's super shiny and looks great for everyday wear.

Such a good nail treatment

This is one of the best nail treatments I have tried. It really works to heal and strengthen the nails! The colour of this is a beautiful sheer pink, and it looks so shiny. Last super well on the nails and really does what is says it will do.

Really works

Purchased this product a week ago. Tried many other brands before for my weak/dry nails. So far so good. Very happy as my nails look 100% better and hopefully I will grow them longer in time.