Ella Baché Breakout Treatment Cream 30ml
Skin Concern:
Acne, breakouts and blackheads
Dull, dry or dehydrated skin
Skin Type:
Dry
Normal to dry
Normal to oily
Oily
Questions & Answers
(No Questions Yet)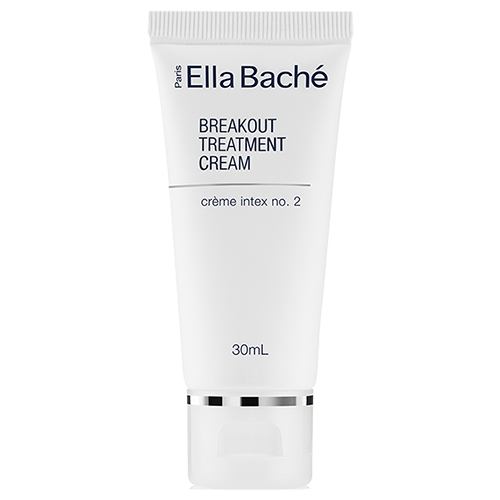 Ella Baché Breakout Treatment Cream
Get an expert to answer your question about this product!
Ask a Question
95% recommend this product
Most Helpful Positive
Treatment
A beautiful treatment cream that works wonders when i have a break out
Treatment

A beautiful treatment cream that works wonders when i have a break out

Excellent product, recomended to me and ill recomend it 100 times over

This crème is brilliant, recommended to me by a friend who used it for breakouts and also ingrown hairs, it works perfectly on sensitive skin and helps calm redness and inflammation. Will never use anything else again and look forward to trying the other Ella Bache products in this line up. Totally recommended to anyone, even with sensitive eczema prone skin like mine.

Holy grail

This product has completely changed my skin! You use the tiniest bit and the blemish is gone in the morning! Honestly couldn't live without this and couldn't recommend it more to anybody! Will be buying over and over again!

Really works.

When I brought the this intex 2 cream , My skin had a few spots when I used it overnight my spots shrieked so I definitely recommend this cream.

the best

I have tried many things for pimples and am yet to find something that compares to Creme intex no 2.
The smell is the only negative for this cream as it's an unusual scent but it's because of some of the ingredients.
I like that it is so effective but it doesn't burn or sting your pimple.
It's only a small bottle but you are only using the smallest amount so I get over a year out of my bottle.
It's a white consistency so it would only be used at night time otherwise it would be too obvious in the day time.

enjoying so far

enjoying using this so far and it smells nice

A beauty must!

I have used this for years for random pimple breakouts and it works a treat. I've also used it post bikini wax to prevent ingrown hairs and pimples - it works very well for this purpose as well. The tube is small but lasts a while as you only need a small amount.

Only draw back with this cream is the smell. It's not so bad I wouldn't use the product it's just not pleasant. However, for me that's a small issue as it works so well.

Love this product

I love this product and always have some in my toiletry kit. It has a nice subtle smell and works really well!

Amazing!!!

Definitely recommend as a bathroom cabinet staple! Works on ingrowns, breakout prone areas and pimples. Only drawback is the smell - my husband can't stand it! But it's worth it for the results

Best spot treatment!!

This is by far my favourite spot treatment, also good to apply to an area you often breakout in to prevent them. Also works great on ingrowns - definitely a valuable item to have handy in your cupboard. Only drawback is it has a strong smell, my husband isn't a fan of it.

Life saver

I used to use this cream 25 years ago when I was a teenager and had a lot of break outs. I recently suffered from mild adult acne and I went back to this cream and it's been a life saver. You know something is good and it works when they haven't changed the product for over 30 years.

Magical Pimple Cream

I am in my early 40's now and am revisiting this magic cream. I used it in my late teens/early 20's and my girlfriends and I dubbed it our magic pimple cream. It used to come in a jar and was slightly thicker in consistency but it still hold those magical powers. I use it as a spot treatment on hormonial visitors. Apply it on thick and over night the pimple is gone or dramatically reduced and the redness/oiliness is gone. Can't believe I forgot about this gem. HIGHLY RECOMMEND.

Great Product

This product is great. It was recommended to me by my therapist for use post waxing. It has done wonders for ingrown hairs. It's also amazing on breakouts. It's quite thick but a little goes along way. I have used this for the past 4 years and will continue to use this product.

Miracle pimple cream

This is amazing on breakouts. Soothes the pimple and clears it up quickly. I've been using this since my early 20's when I still had quite a few breakouts. Now in my 40's just have the odd one but keep this on hand for those occasions. Nothing works better. I don't find it drying at all. I use it on my pre-teen who has started getting a few pimples and it helps to soothe and clear so much.

Good for spot treatments

My beauty therapist recommended using this for reoccurring breakouts in the same area/s. Worked well to ease irritation post waxing also.

Pretty good!

This cream is really good - it does what it says! I don't like the smell of it though and I found it quite drying for my skin. I probably wouldn't purchase it again as I'd rather use a cream or serum that isn't so drying.

Good spot treatment

I have combination skin with the occasional breakout. This product helps the healing time of my breakouts and it doesn't dry out my skin. I use it under makeup or as a spot treatment at night. It is a thick white consistency and you don't need to use a lot (especially if you will be applying makeup on top). Makeup actually sits well over this surprisingly.

No 1 pimple cream

Works brilliantly on preventing, reducing and treating pimples. Apply at night.

Life-saving!

This stuff saved my skin when it went crazy with cystic hormonal acne in my late teens. Now, twenty-odd years later, I still use it for the occasional bad-skin day when I have a blind pimple or blocked pore.

Why this stuff works, I have no idea. It FEELS like the last thing on earth you should put on problematic skin, being a thick, oily/waxy substance. And yet it works miracles - soothing and calming while drawing out gunk and magically getting rid of zits.

It shows that you shouldn't always be too analytical of ingredients when a particular combination simply works. If I had realised that Crème Intex no. 2 contains mineral oil and lanolin, I probably wouldn't have put it anywhere near my skin when I was wracked with acne. And yet this - and Masque Intex no. 2 (which contains peanut oil as a main ingredient!) - completely saved my skin and stopped me torturing it with acids and peroxide.

Seriously, give it a go, even if it seems counter-intuitive.

Heckin good

The French are usually an authority on skin care, and for good reason. I purchased this product 10 months ago, and still have more than half a tube left. I'm rare to the old pimple, but when those uninvited strangers decide to Air B'n'B on my face, I quickly evict them with a tiny amount of this cream using a cotton swab. It dries them out, has anti-bacterial qualities, and reduces redness. Which counteracts the rest of the redness on my face from anger, when I hear my neighbour playing Pitbull loudly from their TV.
It's also phenomenal on ingrown hairs, and any burns or cuts. However, will not heal a broken heart. But, will make your heart sing when you see the results.

Great multi-purpose spot treatment

I use this all rounder for blind pimples and it's great for ingrowns too. The formula is rich and slightly waxy, and goes on with a white residue so perfect for overnight. I have combination/oily skin and while this product is quite thick, I find it works really well.