Elizabeth Arden Superstart Skin Renewal Booster 30ml
4 instalments of $21.25
Or 4 instalments of $21.25 with
LEARN MORE
4 instalments of $21.25
Or 4 instalments of $21.25 with
LEARN MORE
Official Stockist
Is this for you?
Elizabeth Arden Superstart Skin Renewal Booster helps restore the healthy look of the skin's surface layer, fortifying its natural ability to repair and renew itself. Ideal to use before a serum or a moisturiser, it boosts the results of your skincare products.
Frequently bought with
Please wait while we find a match
Questions & Answers
(2 Questions)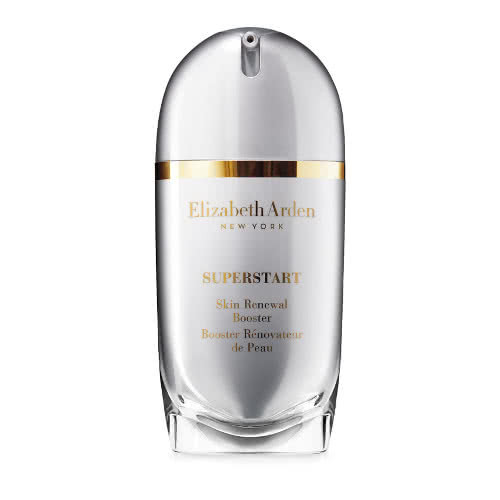 Elizabeth Arden Superstart Skin Renewal Booster
Get an expert to answer your question about this product!
Elizabeth Arden Superstart Skin Renewal Booster Reviews
95% recommend this product
Most Helpful Positive
Amazing
Amazing serum makes my skin brighter and the texture is amazing
So smooth and creamy

I really liked this, I got it as a small sample but from what I have tried it's really silky and goes into my skin really well. I have dry skin so I'm always happy to have more hydration and I feel this product gives really good hydration

The essential product you don't realise you need

I resisted buying this product for ages. I just thought it was an expense I didn't need. Then I received a few samples and thought I would try them out. Well, my skin became noticeably softer and more nourished and now I use it every day. I use it like an Essence. So, it goes on after cleaning and toning and before my serum. It was described to me as yoghurt for your skin ..... I don't like yoghur...

Read More

lovely texture

This is lovely to apply, smooth and silky - but I'm not sure I need to add yet another product to cleanser/toner/serum/moisturiser/primer/spf!

Amazing

Amazing serum makes my skin brighter and the texture is amazing

lightweight serum

The idea is that it is supposed to "boost" these products effectiveness on your skin.

works like it says

Nice product!

I received a deluxe sample of this product with a Liz Arden purchase. I have never used boosters so was not sure what this was gonna do. I have been using it day and night under my daily moisturiser/ serum and i noticed a difference within a week! My skin is softer, clearer and brighter! Planning to buy the full size :)

Works just like it says.

Excellent product! Keeps my skin feeling soft and looking flawless. I have dry skin but this product keeps my dry skin intensely moisturized and rejuvenated. I would recommend this to other people.

Good

It actually makes my skin more supple, softer and brighter. Worth the price tag.

Beautiful product I didn't know I needed

I received a small tube of this in a gift pack & after the first use I knew I needed to purchase the full-size! My skin laps this up & although I have no idea how it does it, it does actually increase the effectiveness of my serums..

Great!

Nice product. Feels good on your skin. Definitely would recommend.

Love it!

Got it as a sample when i tried it my skin feels softer and brighter. And i bought a new one and will definitely keep using it!

Excellent results

I have seen great results with this serum. My skin looks smoother and brighter. It's easy to apply and absorbs leaving skin soft

Love this product

I love this day lotion. The texture and consistency of the lotion feels perfect on my skin. Very moisturising but lightweight at the same time.

complextion brighter

i've been using this for a solid 4 months and my skin is absolutely loving this product. my skin is much brighter, smoother, using this in conjuction with my derma roller so that i am using this product to its full potential

Good

I have used this product now for 6 weeks. My skin is firmer and appears to be much more smooth and radiant. I love how it is easy to use and goes on quickly and is not in any way greasy. I have already ordered my next container!

Lovely to use

I was unsure that I really needed this product. But i received it as a trial and used it day and night as the first step of moisturising. It glides on and my skin feels smoother and more glowing.

Hydration Sensation

I received this as a sample initially and absolutely loved it. I use after cleansing and toning and under my normal moisturiser. My skin is instantly plumped and dewy!! I'm 44 and people think I'm 33!! Brilliant, highly recommended!!

Hydration miracle

I've only recently introduced this into my daily skincare regimen but am finding that my skin appears a lot more hydrated and glowy. I use this morning and night after cleansing and before moisturising. Can't wait to see the results after long term use.
I'm 43 with oily to combination skin.


Results in days

I'm quite happy with my basic skincare routine but when
I added the Elizabeth Arden Superstart Skin Renewal Booster my skin looked more refined. I noticed results within four days of using this product. Hydration also improved and my skin looks smoother.

What A Boost!

This Elizabeth Arden Skin Renewal Booster has been lovely to use on my skin. I use this product before applying my moisturiser and I have found it has definitely improved the appearance of my skin. It has given it a fantastic boost. A little bit of this product each day significantly smooths out the skin. I would recommend this product to renew and repair the condition of the face.

A smooth start every day

I love to try new products and this is a new step to use in your skincare regime. You use it after cleansing and toning, then apply your serum, moisturiser and eye cream. My main concern is ageing, lines and wrinkles and wanting to stop looking older and showing the visible signs of ageing. This serum is a booster and is designed to keep skin younger and help stop the ageing process. It is ve...

Read More

I'm hooked!

Wasn't sure it was doing anything until two people commented on how well I looked. Love the texture and the packaging. I'm just about to start my second bottle. I use it every morning and night before Prevage or Ceramide serum.

Amazing!

This product is great, received it as a sample with one of my previous orders and was hooked! Just a small amount before my serum and my skin has never felt better. I have dry and very sensitive skin and this works extremely well for me. Love it and will be buying again, and because only a small amount is needed it will last for ages, so good value for money.