Skin Type:
Dry
Normal to dry
Normal to oily
Oily
Questions & Answers
(No Questions Yet)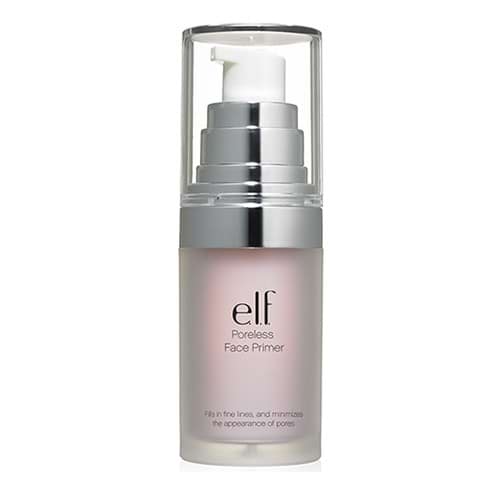 elf Poreless Face Primer
Get an expert to answer your question about this product!
Ask a Question
81% recommend this product
Most Helpful Positive
Good
Leaves my skin looking smooth and ready for foundation. Also super affordable
Most Helpful Criticism
Affordable primer
This is definitely an affordable primer, and you get what you pay for. However I didn't notice much of a difference on my skin and there are better affordable primers on the market.
Affordable primer

This is definitely an affordable primer, and you get what you pay for. However I didn't notice much of a difference on my skin and there are better affordable primers on the market.

Good

Leaves my skin looking smooth and ready for foundation. Also super affordable

great primer

a great primer that helps with minimizing pores and making the base seem flawless. only downside is that the primer itself runs out really quickly

Great for the price

I Think for the price this primer is excellent. It leaves my skin very smooth and hasn't irritated my skin

My sisters go to primer

I brought this for a gift for my younger sister and she loves it. She said her makeup stays put all day long and she would recommend it.

Good

I used to use bare minerals primer but it is so expensive so when elf first came out, i decided to try their primer and it works great. My make up goes on beautifully and it stays smooth all day and it is much less expensive than what i was paying before. Would definitely recommend!

Good value

Wasn't expecting much from this but I was pleasantly surprised! Does a pretty good job at holding my makeup in place for the day and keeps my face from getting too shiny

Not great

I found this primer to break me out really badly :( the product itself felt pretty good on the skin and it's super cheap which is really nice! If you aren't prone to acne then this might work great for you! Definitely would stay away if your pores get clogged easily!!

drugstore galore

love this product, its a very close match to the benefit pore minimiser!

Excellent

This is a fabulous primer and I would highly recommend it

Good

Considering the price this works well but it makes me a bit concerned about what I am putting on my skin... it is a good primer but make sure you look at the ingredients before purchasing!

Great primer

I have combination/dry skin with enlarged pores. I really like this primer as it almost makes my pores disappear. My foundation goes on really well on top of this primer. It also doesn't break me out which is a huge bonus! I would definitely recommend this especially considering the price!

Good value

Wasn't expecting much from this but I was pleasantly surprised! Does a pretty good job at holding my makeup in place for the day and keeps my face from getting too shiny

Perfection Primer

This primer is a really nice light base and has a really refreshing eucalyptus smell to it and applies very smoothly to your face and does not flake and dry your skin out like I have found a few other primers do.



so cheap

I think this primer is really good, especially for the price. my pores look smaller and makeup stays longer

Good cheap primer

This is quite good for such a cheap primer. Could be considered a 'dupe' for Porefessional since it does quite a good job of filling the pores and seems to help keep the makeup on.

so good at minimising pores

in love with this primer a really affordable, good at my face so smooth

Great primer but I broke out afterwards

Look, if you want to cheap out on primer because moisturiser does a similar job, this one is the way to go. It's good, it works. My pores weren't tiiiiiny but they were less obvious. The only issue I had was a breakout, I literally never have breakouts from products, I find my skin quite resilient when using new things. This wasn't, I had a horrible cystic breakout on my chin and a blind spot on my cheek. If your skin is used to ELF products it should be fine.

DUPE!

This is such a great pore minimising primer. It reminds me of the professional by benefit but its a fraction of the price. Very affordable and great under makeup. It also makes my makeup last. I just wish there weren't any paragons in this product.

Smooth Primer

I like this primer, it is great for the price. It does fill in my pores. I have used various more expensive primers. It does a great job it applies smoothly and doesn't feel dense.

Great primer!

Excellent primer for the price point. Leaves skin feeling incredibly smooth and has a lovely scent.

Nice primer

I enjoyed this primer, especially for the price. It applies really nicely, and left my skin feeling smooth. It slightly filled my pores, but not as much compared to high end primers. Definitely worth trying for someone on a budget.

Incredable for the price

I used this for so LONG because I loved it so much. I would use it on my nose and pore areas. It left my skin feeling like silk? And my foundation applied so well!

Was my go to

This was my go-to primer for a while when I ran out of my higher end product. It did the job I wanted it do it. Left my face feeling silky and foundation ready.

It does alright

A nice primer for the price. Although there are more effective primers for the price point. Leaves skin mosturiesed and hydrated for my combination skin. Not sure if it really does anything for the longevity of my foundation though.

this is a great price primer

I really like this primer, it is a great price and works well. I will definitely buy again