ELEVEN Keep My Colour Treatment Blonde 200ml
Is this for you?
A treatment that hydrates the hair, adds shine and boosts blonde tones.
Cruelty Free
Australian Made
Hair Concern:
Brassy tones (blonde/grey hair)

Colour protection
Hair Curl Type:
Curly

Straight

Very curly/African/Caribbean

Wavy
Frequently bought with
Please wait while we find a match
Questions & Answers
(1 Question)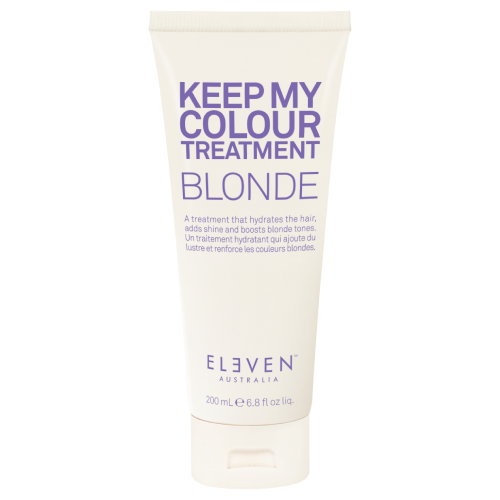 ELEVEN Keep My Colour Treatment Blonde
Get an expert to answer your question about this product!
89% recommend this product
Most Helpful Positive
I love this
Has helped me maintain my cool blonde really well. Very very good!
Most Helpful Criticism
Not as good as the shampoo
I find this product leaves my hair really knotted and doesn't have any impact on the colour. i find it better to just use the purple shampoo followed by my regular condition through the ends. I won't be re-purchasing.
I love this

Has helped me maintain my cool blonde really well. Very very good!

Life changing

I liked this and the price! Really nice and helps keep my blonde nice and fresh.


Effective at keeping brasssy tones away

I'm naturally brunette but have significant grey, so am transitioning blonde to tackle the regrowth. As I near my next appointment, my ash blonde foils start to take on brassy tones. Since introducing this product into my routine, I'm noticing significantly less brassiness. I do find it's not quite conditioning enough so I use a treatment or heavier conditioner first and follow up with this treatment. Like all Eleven products, it's smells lovely!

Effective at keeping brasssy tones away

I'm naturally brunette but have significant grey, so am transitioning blonde to tackle the regrowth. As I near my next appointment, my ash blonde foils start to take on brassy tones. Since introducing this product into my routine, I'm noticing significantly less brassiness. I do find it's not quite conditioning enough so I use a treatment or heavier conditioner first and follow up with this treatment. Like all Eleven products, it's smells lovely!

Keeps my blonde blonde

Happy with this purple treatment as it seems to nourish my hair and keep brassy-ness away, used in conjunction with Eleven Shampoos and Conditioner I have been able to maintain my blonde between foils

Helps my hair a lot

I liked this and the price! Really nice and helps keep my blonde nice and fresh.

Beautiful

Leaves my hair soft and shiny , a little goes a long way, maintains my blonde locks of hair without them going brassy

Hydrating purple conditioner

Perfect pair with the blonde shampoo. My hair is long, thick and wavy and I find I don't need to over compensate with the conditioner for my hair to feel soft as unlike most purple conditioners this one is actually really hydrating.

Great

A perfect size companion for keeping away the brassy tone on holidays

Great when used with the shampoo

I find this product great to use with the matching shampoo, helps keep the yellow tones away and remediates the brassy tones as well

A deep conditioning blonde treatment

This conditioner used along with my matching eleven shampoo has been a god sent for my blonde hair, keeps its super soft, shiny, and keeps the brassy tones out of my hair! Always get complements on how bright my blonde looks after using this! Definitely recommend

Obsessed with this conditioner

This is one of the best toning conditioners I have ever used! Leaves my dyed blonde hair look fresh and feeling soft!!

Gentle but very good product

Use this in conjunction with the eleven blonde shampoo and they work very well together. The smell is lovely and the conditioner keeps my hair feeling hydrated as I colour it on a regular basis.

Shower staple

This is my favourite toning conditioner. Leaves my hair soft and shiny and my blonde bright and fresh. I always get asked if I've had my hair colour re done after using this! I use this with the shampoo and don't use any other shampoos or conditioner to ensure my blonde stays blonde.

Works really well

It definitely works to keep the brassiness out of my hair, nice smell.

Don't mind

It doesn't make my hair super bright blonde but it does make it soft and shiny, I will use other product to maintain colour but this does work beautifully at making hair silky

Fantastic

I found this better than most off the shelf product and will definitely be using it again.

Love!

I don't have blonde hair but used this at a friend's house and my hair never felt so silky smooth. It smells delicious too!

Amazing

Leaves my hair bright blonde and doesn't dry it out

Awesome treatment

Great little blonde treat keeps my balayage fresher for longer

Great

This treatment is less strong than other purple treatments I have however this makes it perfect for everyday use. Over a period of using it it definitely makes a difference and reduces brassy tones. I love the smell of this product, I have actually run a little product on my fingers through my hair when it's been dry for a bit of extra conditioning and scent. Overall it is a nice conditioning product that feels good quality and leaves your hair super smooth.

Great!

Really works at toning down yellow / brass tones!

And smells amazing!

Smells amazing, not overly moisturising or colour-maintaining

I just love the smell of this conditioner. It may make a small difference to the tone of my blonde between salon appointments but I probably prefer Evo Fabuloso as that is also more nourishing and leaves my hair feeling smooth. However the price of the Eleven product is fantastic for a high quality product. And I believe it's cruelty free.

amazing, amazing, amazing!!!!

couldn't recommend a better treatment for blonde hair, leaves your hair feeling so soft and light!! smells amazing and i look forward to washing my hair with this!

Great conditioner

This is a great purple conditioner partnered with the shampoo. I wouldn't call it a 'treatment' as I have used products in the past that have achieved better results but it is a nice conditioner to use regularly to remove the brassiness from your blonde as well as smooth out any knots. I use this every second wash and love the fragrance! A great product from a great brand.

Good

This treatment is less strong than other purple treatments I have however this makes it perfect for everyday use. Over a period of using it it definitely makes a difference and reduces brassy tones. I love the smell of this product, I have actually run a little product on my fingers through my hair when it's been dry for a bit of extra conditioning and scent. Overall it is a nice conditioning product that feels good quality and leaves your hair super smooth.

Best Blonde Product

Match this with the Keep My Colour Blonde Shampoo for the perfect blonde. I've used so many blonde products to tame my bleached, curly hair and nothing keeps the colour looking and smelling amazing like this duo.

Awful, awful and awful

Every single time I use this my hair is a matted mess. It becomes so tangled, brittle and dry I am scared to brush it. Finally through this in the bin today and I don't think I will look back.

Treat Yo' Self

I have been using this on my bleached Asian hair alongside the Eleven blonde shampoo, and honestly, I can't name a more iconic duo. My hair is ridiculously soft, and it seems to work wonders on my frizziness and flyaways. It also smells like lollies and basically leaves me feeling like a queen.

Top product

In combination with ELEVEN shampoo this is great to use between going to hairdressers to colour

Softens hair well after using the shampoo

I'm not sure this does anything to take the brassiness out of my blond ends but it definitely makes my hair feel so much better after using the blond shampoo (which feels so drying on my hair). I leave it on for a few minutes and it detangles and smooths my hair nicely.

Nice combined with the Eleven keep my blonde shampoo

This is a lovely smelling conditioner and left my hair feeling nice. by itself I don't think it does much for colour maintenance but it compliments the keep my colour blonde shampoo really well.

Not as good as the shampoo

I find this product leaves my hair really knotted and doesn't have any impact on the colour. i find it better to just use the purple shampoo followed by my regular condition through the ends. I won't be re-purchasing.

Great toning treatment

This is a lovely toning treatment which I like to you use instead of conditioner when my hair is feeling really dry. It works well with the blonde shampoo and the deep clean.

Unsure

This product is good, but nothing special. It didn't make my hair look or feel really smooth or healthy. Wouldn't purchase it again.

Undecided

I'm a little on the fence about this product. I didn't find it super hydrating or nourishing while I was blonde. It's a nice treatment when I mix it with the volume conditioner but on its own it's just not enough. It does an okay job of neutralising brassy tones. Overall, I reckon there would be better products out there for blonde hair.

smells amazing

Good product, made my blonde hair nice and smooth and smells AMAZING

Love this

This product has helped my hair so much and it smells amazing!
I use it once a week and have found a drastic change with my hair.
It also keeps my colour nice and cool and not brassy at all.

Leaves hair shiny and soft

I have dyed blonde hair and needed a product to keep my hair bright and from looking brassy. I had used other toner products before that had dried out my hair, but this one keeps my hair glossy and smooth without damaging it.

Great toning treatment

This left my hair feeling soft and smooth and the toner helped to give me the ashy blonde I usually go for. However, this isn't my favourite toning hair treatment. My go to continues to be Fudge Clean Blonde shampoo and conditioner. The shampoo in particular packs a real toning punch.

One of the best

Leaves my hair healthy and shiny with every use. Definitely tones a little and prevents that brasiness from building too much. Plus it has a wonderful smell, unlike a lot of similar products!

Amazing product

This is unreal. I have coloured hair and use this about once a week. You don't need to use much at all and it leaves your hair feeling fresh. I leave it in for about ten mins and find that it revives my colour. Smells great too!! I love it.

Great product

I love this product, I use it once a fortnight and it keeps my ends healthy and blonde! Cheap too which is great!

Best Hair Treatment

This is the best blonde treatment for dyed blonde hair. The ELEVEN brand is a must have in my household. This treatment has a nice thick consistency which helps to lock in the blonde colour in my hair. I use this treatment once to twice a week for optimum results.

MY FAVOURITE!!!!

I use this with the Keep my colour blonde Shampoo and i swear they are like salt and pepper, eggs and bacon, fish and chips....they are perfect together. You dont need heaps a LITTLE goes along way! It feels and smells amazing. I use the Eleven Australia Miracle Treatment. Using all 3 products has kept my blonde hair healthy no yellow shiney glossy feeling great! I guess i love Eleven Australia products