Egyptian Magic All Purpose Skin Cream - 118mL 118mL
Questions & Answers
(3 Questions)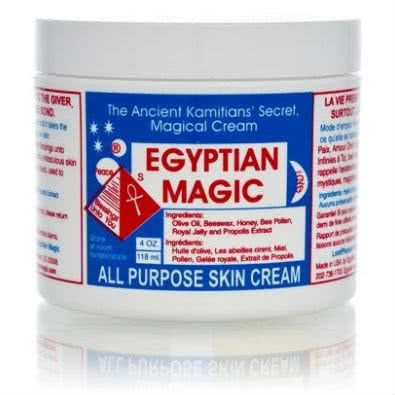 Egyptian Magic All Purpose Skin Cream - 118mL
Get an expert to answer your question about this product!
Ask a Question
76% recommend this product
Most Helpful Positive
The best
Most Helpful Criticism
yes & no
i have likes and dislikes about this product. i love the benefits of this cream but the texture and thickness of this i do not like it reminds me of vaseline and i feel like it does not sink in. i use this when i get razor bumps under my armpits, it works well to eliminate them quickly which is helpfull
great product

I love this cream! I have super dry skin and this product leaves my skin feeling very hydrated, would definitely recommend! Only annoying thing is that the cream is quite thick and oily.

The best

Life saver!

A must have

This is a must have product as it's so versatile and helps with so many different issues! Helps heal cracked heels, dry hands, rashes, nappy rash! So amazing I really love this cream! I use it as a barrier cream and it's so amazing

yes & no

i have likes and dislikes about this product. i love the benefits of this cream but the texture and thickness of this i do not like it reminds me of vaseline and i feel like it does not sink in. i use this when i get razor bumps under my armpits, it works well to eliminate them quickly which is helpfull

Pricy

Pretty expensive for what it is.. considering it's comparable to paw paw/ Vaseline in its purpose. Not really doing it for me to be honest..

Works well for Eczema prone skin

Works well for my Eczema prone skin. It comes in a large tub and is well priced. I recommend giving it a try.

Yassssss

Always come back to repurchasing this "cream" after using Vaseline and other ointments that are cheaper. I use this on my face when my skin is dry and flaky! I know that after applying a generous layer overnight, I wake up in the morning and my skin is hydrated and no more dryness. I also love using this on my lips, my feet and sometimes under makeup.

Super hydratingf

Use this at night just before bed on any dry skin and when I wake up everything is hydrated and smooth. Yes it's thick and has a weird smell but if you can get past that for like 2 seconds of the application it's a great product!

Great all-rounder

I use to purchase this years ago and only recently saw it advertised again. This product definitely is great as an all rounder for body moisturising and healing or flakey or irritated areas.

I use to use this especially on my elbows and feet! wake up in the morning with incredibly soft skin, the only downside for some may be the smell.

can seriously use this for everything

This product is popular and for good reason. It has so many uses. I mainly use it on dry skin and chaffing or rashes. It helps immensely with chaffing especially with this Australian summer heat.

Tub lasts forever!!

I use this nightly on troubled areas (I have VERY dry flakey skin) and works a dream I wake up and my skins so soft and refreshed. Isn't greasy and is very comfortable on the skin.

A little overhyped, but works as a mild all-purpose balm

I admit that I bought into the hype of this product, but looking at the ingredients and the price now, I'm not so sure that it's justified.

I have dry, atopic skin, and while rubbing this balm in often does help, I doubt it's due to the "magic" of the product. Using it constantly throughout the day helps keep my eczema moisturized and helps it heal, but having to apply it so much is simply not feasible.

Perhaps it would work wonders for people who have normal to mildly dry skin, but not for me.

Works for winter

I use this balm in the winter time to moisturise my scaly legs. It's texture turns into an oil once in contact with your body heat. Its just a no fuss good thick moisturiser. Not worth the price tag though unless you have extremely dry legs like I do but I'm sure there are other supermarket products that does the same job.

Not sold!

This cream is great as a natural moisturiser and probably does as it says however I wasn't a huge fan of the scent and texture and was expecting great things from what I had heard. Would not advise against purchasing, but wouldn't expect too much!

Great

This is amazing for dry skin!!! Feels like it works as a nice barrier cream when you are doing dishes etc if you are prone to dry skin.. mum loved this too on her face as a nourishing night cream!

Bit of a disappointment

Heard so much about this cream I had really high expectations! Was pretty oily and didn't do a lot at all for my dry patches. Probably wouldn't purchase again.

Why the hype?

This is okay, and forms a decent barrier on compromised skin, but the 'hype' eludes me- seems to be mostly beeswax and i'm not a huge fan of the smell... wouldn't repurchase at the price.

Ok

I have dry eczema prone skin and it didn't really do anything for me. I would not repurchase it

Works wonders on dry skin

I use this in winter on my legs which get quite dry, it's the only cream that I have tried that works this well - my legs can get quite dry and scaly. It's quite thick and not as easy to apply as some other moisturisers and isn't an everyday product for me, however I always ensure that I have it on hand when I need it.

Awesome thick cream

This stuff is the best for dry skin! I love putting it on my feet and putting socks on - swear it heals cracked feet! Highly recommend

Gigantic pot will last forever

Nice product, but I don't think there is anything too magical about it. I used it on my face for a little while when I ran out of rosehip oil - no major benefits were noticed and it doesn't feel particularly soothing so I didn't continue. It is a heavy oily consistency. It is great for lips or to smother onto dry legs - aside from those uses, I don't really have any others for it (for reference I have normal / combo skin).

Handy

Great for so many things, I even use this as a face moisturizer at times.

Worth it

I have combination and dry skin. I purchased this after seeing all the great reviews and wanted to know what the hype was about. I was not disappointed. I use this for just about everything and it makes sure that every part of my body is nourished. It also lasts a very long time. When I run out I will definitely buy this again. Highly recommend.

Magic

Got this for a friend that has very dry skin. Works like magic for her!

Love this!

Absolutely love this! I have very dry scaly skin and this works wonders. It's an oil based moisturiser and leaves my skin soft and glowing! Worth the money.

Soothing

I was nervous about buying this balm because of it's pricetag, but I must say the risk has been worth it. It goes on greasy but slowly sinks in and the skin is really different within hours to days. I use it on my daughter's eczema and it's one of the few products that doesn't sting her but really soothes. I had a dry patch on my knee for years but it disappeared within a fortnight after using this on it each day. The other big plus for me is the difference in my hands - I massage this into my hands each night before bed and not only does it feel really protective and smell good, but the skin on my hands looks years younger. The tub lasts for ages since a little goes a very long way. Definitely worth trying - I'll be buying it again.

Good

I buy this for my mother, as she has dry skin and this product is of the more oily greasy kind. Not in a bad way. I have used it on my hands, and a small amount goes a long way and doesn't leave any residue on my skin like many creams do.

I now understand the hype

I found myself breaking out in dry patches on my elbows, and I'd seen this product featured all over the internet so decided to give it a try. I can now understand why this is a holy grail product for so many. It's completely sorted out my elbows, but I've also been using it on my face and décolletage at night. In the morning the difference is really visible - its good for my redness and generally unhappy skin. Feels very protective.

Incredible

Obsessed with this! Even though it can be used for anything, I highly recommend this for people with eczema. It soothes the irritation and minimises the size of the rash!

Great All-Purpose

This product is so lovely and easy to use, my usually low-maintenance boyfriend hijacked the bottle for himself. Multi-purpose, simple product that you want to keep around.

wow!

This is fantastic!! It works on everything and is so soothing! A little bit goes a long way so the tub lasts for ages

I now understand the hype!

An amazing body moisturiser just the smallest amount is needed, rub between your hands and Apple all over you body. I also like to use it for a cuticle and hand treatment once a week. Smell is average but the long lasting moisturising of this far outways this. Highly recommend now onto my third tub!

Good for emergencies

This is a fairly hard-core moisturiser for dry hands, cracked heels etc. I tend to only use it on those body parts, and nowhere near my face, as I'm prone to break out everywhere else! That said, it is a good, effective treatment for slathering on at night.

Goes on everything

Been using this for years and put it on everything - cuts, rashes, dry skin, bites... whatever.
Works a treat.
My only concern is that I keep it out of contact from my partner who is very allergic to bees. I don't actually know if he would get a reaction from this product, but I'm just not willing to take the risk.

Changed my life!

I suffer from very very dry and scaly skin, nothing seems to help. Tried this product for a week now and my skin has already changed. My skin stays hydrated the day after using this which has never happened with other products. I have mild eczema on my arms and this has helped so much!

Not impressed

I'd been longing to try this cream for the longest time after hearing rave reviews about it. Unfortunately, this didn't live up to the hype! I found this to be a little greasy on application and it didn't do anything amazing on my dry skin. I was still left with dry patches after using it religiously for a couple of weeks. I find I get more of a result using Eight Hour cream or even stock-standard chemist fare like paw paw ointment. Wouldn't bother buying this again.

Obesessed

My mum and I have been obsessed with this product for years. It is our go to for everything dry and nasty on our skin. Absolutely love it!

Amazing!!

Miracle cream. Can be used on anything and everything. Perfect for the handbag or travelling I wouldn't be without it

Good but overhyped

Didn't mind this product but probably had pretty high expectations after reading such positive reviews. It wasn't bad but my skin was still a little dry and patchy after repeated uses. Can also be quite oily when applying.

Highly recommend

A little bit goes a long way! I suffer with dry skin and this skin cream has done wonders! I also use it at night before I go to bed. It also doesn't leave your skin sticky or oily.

Holy Grail for all skin concerns

I love this product for my hair skin and nails! A little goes a long way and is great for my sensitive skin in keep it nourished. I even use it on my hair for shine and moisture

WONDERFUL

For a one stop beauty shop this little tub of magic will do everything. If i only have one product it's this. I use it on face, body and hair and it leave everything moisturised but not oily. LOVE

BEST PRODUCT EVER!!!!

This product is pure gold. It has done wonders for my skin.
I've struggled with dry skin this winter, stretch marks on my hips, a cesarean scar, dry-stretched skin on my breasts from breastfeeding and it has helped ALL of these problems. My skin is feeling softer and smoother. My stretch marks and scars aren't as dark or rough. The skin on my breasts is softer and hydrated and my face is definitely hydrated and feeling a lot clearer.
At night I use it over my whole body as a hydrating mask and you only need to use the smallest amount for it to go a long way!
I was worried about spending $50 on this product not being able to test it first but it's definitely been well worth it!!

close to a miracle

this is super lovely applied in a thick layer before I'm finished getting ready for bed. it does take a while for it to sink into my skin, so l always wait a little while before l pop my head on the pillow. but when l wake up, my skin looks rejuvenated - it's plumper, more hydrated, brighter and more even

Simple and effective

This stuff is lovely. I have combination skin, and I use this every few weeks on my face overnight like a mask. I wake up with supple, soft, hydrated skin but doesn't break me out. It does leave a bit of a film on the skin so perhaps not for before make up, although that glowy wet sheen look is on trend! Smells nice, ever so slightly like honey. Good for dry hands and feet overnight too.

My sister's go-to product for eczema

I buy this routinely for my sister. It locks in the moisture and soothes her severe eczema like nothing else, and we have tried everything - doctor's prescriptions, steroid treatments, natural medicine, a range of intensive moisturisers.
Her eczema has calmed down so much because of this product.

Works well but not for me!

I bought this for myself + my sister to use as a facial night cream.
This cream is affordable, makes your skin smooth and moisturised and stays on your skin overnight. My sister's dry complexion greatly improved after a couple of weeks of use.
But, for our taste, this product feels greasy and a too little messy to use. I don't like the smell either.
We'll finish the tub, but I'm not sure whether we'll repurchase.

Lifesaver

This is my go to product when my eczema is flaring up. I swear by it. The texture is great it is super hydrating

Super moisturising!

Really moisturising, however it lingers on the skin for a while, so not really appropriate for application before makeup!

It's a MUST HAVE product!

This cream is more like an oil balm, which soothes, hydrates and stops the dull/dryness in its tracks. I used religiously through winter and a couple of times per week or daily if I've been swimming in summer... it lasts forever, has never caused me any irritation and I am sensitive skin and actually works!! You will love it!

A little overrated

I didn't hate this product, but after reading rave reviews on the internet I was a little let down. It it very moisturising, but bordering upon greasy. Bought initially to help with dermatitis/dry skin on legs. No such luck. Currently sitting in back of cupboard.

My skin loves it

After hearing so many good reviews, i decided i had to try it for myself. I wasnt let down, and was worth the money as a little bit goes a long way. My skins loves it and has helped my dry skin a lot

HELLS YES

This is my new favourite thing. Can't wait to use it on flights

Actual Magic!

I started using Egyptian Magic as I'd heard on the grapevine that it's actually magic... No word of a lie, it is. It's just olive oil, beeswax, honey, bee pollen, royal jelly and propolis extract and I pretty much use it like a serum under my moisturiser. My skin LOVES it. It's so so smooth and soft and my complexion and puffy under eyes have both improved immensely.

Apparently it's also good for healing cuts and scrapes etc but I haven't used it for that. I reckon it'll take me a year to get through the 100ml tub, though- I only have to use the tiniest amount each time.

For a super moisturizing masque, slather it on your face thickly before bed, let it marinate into your skin overnight and wake up looking like a fresh faced teenager!

Lovely

I love that Egyptian Magic only has 6 ingredients, is non-toxic and all ingredients are natural. As others have commented, it is more of a balm than a cream and you only need a little, so whilst it's expensive it does last a long time. I wouldn't recommend using Egyptian Magic during the day or under make up as it can be quite rich, but I love using it overnight and feel it has helped calm and restore my -at times- dry and irritated skin.

Soothing, moisturising balm suitable for skin in crisis

I'm having the worst time with my skin. Recently I've taken myself off topical steroid creams due to being pregnant. My face has need a lot of TLC and I've found that Egyptian Magic Cream to be soothing and moisturising whilst not stinging any rashy, broken skin.

It hasn't cured my eczema but has provided it with relief and comfort as it finds balance after years of strong steroid cream usage. I like that the ingredients list is very simple and natural. It's not too greasy either but I would call it a balm more than a cream.

The only down side is that it is expensive and I tend to go through a tub every two weeks. Still, I would recommend it to anyone with very dry, unhappy skin.

Outstanding

I think this is one of those products that you really need to come through for you in a pinch before you fully appreciate how good it is. I had some irritation under my eye and it was dry, flaky and itchy. Eye creams were of no use. Not even rosehip oil helped. It was so bad, I thought I was going to have to visit the GP. Then I got a sample packet of Egyptian Magic and tried that. After one use, the irritation was soothed. After a few days, it was even better. No more irritation, itch or flakiness. I'm totally sold on this product. I love a good multi-tasking product and this is the best I've ever used.

Overrated

Found this to be a pretty average product. It did nothing to help my itchy skin, and is ok as a foot balm. Also did nothing for the skin flare-ups my partner gets. It's nice as a general moisture balm, but there's nothing amazing here.

a real magic

I love this product, it works well for dry skin

a little goes a long way

An all natural product that can be used on the face and all over the body as a moisturiser. And a little goes a long way depending on your moisturiser needs. Can also be used on the hair in very small amounts for shine and detangle. I will buy it again.